Predicting the Rookie team of the year
Featured Writer
Point Guard: Damian Lillard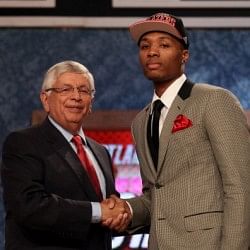 Drafted by: Portland Trail Blazers
College: Weber State
2011-12 stats: 24.5 PPG, 5.0 RPG and 4.0 APG
Lillard isn't meant to be the next Kyrie Irving. He didn't play at Duke, neither was he hyped to be the number 1 draft pick. But lil Lillard is a prolific scorer. Statistics tell us he wasn't a passer in college, but that's because he groomed himself in a mediocre Weber State team. In the NBA, his production will go up, particularly in the assist column. In a Portland team struggling to find the playmaker, Lillard could well prove to be the solution. A key booster to Lillard is his work ethic – a drive that carried an entire college team into the NCAA tournament.
Playing style: Russell Westbrook
2012-13 stats: 12 PPG, 3.5 RPG and 6 APG
Shooting Guard: Bradley Beal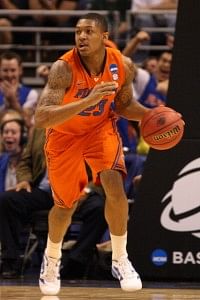 Drafted by: Washington Wizards
College: Florida
2011-12 stats: 14.8 PPG, 6.7 RPG and 1.4 SPG
Beal is a beast. He is balanced in absolutely every column for a shooting guard. In terms of clutch, he will resolve the crisis in Washington to close out games. His tenacity is by no means to be under-rated. A strong passer and a defensive player, Beal's forte is his purified shooting technique. Wizards now have an amazing three point zone team with Wall at PG, Beal at SG and Jordan Crawford at SF. The Washington franchise may not yet get out of the lottery zone but will be sure to win games that could change the fortunes of this dying franchise.
Playing style: Ray Allen
2012-13 stats: 14 PPG, 5 RPG and 1.0 SPG
Shooting Forward: Harrison Barnes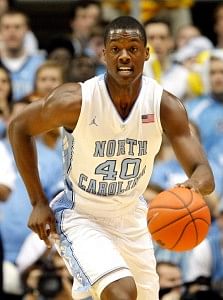 Drafted by: Golden State Warriors
College: Duke
2011-12 stats: 17.1 PPG, 5.2 RPG and 1.1 SPG
Many would pick Kidd-Gilchrist in this position over Barnes. But to me, Barnes has a stellar year in store. He was predicted to be the best player in the 2011 class till he hit a slump in February, but that wouldn't deter this Duke product from owning the courts of the NBA. Kidd-Gilchrist is a better scorer, but Barnes has a much better supporting cast that would only improve him. Barnes is an athletic freak, to add to his intense game physique and fundamental basketball agility. Wait and watch for the Golden State Warriors to lock a playoff seed this coming season.
Playing style: Jason Richardson
2012-13 stats: 14.5 PPG, 6 RPG and 1.4 SPG
Power Forward: Anthony Davis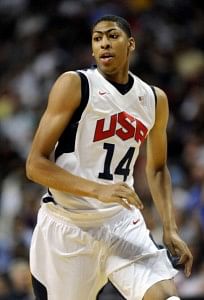 Drafted by: New Orleans Hornets
College: Kentucky
2011-12 stats: 14.2 PPG, 10.4 RPG and 4.7 BPG
Davis is a sure bet to win Rookie of the Year. He is the face of the Hornets franchise, has Austin Rivers and Eric Gordon to sustain his quality and most importantly, is a dexterous all-round player. He won't be bullying the NBA stars like he did at college with his blocks, but Mr. Unibrow might perhaps have a shout in the All-Star voting. His time at the Olympics surely aided him in accustoming to the courts governed by the NBA's elite. He can further spread the floor out that will make Gordon a prolific shooter and lead the defensive perimeter with Robin Lopez. Unless an injury hampers his progress, Davis is set to become a perennial star in the NBA, like Blake Griffin.
Wait, I am not done. His FG % was 64 in college and I don't see it dipping in the NBA.
Playing style: Tim Duncan
2012-13 stats: 12 PPG, 10 RPG, 60 FG% and 2 BPG
Center: Jonas Valanciunas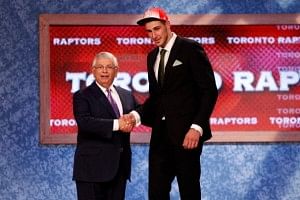 Drafted by: Toronto Raptors
2011-12 stats: 11.7 PPG, 7.35 RPG and 1.67 BPG
Valanciunas is the most experienced player in this rookie class. Not only does he have Euroleague experience, he has been a standout for his national team as well. In Lithuania, a country of around 3 million people, basketball is a religion. And Valanciunas is well on his way to certifying himself as the godly figure of that religion. His field goal percentage is a phenomenal 63% and he takes way more shots than Anthony Davis. In the NBA, his pivotal role in the Raptors lineup would be defense. As the Toronto franchise starts on its path to resurrection, watch out for this youngster to heat the courts of the Eastern Conference.
Playing style: Andrew Bogut
2012-2013 stats: 11 PPG, 7 RPG and 1.2 BPG