Armstrong doping case leaves questions unanswered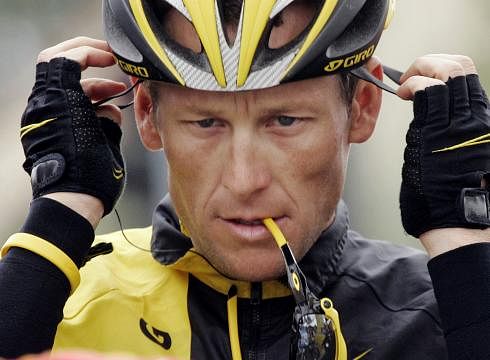 Lance Armstrong's decision to not contest the charges of doping against him by the USADA could not have come at a worst time for the sport of cycling which has forever been plagued by doping and cheating charges for a long time now. Just when the sport seemed to have had one of the cleanest Tour de France in recent times, with just one of the 198 riders being evicted out of the race for doping charges this year, Lance's decision might have put the past, present and the future of the sport in a limbo once again. As if Alberto Contador being stripped of his Tour de France title was not enough, this decision, which might lead to Armstrong being stripped of his 7 Tour De France titles might just prove to be the final nail in the coffin. However, this decision by Armstrong has left a lot of questions unanswered.
The first and foremost question that comes to the mind is that if Lance Armstrong was doping throughout his career, why was he never caught throughout his illustrious career?
The answer is Lance Armstrong has never failed a doping test in his life but the charges levelled against him have come from the USADA (US Anti Doping Agency) while the doping tests conducted on him have always been done by the UCI (Union Cycliste International) which is the governing body of cycling. The USADA in the charges levelled against Armstrong claim to have blood tests of Armstrong from 2009 and 2010 which show signs of improper manipulation as well as presence of blood boosters. This was the time around which Armstrong made a comeback to the professional cycling scene, though nothing wrong was detected in the doping tests conducted on him in the subsequent cycling season. They also claim to have evidence and eye witness accounts of 10 cyclists dating back to 1996 when Armstrong supposedly was involved in a doping conspiracy where again nothing was found wrong in his blood samples. This again leads us to the question – if the USADA was right, was there any conspiracy at the UCI end that let Armstrong go scot free?
This also leads to our next question as to who were these cyclists who gave testimony to the fact that Armstrong had been doping? What happened to them? Why weren't they charged too?
Just as we are curious to know who these riders were, so was Lance. However, his requests were turned down by the anti doping agency who said it wasn't obliged to hand over that information until a reasonable time before an arbitration hearing. It is understood that some of these riders will either be immune to prosecution or will have their bans for their own use of performance enhancing drugs substantially reduced for their "co-operation". So with Armstrong's withdrawal, none of these testimonies will now be tested by an independent or objective third party and presumably now USADA will simply rubber stamp their own allegations that there is no need to even identify who these anonymous riders giving testimony are. And if that is the case, will they even be banned for their own drug use which is reportedly implicit in their testimonies?
What happens to Armstrong's Tour De France titles?
The USADA has said that it will put out a statement announcing that it is sanctioning Armstrong for doping and for playing a key role in a doping scheme on his cycling teams. The agency will also say that Armstrong will be stripped of his Tour titles and will begin a lifetime ban. It will then be up to the International Cycling Union, the world's governing body of cycling — which is a signatory of the World Anti-Doping Code — and organizations like the Amaury Sport Organization, which runs the Tour de France, and the International Olympic Committee to enforce the ban and strip Armstrong of the titles and awards he won since August 1998.
Under the World Anti-Doping Code, those organizations are obliged to honour USADA's sanction. However, it might take some time for Armstrong's name to be erased from the record books, though, because the cycling union will likely appeal the sanction as it has already fought with the USADA for the jurisdiction of the case. If it appeals, the case will have to go to CAS (Court of Arbitration for Sports) who already have a backlog of cases for them, hence leaving Lances titles and money earned from them in a limbo till then.
If stripped of his titles, who will these titles go to? Do we just erase 7 years of historical cycling era in the Tour de France completely? What will happen to the money he and his team mates earned because of those victories?
The normal procedure when a Tour winner is stripped of his title is to promote the 2nd placed rider to 1st position as happened in the case of Andy Schleck (Alberto Contador) and Oscar Perrero (Flloyd Landis) in the recent past. However, some of the riders finishing second to Armstrong have themselves had a dodgy past. The 2000, 2001 and 2003 runner up Jan Ullrich has served up a ban for his involvement in Operation Puerto blood doping scandal from 2005. In 2004, Andreas Kloden was the runner up who was also connected with a doping scandal in 2006. In 2005, Ivan Basso finished 2nd but later served a two year ban for attempting doping though he actually did not go through with the process. What happens in this case? If Armstrong has to return his prize money which is split with the entire team, do his team mates also have to return the money?
Are these the same guys who are acting as witness to these charges?
Finally, it leads us to the question as to what this means to the sport as a whole?
Armstrong has always been a role model for everyone because of his sporting as well as his personal life. The news of his withdrawal will only taint his image and thus take away from cycling a clean role model that it needed to resurrect its falling image. If Armstrong is stripped of his titles and proven guilty, it causes more damage than good to the sport as it becomes evident that the riders can get away with doping for a long time and highlights the fallacies of the current fight against doping.