Lance Armstrong stripped of Tour titles and banned
LOS ANGELES (AFP) -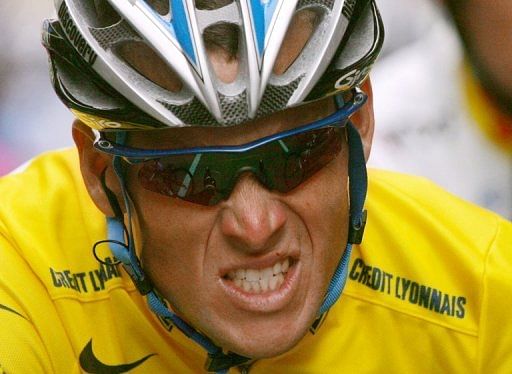 Iconic US cyclist Lance Armstrong, pictured in 2005, has been stripped of his record seven Tour de France titles and banned for life for doping, the US Anti-Doping Agency said Friday.
The US anti-doping agency stripped cycling icon Lance Armstrong of his record seven Tour de France titles on Friday and slapped him with a lifetime ban from competition.
Armstrong announced on Thursday that he was dropping his legal challenge against USADA over claims that he cheated and used performance-enhancing drugs to win cycling's most prestigious race from 1999 to 2005.
The 40-year-old, who battled to the top of his sport after beating life-threatening cancer, maintained his innocence but said he had grown weary of the fight and the strain it had put on his personal and professional life.
"There comes a point in every man's life when he has to say 'enough is enough.' For me, that time is now," he said in a statement.
USADA took his announcement as an admission of guilt and proceeded with severe sanctions against the former champion and global sporting icon that will forever tarnish his inspirational legacy.
"USADA announced today that Lance Armstrong has chosen not to move forward with the independent arbitration process and as a result has received a lifetime period of ineligibility and disqualification of all competitive results from August 1, 1998 through the present," a statement said.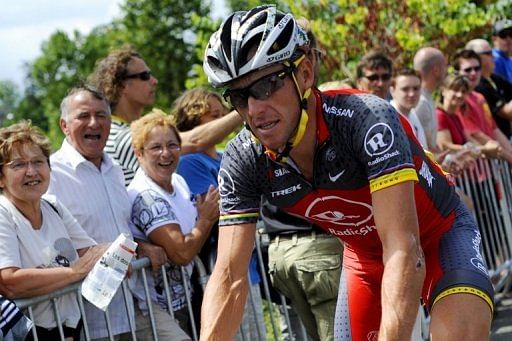 Fans look at Armstrong riding to the signature ceremony prior to the start of the 198 km and 18th stage of the 2010 Tour de France. The US anti-doping agency stripped Armstrong of his record seven Tour de France titles on Friday and slapped him with a lifetime ban from competition.
This may not be the end of the matter as the International Cycling Union, the sport's governing body, has been fighting USADA for jurisdiction of the Armstrong case and could launch an appeal or fail to recognize the move.
Prior to USADA's punishment, Armstrong condemned the US anti-doping organization for what he called an "unconstitutional witch hunt" and said it had no right to strip him of his titles.
"I have been dealing with claims that I cheated and had an unfair advantage in winning my seven Tours since 1999," he said.
"The toll this has taken on my family, and my work for our foundation and on me leads me to where I am today — finished with this nonsense."
USADA maintains that Armstrong used banned substances, including the blood-booster EPO and steroids, as well as blood transfusions dating back to 1996, and said 10 of his former team-mates were ready to testify against him.
Attention now turns to the UCI, based in Aigle, Switzerland, to see if cycling's governing body will uphold USADA's decision to strip Armstrong of his titles and ban him from competition.
If the UCI confirms the move, it faces a potential headache of choosing the new winners, as a number of cyclists who finished behind the American have also been implicated in doping scandals.
Armstrong, who retired from cycling last year, said he passed hundreds of drug tests during his career and adhered to the rules in place at the time of his Tour de France wins.
"I refuse to participate in a process that is so one-sided and unfair," he said, alleging that from the start the probe had been "about punishing me at all costs."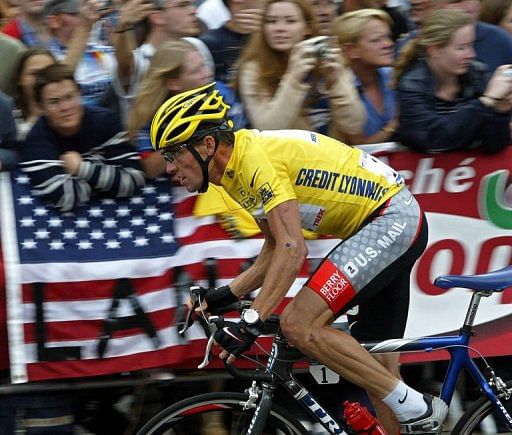 The US anti-doping agency stripped cycling icon Lance Armstrong, pictured in 2003, of his record seven Tour de France titles on Friday and slapped him with a lifetime ban from competition.
Leaders of the anti-smoking and anti-cancer causes that Armstrong champions through his foundation rallied to his side.
"Reducing suffering and death from cancer is a moral imperative, and the Lance Armstrong Foundation's contribution is sorely needed," said John Seffrin, chief executive officer of the American Cancer Society.
"Lance Armstrong and LIVESTRONG have been invaluable leaders and partners in the fight against cancer and tobacco use," said Matthew Myers, president of the Campaign for Tobacco-Free Kids.
"They have helped focus global attention on these urgent public health challenges and mobilized millions of cancer survivors and their families to take action."
The head of the World Anti-Doping Agency (WADA) John Fahey, however, gave his backing to the US agency.
"He (Armstrong) can say what he likes. The only way we would have known what the substance was of those charges, what the evidence was, was to have the evidence tested and I'm disappointed that won't occur," he told ABC radio in Australia.
Allegations of doping by Armstrong were made in two books, "LA Confidential" and "L.A. Official" while in 2005, the French sports daily L'Equipe reported that retested urine samples from the 1999 Tour de France indicated use of EPO.