Which sport is the greatest of all?
Senior Correspondent
I've chosen to walk a path too arduous to even contemplate but with a complete trust that glory is reserved only for the one willing to try.
We have countless number of sports that have originated over history that have kept human kind indulgent; be it through direct participation for improving one's physique, merely play for recreation, watching sports for entertainment, countless columns and blogs defining heroes through our words, a million programs debating mind games and analyzing strategies. All in all, sport seems to demand a fair share of our time, money and energy, but one that we are only glad to concede to!
Before I keep you guessing to the point of boredom, let me divulge the curious case of supremacy I'm referring to. It's a strange question, one we've never tried analyzing, either in want of approach or lack of homogeneity, of 'Which sport is the greatest of all?'
Well here's my analysis on the subject. It certainly isn't the final answer given my 23 year-old limited exposure to the world's gaming dynasty. If you believe that it's more than a foolish endeavor that can be merely brushed aside, feel free to debate my opinion on a cup of coffee and get back to me.
Feel free to leave your thoughts. I'd only be more appreciative of hearing your end of the argument. But before you get down to validating your judgment, here's a word of caution. Let not personal adoration or patriotic fanaticisms unto your long embraced or cherished game influence your analysis.
I've probably considered just a fraction of the infinite games that exist in modern radar of sport, but I assure you the primary necessity for a game to be considered was its rigid empire of rules and governing bodies, of being closely followed, famous and celebrated world-wide.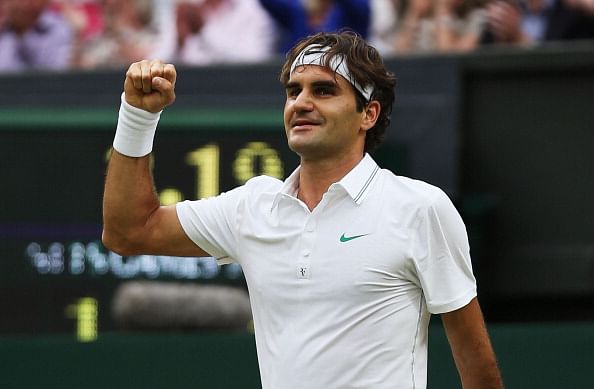 And the answer, a personal opinion is that 'Tennis is the greatest game ever invented!'
And before you get busy planning a riposte in total or partial agreement or intellectual denial, here's some analysis of the remaining contestants and reasons supporting my tall claim.
Most argue that chess is the acme of sport considering its need for one's grey cells but I believe a board as small as 64 squares can only have limited combinations (the gigantic figure mathematically is another thing though!) It undoubtedly engages the mind though stops there. Most often with this sport, it's purely whether you have managed to find that one combination your opponent hasn't. The fact that you have time to plan doesn't improve its argument either.
On a lighter note, Golf seems more like a case of 'If you think you are rich, let us check your fortune'; though I agree, it's not as simple.
Cricket has its pressures, mind games, patriotism, history and a million rules. But frankly it's far from a sport that engages one's physique thoroughly. One could be standing all day in the sun with not much importance in the events unfolding, while someone else holds center stage all day long. It's often a bowler's nightmare and a batsman's dream, though at times the reverse does hold true. Some of its rules are ambiguous, none more than the 'Duckworth and Lewis.' The fact that it is reviewed by humans leaves an error for judgment although the arrival of technology in URDS hasn't added much to cheer. There's still a large scope for improvement and their demands for change every fortnight doesn't augur well for humanity's tribute to its origins. Although, its fair share of popularity and immense adoration in at least in 10 countries might just provide me some of its loyal supporters in debate for this article.
The more physically demanding football comes close to tennis though it could at times lose out on the fact that like cricket, every day couldn't be an office day for all in the field. That's the integral part of the game's design and it stays that way. Most often despite being its loyalist, one has to concede the bitterness that assumes center-stage; losing the grander cause takes away the beauty of an otherwise priceless sport. And the inevitable truth remains that a laborious day might just not provide you the perfect result for the hard work. There isn't one final distinct winner in this game and penalties, its final decider, we all agree aren't the perfect answer.
F1 is all about high speed racing; overtly mechanical depending on design, body aerodynamics etc., with minimal scope for creativity, at times bordering on the mundane.
Basket-ball probably is the closest rival for a claim to supremacy on most details though it narrowly misses out on the single truth this being a team sport; one's mistakes, could be covered by the rest.
Swimming is purely about one's athleticism. For any result, there's none to blame in this game save one's self. Other more bludgeoning games like boxing, wrestling and the like purely stand no chance in claiming a pedestal given their brutal methods of gamesmanship.
Badminton, in all earnestness, is the game that I probably think comes 2nd losing out on the front of nature's elements that one needn't master here while Squash comes 3rd given that is loses some space for creativity.
And finally, the winner is Tennis in the 1st place, a sport that needs the entire spectrum of human involvement –  engaging the agile reflexes, complementing the thoughtful planning, tireless stamina to outrun your opponent, perfect posture to create that angle of the shot when the racquet hits the ball, finding that empty spot in the opponent's court, braving mental stress in the midst of all the cheering and jeering, conquering the elements of wind and rain, most often the aura of the opponent, and rarely if you are a legend, the burden of creating history, all alone, on the run, in a split second. Moreover it's a cruel game in one aspect that you have to play until you win.
The sum total of all the things mentioned emphasizes the need for a synchronized performance of the mind and the body. Although wonders like Roger, make all these trivial, crafting the additional charm of sublime art within this war through the aspect of spirit.