Roger Federer's game - The best coaching manual
Senior Correspondent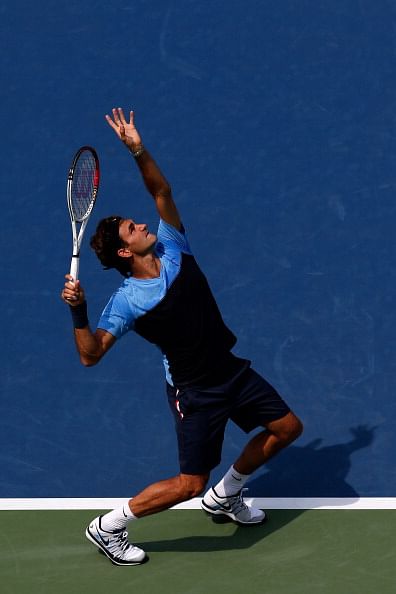 It is never a surprise to hear from young tennis professionals nowadays that they idolize Roger Federer. Whether they adopt his style of play or not, they still invariably say in their interviews that the Swiss maestro is their idol. Strange, isn't it ? There are also the Djokovics and the Nadals and previously we had Sampras and Agassi who have been incredibly successful. Yet, no one names anyone other than Federer as the one who they looked up to in the process of becoming a professional.
The reason is quite simple though. Many tennis critics and players, both former and present, have called Federer the greatest to have ever played the game. The completeness which we can view in Roger's game has hardly been noticed in anyone else's. The great Rod Laver alone possibly comes close to Federer in this aspect. Federer's technique is the best in the business. He looks elegantly attractive to anyone who follows the game. So, irrespective of how the younger players get coached, they always idolize Federer's game as they grow up.
We have heard many tennis fans saying that Federer is the most complete player ever seen in the history of the game. In that case what I feel is, if the tennis aspirants watch the game of the Swiss, which in itself is "poetry in motion", the game of tennis can be learnt perfectly. So, by considering the great man himself as a coaching manual, I am giving below the shots that he plays, the way he plays them and also the situation which dictate such shots to be played. First of all let us start with his strongest weapon, which is his forehand.
Forehand:
This is probably the most preferred shot of the Swiss perfectionist. No doubt he employs it more than his backhand which is supposed to be the weaker of the two. Just how many of you have seen him demonstrating his shots in Rolex TV advertisement? Those who have witnessed this artistry would agree with me as to how beautiful his shots look. There are many varieties in forehand shots and Fedex seems to play each one of them with extraordinary precision and ease.
Forehand Cross Court:
This is easily the pick of the lot of Federer's forehands. Especially when there is even a half open court, if he plays this shot, invariably it turns out to be a winner. Federer uses it also as a defensive shot during rallies, continuously striking it into the baseline corner of his opponents only to make room for himself to play a down the line winner on the other end of the baseline. He also plays the shot when he hits a serve wide;  the opponent, when stretched on fetching the wide serve, would be successful only in bringing the ball just over the net, which would be just enough for Federer to come half-way down the baseline for hitting a forehand cross-court winner.
One should look at the way he executes the shot in "super slow mo". He keeps both his feet just two inches over the ground, as he hits it. He also rolls his wrist as he swings the racquet, drawing a semi circle in the air as he delivers it. As a man who hardly grunts, we would barely see his mouth open even when he puts more effort forcing the shot. The way he turns his head showing the ball the direction, looks as elegant as his cross-court shot itself.
Forehand down the line:
This is probably the most difficult of the lot. This shot demands accuracy, as a slight mistake while playing it can produce an unforced error. Federer strikes it probably better than anyone else. It is purely meant to be an offensive shot. It is something which is played probably once or twice in a lengthy exchange of shots. The way Federer maneuvers himself quickly to adjust from a prevailing cross-court situation to do the exact opposite by nailing the "down the line winner "is something which is out of the ordinary. Any other player would have continued persevering with the baseline slugfest simply because of lacking this offensive shot in his repertoire. Federer, on the other hand, slightly differing from the rest in the quest to finish points quickly, switches over to this shot in the most effective manner possible.
The ball needs to be kept as straight as possible when it is directed down the line because, like I said, a slight mistake can take it away from the baseline, leading into an unforced error. The super slow mo here gives almost the same picture as his cross court forehand, but here the ball goes straight and that is the beauty of the great man's skill.
Forehand inside out:
After the American great Jim Courier, I have not seen anyone playing the inside out forehand as frequently as Roger Federer. Of course, Nadal also plays this shot, but he does that only when he gets an open court. But the Swiss maestro, begins it as a defensive ploy and as every shot goes by puts more into the shot and powers a winner after three or four strikes. Every inside-out forehand that he hits pushes his opponents further and further into the corner of the baseline, and finally he gets the opportunity to hit a winner. He also uses this while facing the second serves of his opponents, particularly when the chips look down for him in a game. He gives room for himself and powers it to the other side of the court, making it impossible for the server to hit it back. When he plays it 8 out of 10 times, he gets the job done.
Forehand slice:
This is not something he plays every time during his baseline rallies. When he is pushed to the corner and the ball is almost out of his reach, it is not possible for him to play an offensive shot. So he plays this innovated version by stretching his forehand, slicing it to the opponent's court, and forcing them to come to the net for playing their own offensive shot. This may at times help Federer play a passing shot against his opponents when they come to the net.
Forehand drop shot:
Those who have not missed the 2011 French open final would have seen this shot flowing from Federer's forehand wing time and again. This was specially incorporated by him to counter fast moving opponents like Nadal, Djokovic and the like. Not many can play this shot with so much precision. Though the ball comes at a very brisk pace, somehow Federer finds time in dropping it well short of his opponents. He disguises this shot so well that his opponents get foxed all the time. The racquet comes swings very quickly through his hand as though he is going to play an offensive forehand "inside out shot", but just at the last moment he chooses to time the drop at the net.
Backhand:
Having gone through the forehand shots of Roger, now it is time to move on and find out how his backhand looks like. He plays single handed back hand which is a rare sight itself in modern day tennis. There are some astonishing ways with which he gracefully delivers it.
Down the line backhand:
If playing down the line with the forehand is difficult, the word "difficult" should be prefixed with the word "very" when it comes to playing it with backhand. And Federer is someone who plays it even while running. On match point, when he played this shot against Nadal as a passing shot winner in the 2008 Wimbledon in the fourth set tie-breaker, it showed to us how good a player the Swiss Maestro really is. With the double-hander you have control playing backhand down the line but as a single handed backhander it is really bamboozling to see him playing it so correctly. At times while playing this shot, he makes errors, no doubt, but this is one of the best offensive shots he possesses. The way he dispatches the ball, combined with his foot movement, make the shot really nice to watch.
Back hand cross court:
The swing that he generates while playing this shot away from his body is something unbelievable. He may not play it with as much power as Richard Gasquet or Stanslas Wawrinka but he gets the job done very elegantly. From the baseline corner he plays cross-court winners off his backhand which fall on his opponents' court, sporting a diagonal look. He also delivers this shot really well while playing it as a passing shot when the opponent approaches the net.
Backhand slice:
This is one of the defensive shots of Federer which is primarily used by him to slow down the pace during rallies so as to buy time to play an offensive forehand. It is used against taller opponents like, say John Isner and Del Potro, who find it hard to bend and play shots off their forehand. Federer has the best slice backhand in the world. The way the ball breaches the net and goes just over is quite a sight to watch. This forces the opponent to play forceful shots in order to put some pace on to the ball, which may sometimes lead to unforced errors from them.
Backhand drop:
Much like he executes his drops via the forehand, he is really good with his backhand drops too. The most amazing part of his backhand drops is his ability to produce them even while standing at the baseline. It is like putting more "slice" to the backhand that helps him play it with utmost accuracy. Many rivals have been outwitted when he gets this drop going.
Backhand flick:
This shot is something which he alone plays in the world of tennis. With just a flick of his wrists he is able to score winners against his opponents with an almost ludicrous frequency. It is not like he gets more power playing it, but it is just that he guides the ball so gorgeously with a flick that it belies comprehension. Once he does that the ball then flows past his rivals when they come to the net. It is almost as good as a passing shot.
Well, apart from these shots, we need to commend Federer for his volleys too. In spite of being good with deep serves, he is a reluctant serve and volleyer. But whenever he approaches the net he picks up the points rather easily. His volleys are played with excellent anticipation and it is extremely hard to get a ball past him for his rivals. He gets at least 80% of his points whenever he comes to the net. He good at both backhand and forehand volleys as well as drop volleys, in which he is second to none among his contemporaries. Plus the smash backhand that he hits is a treat to watch.
If that was not all, there are some shots which he almost owns. There are a few more in his quiver like the tweener or what we call "between the legs shot", and the picking of the ball off his toes and playing a cross court winner from the baseline (like what he did at the Swiss indoors tournament at Basel three years ago against Novak Djokovic). These are utterly unique shots which come to him very naturally.
In all, I can only reiterate again that Federer is by far the most complete player seen in the history of the game. Now reclaiming his position of world No.1 in the ATP rankings, he is once again going into a Grand Slam as the favourite to win it. Having won a comprehensive final against Djokovic in Cincinnati, the musician that he is in tennis, Roger Federer is all set to get his 18th Grand Slam title. Only an all-court player like him can be picked for winning any tournament in which he steps his foot in. By just looking at his game, one can get a complete guide on how to play tennis in the most proper manner.