London Paralympics - Performance of Indian Players on 1st September and Schedule for 2nd September
Correspondent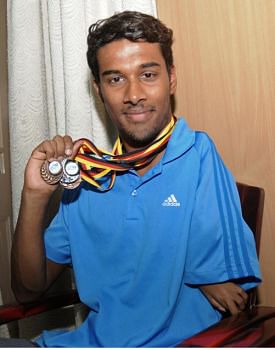 India's lone swimmer at the London Paralympic Games, Sharath Gayakwad finished 3rd in his 100m breaststroke event with a personal best time of 1:18.20. Finishing 12th among 21 swimmers across three heats, he missed out on qualifying for the finals, as only the top 8 swimmers go through.
Sharath had qualified for the 100m breaststroke event with a timing of 1:20.18s.Racing against the best  swimmers from around the world, Sharath clocked a personal best time of 1:18.20s, 2 seconds faster than his qualifying time.
21-year old Sharath had earlier finished 9th in the 100m butterfly event with a personal best time of 1:07:12,5 seconds quicker than his previous best. He still has 2 events left at the Games.On September 3rd he will be in action in 50m freestyle event and on 5th September he will be competing in 200m Individual  Medley event
21 years old Sharath who won two Gold, four Silver and one Bronze at the IWAS World Games in 2009 and Bronze at Asian Para Games in China in 2010  is very determined of improving his performance in his upcoming events.
INDIAN PLAYERS IN ACTION ON 2nd SEPTEMBER
Discuss Throw- Jaideep in the Discus Throw- F42 at 4.20 PM
Powerlifting- Rajinder Singh Rahelu in 67.5kg wt. category at 7.30 PM.
Javelin Throw- Narender Ranbir in the Javelin Throw-F44 at 11.35 PM.
Long Jump- Jagseer Singh in the Long Jump- F46 at 15 minutes past midnight or 12.15 A.M