It is time for you to repay - An open letter to Toni Nadal
Senior Correspondent
As much as good parents are important, it is equally pivotal for a child to get nurtured by a good guardian. You might not know that there exists in India an epic called "Mahabharat". The story revolves around the prince of Hastinapura called Duryodhana, who, on account of following wrong instructions given by his uncle Shakuni ever since his childhood, walked on the path of destruction throughout his life only to get assailed in the war finally. But, when I come to think of you I can only offer my thanks for being a lovely guardian to your nephew, who is better known in the tennis world as Rafael Nadal.
I have read Mahabharat and so have I your nephew's autobiography. I could understand how much of an influence you had been for him during his childhood as an uncle as well as a coach. Unlike Mahabharat, where the conniving ideas of the uncle led to the catastrophe of the prince as well as his kingdom, it was your support and perspicacity which helped your nephew to develop into one of the greatest tennis players of all time, building his own empire. He captured 11 Grand Slams in the span of 8 years, starting from 2005, only because of your preaching.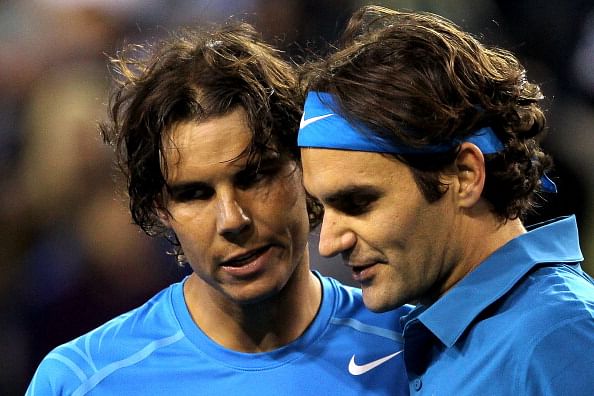 I choose to call it preaching rather than coaching because it was you who imbibed in Rafa not only the detailed intricacies of the game but also some good moral values in the form of "commendable on court behaviour" like what your nephew has detailed in his book. Rafa has been really fortunate to have an uncle like you and he should be indebted to you for all what he has accomplished in his elite career thus far.
For tennis fans like us, Rafa is a super human. But that is the term with which he used to describe you in his book, when he was a kid. He felt you could do just about anything. Whenever he had been on a brink of defeat as a small kid playing tennis, he would pray to you for bringing in some rain to evade the scene. Coincidentally, it used to rain which made him firmly believe that it was you who had always acceded to his request. It took long for him to realize that you were only an ordinary human and that nature was not under your control.
Only when someone reads how Nadal has narrated his childhood, he or she would decipher the importance of your role in his life. Rafa revealed that you made him a southpaw. It was you who urged him to play with his left hand though he felt he was stronger using the other hand. Even he started employing double handed back hand only because of your training. I understood that even his playing style had never been his options really. Being a lefty in tennis has really given him an added advantage over the others.
You left no stone unturned in making him a great player. The numerous victories and the mind blowing head to head record which he holds against Roger Federer should also be attributed to yours. Nadal has never hesitated to give you credit wherever it is due in his book. He has categorically admitted that you had inculcated in him the way to counter the Swiss Maestro. You made it clear to him that he would not be able to beat him on talent and so all he should do was to wear him down by the fleet in his legs, bringing doubts in the minds of the Fedex. This was the lesson perhaps well grasped by your lovable nephew. He learnt not only the game but also all the nuances in it.
The "good boy" image that Nadal has been carrying for so long infront of the public is also because of you. You trained him not to get upset during the course of the game which could otherwise result in disgraceful acts such as racquet insult and so on. In short, you made him the human which he is now. If Nadal is a celebrated athlete now, feared by his foes, it is due to you fine tuning him so.
There is a saying "what you sow, so shall you reap." In your case it has come true. The one thing which eluded you was your own success in your attempt of pursuing a professional career. You could never be the person whom you wanted to be. It was then you found your own nephew in his childhood resembling every bit of a person you have imagined. He came as a bolt out of the blue in your life. This triggered you to shape a person who has since then grown leaps and bounds to be the mentally toughest and physically strongest person ever to beat. No one, barring Daveydenko, among his contemporaries has got a better head to head record against your nephew. Even the Russian's success over Rafael Nadal dates back to the time when the latter was only a new comer. So, precisely, no one could dominate him in his career, until Djokovic for a brief period, turning the tables last year. The Spaniard, however, bounced back inflicting three back to back defeats over the Serb and this shows how tougher Rafa has been.
By making what Rafa is now, you have realized your dream. In the Spanish Armada, as we used to describe him, you are able to see yourself. You feel all the more happy seeing him a world beater until now. The name and fame which you once dreamt to have as a professional have now come to you because it was you who trained him. The whole world knows you as "Uncle Toni", ever since Rafael Nadal became a modern day great. All those who follow tennis have come to know of you. There is not a single soul in the world which does not recognize you. You have become as popular as your nephew in the world of tennis.
It is now time for you to repay him for whatever he has given you. This is the perfect scenario for you to do it. The current situation of your nephew is the worst ever, so it seems, due to the injury that he is carrying. Since Wimbledon, we have not seen him contesting in any match. Leave alone ATP tours, even in an exhibition match which he was supposed to play in July has been skipped by him. As I write this letter, I have learnt he has withdrawn even from the Davis Cup which follows shortly.
No one better than you knows what extent his injury has been hurting him. In 2009 also, he had problems with his health but atleast he was able to play the final Grand Slam of the year, after forcing himself out of Wimbledon. This time around, things seem to be even worse. He has stayed away from Olympics, Rogers Cup, Cincinnati Masters, US open and like I said the ensuing Davis cup. Your nephew, who is a heart-throb for millions of fans, is battling injury problems seriously than ever before.
The tennis fans all over the world thank you for giving them Nadal. While tennis fans want to see him convalescing quickly, they would be even grateful if you could find a way to bring him back from injury, finding a permanent solution to his ordeal. If anyone would be able to do it, it should be you. Remember those days when Rafa called you super human. It is well within your reach "Uncle Nadal." The whole world wants Rafa back as we await the lion to start roaring on the courts again.