Girisha Nagaraj wins silver at London Paralympics; first medal for India
Contributor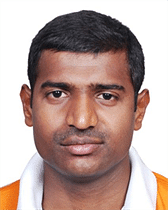 India won its first medal in the London Paralympics yesterday night. Girisha Nagaraj, an athlete from Bangalore, won the silver medal after he posted his personal best of 1.74m in the Men's High Jump F42.
He qualified for the London Paralympics with a leap of 1.60m in the qualifying event, which was  held in Kuwait.
The 24 year old Girisha Nagaraj has an impairment in his left leg. Earlier this year he bagged a bronze in the  1st Malaysian Open athletics championship in April.
Before leaving for London, Girisha spoke to the Hindu: "I found a job but had to quit since I had to prepare for the Paralympics. The job can wait, what matters now is a medal."
Iliesa Delana of Fiji won the gold medal and Mamczarz L of Poland won the Bronze. All the three athletes had a 1.74 m jump but the positions were decided on the number of attempts they took.