The Brilliance Of Michael Schumacher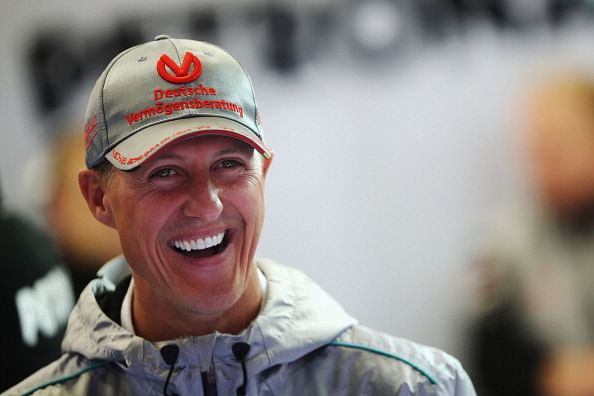 Michael Schumacher is a name which is synonymous with F1. So what is different in Michael which makes him so brilliant?
Many people may argue that now Michael Schumacher doesn't have the quality he possesed during his Ferrari years to turn a bad car into a good car. But what more do you expect from a 45 year old man who can still fight nose to tail with the young guns of Formula 1? In the current Formula 1 driver line-up, only Fernando Alonso is a  driver who has the qualities of Schumacher and this has been illustrated this year by the Spaniard.
If you compare Schumacher's and Rosberg's age, you will find that Rosberg could have been Schumacher's son. And age is a very big factor in Formula 1. With age, the reaction times come down and also the fitness levels decrease. And if you see up and down the paddock, you will find that Schumacher is still one of the fittest drivers on the grid. Also, the fact that he can outpace his teammate demonstrates that Schumacher still has what it takes to be at the Pinnacle of Motorsport.
What makes him Brilliant?
1. Michael Schumacher has a very unique property which was more significant during his early years. He had and still has very good control of the rear of the car and during his first career he used this quality to get lap-time out of slower cars. This was one of the prominent reasons why Schumacher was able make a poor car look like a good car.
2. The other factor which makes him so brilliant is the fighting spirit that he has. If you see his races before retirement and even after he returned, Michael makes his car as wide as possible and pushes the rules to the limit when defending the position.
In the previous race in Belgium, Michael illustrated this quality when he battled hard with Kimi, Webber and Nico Hulkenberg on comparatively older tyres.
3. The third factor is attention to detail. And this attention to detail isn't limited to technical details only, but also to emotional details. Formula 1 is very demanding both mentally and physically and a  F1 driver has to be free from family and other personal problems to perform at his best. Last year, we saw Lewis Hamilton having a very ragged season which was mainly down to the personal problems he had with his girlfriend and family.
Michael Schumacher has always stayed away from this problems and has had a stable family life which has proved dividends in his success. Also, Schumacher has always remained out of  the paparazzi limelight and has thus been able to focus on his job in much better way.
4. Team Spirit is the fourth factor which makes Schumacher so brilliant. Michael has always remained committed to his team and personnel of the team. In the 2006 Japanese Grand Prix, Michael's Ferrari engine blew which meant that he lost the chance to fight for the championship with Fernando Alonso. Michael, no doubt very disappointed, still thanked each and every team mechanic of the Ferrari team. Also this year when Michael had a series of mechanical failures, he didn't lose the confidence in his mechanics and never spoke against the team. Many drivers in his case would have got frustrated and may have made controversial remarks.
Like all famous people Schumacher has also had fair share of controversial incidents. In Jerez, 1997 he intentionally drove into Jacques Villeneuve and was subsequently disqualified from the championship. In Monaco he parked his car intentionally at the Rasscasse chicane to prevent any other driver getting a faster lap than him. The FIA demoted him to last place on the grid. Both of the incidents reveal the determination of Schumacher to be the best. And at times, Michael crossed the limits and had to pay for it. Nonetheless, he learnt from his mistakes and the Schumacher in his second career run has been much more jolly and much more friendly with his rivals on track and off track.
Schumacher now has had 21 years in the Formula 1 industry, which in itself tells a lot about the man.
Meanwhile, Michael Schumacher continues in his pursuit of that elusive 92nd victory and the 8th world championship title.
Hope you managed to understand what makes Schumacher so brilliant. Do share your views in the comment box below.