Six future Free Kick Specialists
A well taken free kick and the football gliding beyond all obstacles into the back of the net. It is one of the most beautiful sights in the beautiful game.
The history of football is enriched with some really gifted free kick takers. The ability to consistently score from free kicks is often considered a rare and precious gift. A free kick goal cheers the crowd and scorer alike, which shows how special this art is. There have been some really gifted footballers who've mastered this art and inspired youngsters. Every young footballer tries this skill on the ground and dreams of doing it like his idol. Although it looks easy, it's just the opposite when you try doing it during an actual game.
There are many talented young footballers ruling the fields. Many more young footballers are introduced regularly. Surely, some of these immensely talented young footballers will turn into great free kick takers.
Some footballers who posses the ability to become great free kick specialists in the near future are listed below in the order of their ranking (my opinion).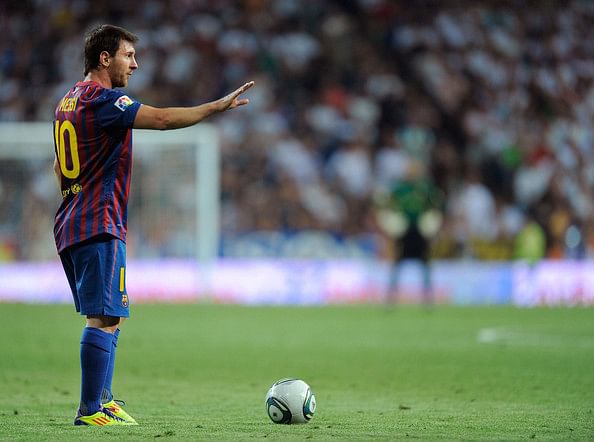 1 – Lionel Messi - The best player in the World (my opinion). He is a tremendous talent and cheers the audience throughout a game, much like his fiercest rival Cristiano Ronaldo. He never ceases to amaze with his dribbling technique and very consistent goal scoring ability. But he was not well known for his free kicks in the Past.
Although, he has scored some impressive free kick goals, it is only recently he has become quite consistent with his free kicks. His recent form with free kicks might be a sign of the emergence of a new free kick specialist.
2 – Neymar - The young and immensely talented footballer from Brazil seems to be good at everything he tries. His technique is one of genius and his control over the ball is evident. He is undoubtedly one of the greats in the making. He has shown plenty of magic with his team and club to dazzle the football enthusiasts throughout the world. He might become a great free kick specialist if he polishes his technique and finds consistency.
3 – Mario Balotelli - The young Italian striker shows enough promise to be a great free kick taker in the future. His ability as a striker is well known and  he is capable of a very strong shot and has enough ability to curl or bend the ball. This video shows how the ball moves several times in the air, confusing the goalkeeper completely. He is truly capable of becoming a free kick specialist.
4 – Mikel Arteta - The Arsenal man scored a brilliant free kick last season. His venomous free kick was one of the goals of the season in the EPL. The power and swerve, he produced in his strike was enough to prove his great ability. He is a good midfielder, but he will be an asset if he regularly showcases his free kick abilities for the Gunners. Here is a goal scored by Arteta when he was at Everton.
5 – Gareth Bale – No one doubts the ability of the pacy winger on the field. He is a great player and is often compared with Cristiano Ronaldo. Although he does possess similar pace, he is nowhere near the Portuguese great at the moment. He is improving as a player and his powerful shot with a great goal scoring  ability is known to all.
Have a look at some of the free kick goals by the young footballer. The power, control and accuracy of his shots,show enough promise. All the three goals in the video are a carbon copy of each other. But that technique is enough if it is fully mastered.
6 – Luis Suarez – He is a great player, a good striker and very confident with the ball. We haven't seen him score many free kicks, simply because he hasn't. But his name is mentioned on this list because I saw him score one truly wonderful free kick. The quality of the strike is sufficient to make us believe that Luis Suarez may be a free kick Specialist.
Lets hope we see many young footballers develop and practice this great skill. It is and will always be a great sight to see the ball gliding into the back of the net. Cheers !!