When will Liverpool's goal-scoring woes come to an end?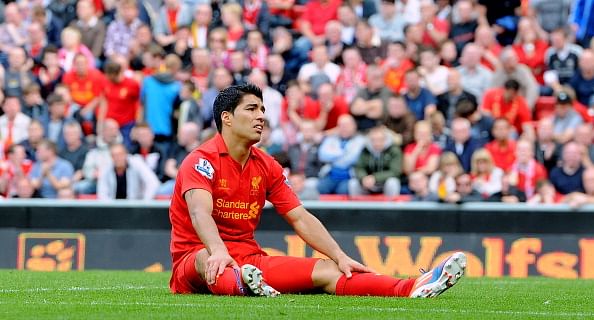 This is probably a question that's been haunting every Liverpool supporter for quite some time now. Take this season- two goals in three games and both coming from set pieces shows the team's profligacy in front of goal. Without the traditional 'No.9 'in the team , Suarez and Borini are the only recognized strikers and their dismal performances have left Liverpool in dire straits. It's only a matter of time before Borini finds the net but what's alarming is that Liverpool struggled with this problem throughout last season and it hasn't been rectified yet. The club's passing and movement has definitely improved after the team has embraced Rodgers' philosophy, but it's frustrating to see that the team is absolutely clueless on what to do with the ball in the final third.
Now that Liverpool is languishing in the relegation zone, it's important to get that first win and collect some much needed points. The Stadium of Light has not been a happy hunting ground for Liverpool in the recent past. With new signings Steven Fletcher firing all cylinders as well as Adam Johnson, Martin O'Neill has a well drilled side capable of challenging any Premier League team. Liverpool faces an uphill task to get all three points this weekend.
The current 4-3-3 formation is clearly not working. Borini's talents are wasted as a winger, Gerrard's role is unclear and Suarez is not comfortable being the lone target man. Perhaps a change in formation or trying new players in different positions is all that's required to get the ball rolling. Some possibilities are:
1) 4-3-3, Borini as the target man
The success of the Rodgers' System at Swansea was mainly due to the fact that he had the right players at the right positions. Sinclair and Dyer (or Routledge) were tricky, pacy wingers while Danny Graham played the poacher and Sigurdsson pushed up during attacks. Liverpool should work on the same system with Suarez on the left wing and Sterling/ Assaidi on the right and Borini playing the striker. Ball recycling should be left to Allen, Sahin (or Lucas) and Gerrard should push forward when required.
2)      4-4-1-1, Suarez in the Hole
 Suarez loves to dribble and run past opponents and set up others for goal. Using this formation we could play to his strengths and it gives him the license to roam around freely all over the park.  The only problem in this formation is that there are two central midfield positions for four quality players (Gerrard, Allen, Sahin and Lucas) and only Sterling, Assaidi and Downing available for the wings.
 3)      4-3-1-2, No wingers
The fact of the matter is that we are very weak on the wings. Sterling is raw and will need experience to succeed; Assaidi remains an unknown talent while Downing is touted to be used as a left back. The club has quality midfielders and it makes more sense to play them. This formation will use Suarez and Borini partnering up as formidable strike force. Gerrard as an attacking midfielder with Lucas, Allen and Sahin forming the core at the centre. This formation will probably result in burn out if used throughout the season but can be used against strong oppositions.
 4)      Borini not working? Throw in Yesil
Though I am confident that Borini will sooner rather than later find his feet and score, it is possible that he may experience a barren run for a period of time. With a desperate requirement for goals, Borini could be dropped and 18 year old Samed Yesil can be thrown into the fray. His two goals for the Germany U-19 side vs. Wales show that the lad's got poise and a keen eye for goal. Who knows, he could be the next Robbie Fowler!
With Manchester United visiting Anfield a week later it's necessary to get a positive result against Sunderland. The team definitely has all the ingredients to get the job done. It's all down to Rodgers getting the right mix of players and making them play their hearts out to get those valuable three points that have eluded us this season.
Brendan Rodgers would definitely be scratching his head on how to solve this conundrum. It's been a puzzle that even the great Kenny Dalglish couldn't answer. Hopefully Rodgers has a trick up his sleeve.