Indian Men team roster for 4th FIBA Asia Cup 2012
Featured Columnist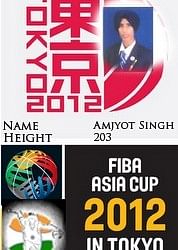 The action begins tomorrow. Youth is the byword for this squad. There are nine players who are below 22 years of age. Here are the timings, via Hoopistani.
India's Preliminary Round Schedule (All timings IST)
September 14 (10:30 AM): India vs. Iran
September 15 (10:30 AM): India vs. Qatar
September 16 (8 AM): India vs. Chinese Taipei
September 17 (1 PM): India vs. Japan
(height is in cm)
*Click on the image to view profiles of each player one after the other.
Data sourced from: http://indiabasketball.org/newsdetails.php?id=693