On United's win over Wigan
Featured Writer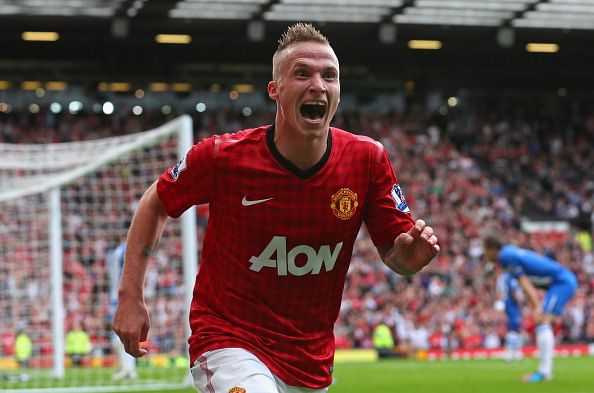 On paper, a comfortable 4-0. In reality, a game of two halves if there ever was one. United were average at best, and woeful otherwise, in the first half. Come the second half, the tempo quickened, United scored early and the rest was pretty much smooth sailing. Some thoughts:
Lindegaard it is. For now, at least
It seems that Lindegaard has Sir Alex's vote of confidence in the United goal at this moment in time. If truth be told, he did not really have too much to do in the game and when he was indeed called upon, he was quite solid.  It looks like David de Gea has his work cut out. That being said, one does imagine that Sir Alex will blood de Gea in the Champions League in mid-week. The competition might just be a healthy one for both keepers and might benefit United in the long run, after all.
Mr. Evra, you have competition
Alex Buttner, pretty much an unknown hither to today, staked a claim to the left back slot at Manchester United. On the team sheet, van Persie was on the bench, which was not that much of a surprise given that he had been taken off mid way through the game playing for Holland. The real surprise, however, was the name of a certain Alex Buttner in the slot generally occupied by Patrice Evra. Evra has been pretty poor over the last season and a half but has never really faced a serious threat for his place but judging by this debut, he might have a fight on his hands soon to come.
Buttner was all-action – running, getting stuck in and showing great drive and determination. He seemed to take to the Premiership like a Punjabi to butter chicken. He hardly seemed daunted by the occasion of Old Trafford. He was a bit impetuous at times, going a bit too quickly into a few tackles but he did show great skill on the ball, often holding it up with more than two defenders on him. He also joined most willingly in attacks and provided most of the width down the left when Giggs tucked infield.
The goal was the icing on the cake.
The master of puppets
Paul Scholes. He still scores goals. A 600th league appearance for the ginger Ninja resulted in his first league goal of the campaign to cap off another quietly efficiently brilliant performance by the seemingly ageless veteran. He controlled the tempo from the get-go and was instrumental in starting off almost everything that United did. The first half, he did slacken a bit which led to United appearing flat at times but in the second half, he came into his own and sprayed passes about like it was nobody's business. Any allusions that anyone had about him being phased out this season are most definitely unfounded. He still has a major part to play.
Danny boy!
Welbeck was pretty much everywhere today. He linked up play pretty well, got on the ball and made a few clever exchanges in and around the box. He often dropped deep and to the left to accomodate Giggsy drifting infield. Although his touch and composure did let him down on a few occasions, overall, his play was quite excellent. He seems to be daring Sir Alex to drop him. The arrival of van Persie, if anything, has only served to galvanize him and he is becoming an ever-more-present figure on the United team sheet.
Nani, oh Nani!
Nani seems to be a more subdued version of his usual flamboyant self. The flicks and tricks are still there but they seem to be a tad fewer in number. He seems to look for a pass a little more often and seems to be crossing it a whole lot better. He is, however, as frustrating as ever, at times. Of that, there is no doubt. One can only wait and hope that he continues the progress.
Nick Powell, good on you, lad!
As soon as the first goal went in, this chronicler, for one, was most interested in United scoring a second as soon as possible. This was not just to make sure that the game was sown up but to see a certain number 25 on the pitch, United scored a second, and a third and on came Nick Powell for Paul Scholes. Fun fact: Paul Scholes made his United debut six months before Nick Powell was born.
He looked assured on the ball. He seemed to want it and hardly shied away from it, which is always an excellent sign. He picked out Nani with an almost Scholes-esque pass. His touch was true and he seemed to be in control. The goal only served to show that the boy does indeed have talent and that he is most definitely one for the future. There is a long way to go yet. It is still too early to pass judgement.
…and another thing
A clean sheet on paper but United hardly looked water-tight. A regular pairing in the center of defence will indeed take a while to gel but United are getting there. Still, a clean sheet is a clean sheet.
Perhaps the most gratifying part of the win today was the fact that it was achieved without Rooney, Kagawa, Valencia, Evra and, for the most part, van Persie. Definitely a good sign.