A letter to the Emirates, from Old Trafford
Intern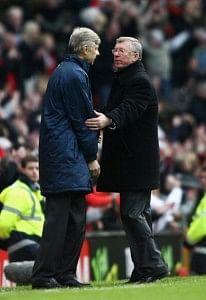 Dear Gunners,
I know we haven't been on the best of terms for a long while and if you don't really regard us as your best mates, then that's not a great problem, because the feeling is very much mutual at Old Trafford. But the time has come now, for us to put aside our differences and forge an alliance, if we are to hold our own against the new Dark forces. For it is clear that we cannot fight this war all on our own. We can only achieve this together.
Our coffers have taken a mighty beating ever since the Glazer takeover, and your team seems to have developed a strange allergy towards any form of silverware. From where we stand, we can sense that an eerie fatalism has befallen the Emirates. And, maybe in another time, in another era, we would have been relieved with such developments. But as for now, you are all we've got, along with Everton, who are proving to be destructive, albeit tragically, for us too.
The colour blue is what is on both our minds, and I know that you want to wipe it off the face of England too. The enemy is out there. Here it is Chelsea and City, across the continent it is Real Madrid and Barcelona, and the French thieves Paris St. Germain. You are familiar with Barcelona, I am sure, as they denied you what could have been your first ever Champions League, which would have etched your name in an elite list of English teams to have won it, and guess who were to beat you to that honour?
They bought a bus, and they put it in front of their goal, and they sat back, and although I am glad that an English club succeeded in Europe rather than a Spanish or German one, I would have honestly been much happier had it been you. You deserve it, you really do. And believe me, I am not buttering your bread for you when I say that the third most successful English club should be beating Chelsea to greater honours. I mean, there was a time when the quality of your football compelled many to rename our stadium as  Cold Trafford.
But then, it's the money isn't it? Your most valuable assets have left you for greener pastures, and although it is we who are guilty of depriving you of your captain, you are largely to blame for that, with your inability to help him win cup and league medals, for all the years that he stayed by you. Manchester City have taken two of your finest Frenchmen, and they don't deserve to be champions of England. Call me sore, but you know in your heart that it is true.
Hence, I call upon you, to stand by our side, and together face the times that have befallen us. I'm not asking for long-term, that decision lies entirely at your discretion, all I ask for is that you 'show us a sign'. We need a one-two finish this season, and nothing less, if we are to re-stamp our authority in English football. We have 32 titles between ourselves, and it is high time we show them why.
Let us drink to our allegiance, and mark the unison of the two towers of English football. Maybe we can meet in Wembley. Maybe we can do so twice, or thrice.
Disclaimer – This piece is a work of fiction, and should not be regarded as real.