Mikel: Why is he (still) in the starting XI?
Intern
Chelsea bought Mikel for 16M euros in a controversial transfer involving Manchester United in 2006 from Lyn Oslo. With the departure of Claude Makelele, the Nigerian was widely tipped to be his successor in the defensive midfield role. A regular first team starter under several managers, he is still criticized by a section of Chelsea fans. So what makes Mikel one of the most enigmatic players of all time? Some say he is not attacking enough, that he lacks that spark. Some say he does the job. Some are just confused why is he still a regular in a team which is looking for a deep lying playmaker. The answer to those questions is not as simple really.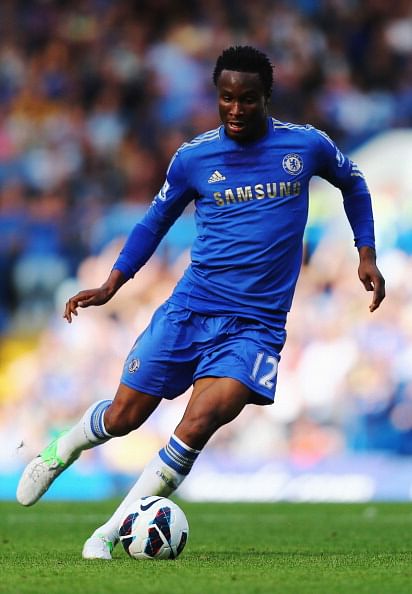 Take the previous season. In the first half, he was intolerable. Solely at fault for giving away a goal at home against Liverpool FC. Couple that with several uninspiring performances like the one against Juventus and you might get the idea.  Fast forward to second half, something had changed. Mikel was easily the best Chelsea player after Drogba in the UCL Final, winning balls from the opposition almost at will. He also put up a solid show against Benfica in the CL and against several top quality clubs in EPL and in FA Cup.
Statistically, the defensive midfield player has never scored a goal for CFC in the League and holds the dubious record for being the only midfielder to not score a goal in so many appearances. He also has one of the highest pass completion rates in the league.  Let's start from the beginning of his career at Chelsea. Mourinho deployed him as a starter in key games where he impressed greatly. Throughout the 2008/09 season he saw a great deal of playing time due to an injury to Michael Essien. His ever improving game came under praise from then Chelsea manager Luiz Felipe Scolari.
Few know that he played so well in the 2008/09  season that he was even nominated  for the club player and young player of the season! His commitment towards Chelsea can never be in any doubt as he started last season's opening game amidst news that his father was abducted. As the season progressed, he lost his starting position to Oriol Romeu under Villas Boas. However, he soon bounced back looking sharper than ever under RDM.  He was widely praised for his performance in the UCL final when Jamie Redknapp remarked that he "put in a performance that I didn't think he had in him; he was putting out fires everywhere".
To criticize him, Mikel is one of the most defensive minded players in the league who offers absolutely nothing going forward. He lacks creativity and vision and is an eyesore whenever he lines up for a shot. While such inabilities would have been overlooked in previous Chelsea teams, it is simply unacceptable in the current setup. The current team with all its attacking prowess desperately needs someone to link the defense with attack. A midfield linchpin. Someone to take the game by the scruff of its neck. Xabi Alonso does this job perfectly at Real Madrid.
Sadly, Mikel miserably fails in this role, and in this writer's opinion, should be benched with Ramires taking over his role with his box to box abilities. Make no mistake, he is one of  the best defensive midfielders in the world, but is a bad fit in the current first team. His role should be to come on as a substitute whenever we are in the lead and need to stifle the opposition's attacks. He can also be used in the main team against much stronger oppositions in which Chelsea often employ "parking the bus" tactics.
John Obi Mikel should be in the main team for Chelsea only when the situation demands it.