Senior Correspondent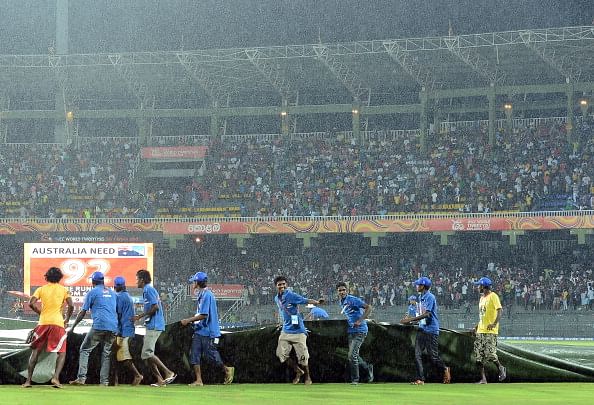 The countdown for the WorldT20 went on for months, and now we are one week into the tournament; but has it lived up to all the hype? In my opinion, no – but it was expected with minnows being a part of every group. As predictable, most of the games have been pretty one-sided until now and have lacked the zing that we were hoping for.
Apart from the games that involved the minnows, the rest were anticipated to generate interest and they did – but the games were either unevenly contested or disrupted by rain.
The game between West Indies and Australia built up really well after the West Indies put up 190 plus on the board. Australia were making a match of it but the rain came tumbling down and forced the game to get abandoned. Australia won by 17 runs having been ahead of the par score at that stage. South Africa and Sri Lanka – another game that would have been a spectacle – was marred by rain reducing it to a 7-over game, per side. Pakistan beat New Zealand by 13 runs – which was one game that was watched with a spec of interest. India still have to take on England; let's hope that is an evenly-contested game.
The only game that was marginally different from the rest of the one-sided games was the one that India won against Afghanistan; India beat Afghanistan by 23 runs. The other games on the other hand, had massive margins of victory. Sri Lanka beat Zimbabwe in the opening game of the tournament by 82 runs, South Africa beat Zimbabwe by 10 wickets. New Zealand beat Bangladesh convincingly by 59 runs, while England beat Afghanistan by a massive 116 runs.
There were no upsets whatsoever – not even close to having one. The Australians were better prepared this time around and all the jabber about Ireland being a threat to their chances was silenced when they put forth a very professional performance against the Irishmen. Ireland fought fire with fire, but the Australians had a plan in place this time and executed it well. Ireland has the resources to make a fantastic team; they will have to make the most of those and put up a better show against the Windies to stand a chance to oust them. The second place in Group B has to be decided yet, with West Indies still having to take on Ireland.
Zimbabwe on the other hand, got pounded – that's all there is to that. Afghanistan fared decently well against India, but dropped too many catches to capitalize on their bowling effort. Against England however, they had to face the wrath of Luke Wright, who wanted to prove himself to cement a spot in the team – and he did it in style. But what stood out the most in those two games was the spirited demeanour of the Afghans, who made the most of the opportunity given to them. If given many more such opportunities in the future, they sure will progress as a team and as individuals. What is even better about them is that it doesn't seem like their chapter will close anytime soon. If anything, it is here only to get better. Having endured violence, political tumult and many difficulties, their achievement in having made it so far is outstanding; their spirit is quite commendable.
Bangladesh was defeated by one man alone – Brendon McCullum. With that fantastic century, he ensured they had enough on the board to make the chase tough for the Bangla Tigers. As scripted, they were beaten by 59 runs. They still have to take on Pakistan; if they manage to beat them in that game, then things in Group D could turn out pretty interesting.
The Super 8s will be something to look forward to – with more balanced games. That hopefully should generate the anticipated interest in the tournament. Perhaps a better crowd turnout would add the much-required punch too.