Arsenal show newfound resilience
Featured Writer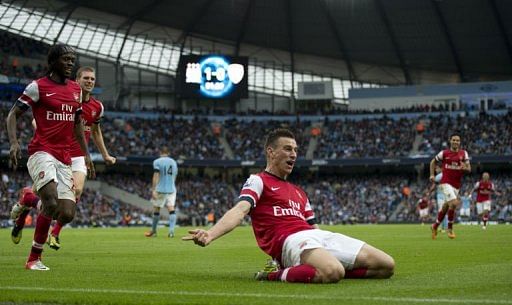 It is surely a sign of the optimism surrounding this current Arsenal team that when the final whistle blew at Eastlands yesterday, there was just the slightest tinge of disappointment. Now, I don't want to get too greedy, a point away at the Champions (only the third side to do so in 32 games) is a very good result. Especially when you consider their imperious form there last season. But, I feel we could and should have got more.
We completely dominated the first half, our passing was slick and whilst we didn't create too many clear cut opportunities, there was a clear gap between the sides. We really should have gone ahead when Ramsey released Gervinho, his legendary first touch once again letting him down. And then, after a softly conceded corner, the inevitable happened. This current Arsenal side might be more defensively solid but it seems to be written into our DNA to concede goals completely against the run of play.
I think Mannone, Koscielny and Podolski were unfairly criticised for their part in the goal. Sure, Vito could have got something on the ball and Kos/Poldi could have risen a bit higher but Lescott had the run on them, and, in truth it was just a bloody good header. We defended brilliantly all game, so one lost aerial duel should not be over analysed too much.
On the topic of defending, I'd just like to reserve extra special praise for our BFG, Per Mertesacker. Whether you want to interpret BFG as 'Big Friendly Giant' or 'Big F***** German' is entirely up to you, both apply perfectly well. Ever since he became an Arsenal legend on FM 2009, I had wanted Wenger to sign Mertesacker. I had never actually seen him play, but he seemed the perfect fit. Standing at 6 feet, 6 inches and with over 80 caps for Germany what could possibly go wrong? When we signed him on deadline day last year, I was ecstatic. I boldly (and quite wrongly) proclaimed he was the answer to all our defensive problems.
Unfortunately, it didn't quite pan out. He was slow to adapt to the rigorous nature of the Premier League and struggled quite badly initially. He got ripped to shreds in the media but I always felt that, given enough time, he could be a success. Well it looks like I was right. Per was absolutely immense against City, his reading of the game is exceptional and it showed as he was in the right place at the right time over and over again to make crucial interceptions.
He might not be the quickest, but you don't need to be if the opposition can't get in behind you. It really is early days yet but it is hard not to get excited about the defensive options we have available. Along with Mertesacker, in Vermaelen and Koscielny we now have 3 world-class centre backs to choose from. The key to winning titles is having a rock solid back four. That was the case when Arsenal were winning titles with Adams at the heart of the defence, that was the case when Chelsea emerged on the scene. With the recent trend heading towards much more attacking play, a solid defence might just be the key to Arsenal finally winning some silverware. Oh the irony.
In addition to the centre backs, Jenkinson and Gibbs were once again exemplary. Jenkinson was particularly impressive in Manchester, completely shutting Sinclair out of the game, so much so that he was subbed at half-time. In addition to his defensive solidity, he was also dangerous going forward. He combines pace and strength very well, he used both to hassle Lescott off the ball and cleverly create a chance for Podolski in the first half. With Sagna returning from injury soon, his place in the team could be under threat but, and I know many will disagree with me here, I wouldn't discard him straight away. If he continues playing well, why would you drop him? Sagna has been out for a long time so it will take a while for him to get back to his best. I'm almost certain that Gibbs/Jenkinson will be a future England full back combination, so I say, let it continue at club level for as long as possible.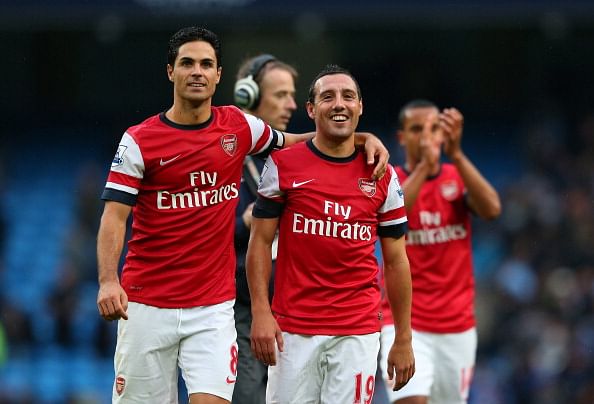 I know I've barely mentioned the midfield and attack but I make no apologies for that. It's not everyday you get to wax lyrical about Arsenal's defensive options so I'm going to make the most of it while I can. There's not too much to say about the attack, none of them really had their shooting boots on and they will be keen to find their rhythm again next week against Chelsea.
The midfield, once again, was imperious. Arteta showed again that getting rid of that pesky maverick Song for a cool £15m might just be the best bit of business we've done for a long while. Cazorla was the definition of elegance, such is his quality that we already expect nothing less from the little maestro so early in his career, Cesc who? Ramsey was a surprise selection in the starting XI but more than justified Wenger's decision. His presence allowed us to pass City off the park and after an indifferent season last year, he showed signs of fulfilling the masses of potential he undoubtedly has. His pass to Gervinho for what should have been the first goal was so good that some reports of the game claimed it came from Cazorla.
Just a quick note on the Capital One Cup, we play Coventry on Wednesday and I might be mistaken but I believe it is available to watch on Arsenal Player. We should see a mix of players needing some game time mixed with a sprinkling of youthful exuberance. This is the side I'd go for: Martinez; Yennaris, Djorou, Miquel, Santos; Coquelin, Frimpong (fitness depending), Eisfield; Gnabry, Walcott, Arshavin.
Team selection could be interesting and I'm sure Wenger will have a surprise or two up his sleeve but I would like to see something of Gnabry, such is the hype surrounding him. Also, it might be worth giving Walcott a go as a striker, that seems to be what he wants more than anything and I do think he could do a job there, certainly a better one than Gervinho anyway.
Anyway, let's hope for a rout and see you shortly.