Steady India thrash anxious Pakistan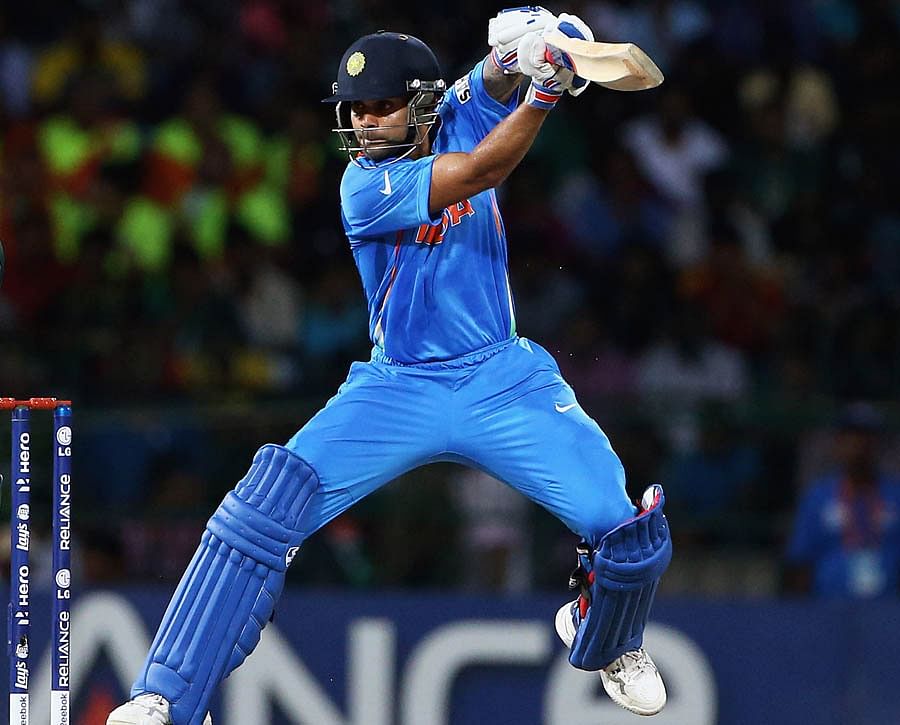 A fine half century from Virat Kohli ensured India did not make a mess of small target in a crucial tie against arch-rivals Pakistan. India comprehensively beat Pakistan by 8 wickets and kept their chances alive of making it to the semi-finals.
Pakistan won the toss and had no hesitation in batting first. Pakistan did not make any changes to their side while India made two changes as Harbhajan paved way for Balaji and Piyush Chawla paved way for dangerous opener Sehwag.
Imran Nazir got Pakistan of to a brisk start by smashing the third ball of the innings for a four through backward point. Nazir however, survived against Irfan in the next over as he inside-edged but Nazir would have been relieved to see the ball missing the stumps. The very next delivery Nazir was struck in front of the wickets by Irfan Pathan and was dismissed for 8 (5). Surprisingly, Afridi was promoted up the order to make use of the first six overs and that did not actually happen. He was caught at deep mid-wicket of Balaji for 14.
None of the batsman steadied the run-rate as India's spinners kept chipping away with wickets. They made the use of slow-track to the maximum extent and also they got lot of purchase from the wicket especially Yuvraj Singh, who bowled a superb spell of 2-16. Also, Virat Kohli too provided a breakthrough with the wicket of Hafeez in the 10th over, which ultimately had Pakistan on the backfoot.
It was Malik's and Umar Akmal's partnership ensured Pakistan crossed the 100-run mark. However, Malik fell to Ashwin for 28 in the 16th over as he tried to clobber him over mid-wicket, but didn't middle it and in the end Rohit Sharma held on to a safe catch at mid-wicket. Soon India followed with the wicket of Umar Akmal (21) as he tried to hit Ashwin over mid-wicket and in the end Raina managed to hold onto a safe-catch at deep mid-wicket, which eventually  brought an end to a promising innings from him. At last India's bowlers wrapped up Pakistani innings for 128 in 19.4 overs.
For India pick of the bowlers was Balaji who grabbed three important wickets while Ashwin and Yuvraj scalped couple of wickets. Also, Virat and Irfan settled for one apiece.
The target was always going to be stiff because the surface was gripping and the ball was not coming on to the bat as expected.
It's exactly what happened as India lost Gautam Gambhir in the second ball of the first over as he was caught and bowled off Raza for 0. Virat Kohli and Sehwag steadied the run-chase as the duo put on a very constructive partnership of 75 runs inside 12 overs before Sehwag tried to loft Afridi over long-off and nearly succeeded, but the ball hit the splice of the bat and Gul pedaled backwards at long-off and caught it over his head just inside the boundary.
It was Virat Kohli and Yuvraj Singh who sealed the game for India with three overs to spare.
With this win, India's chances of sealing a spot in semi-final are alive. As two teams have virtually have made it to the semi-final, India will indeed look for a third spot. For that, India should persist with the same combination and try and counter-attack the Proteas with spinners.