Have India finally found their RIGHT Combination?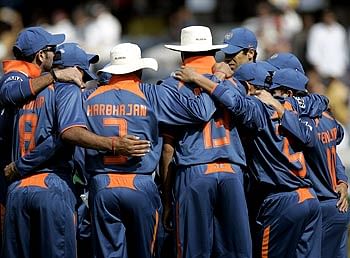 India v/s Pakistan is always a highly anticipated, high voltage clash and it was no different when both teams locked horns today at the Premadasa stadium. It was a must win game for the Indians, who looked completely out of sorts against the Aussies. Pakistan won the toss and elected to bat first. India had their work cut out which prompted changes; Sehwag and Balaji were in for Bhajji and Chawla. India went back to their 7 batsman formula. Indian team selection was a much talked about topic before the start of the game. All the experts were unanimous on getting Sehwag back in the team, but were found divided when the question of who gives way arose. Bringing in Balaji was a move not much people thought of, but was a good one. He is a street smart bowler and has experience in this format. He also has IPL performances to show for him.
Pakistan began pretty well scoring 26 in just 2 overs, but had lost their ferocious opener, Nazir. Pakistan's move of sending Afridi up the order was a smart one and just when one thought it would pay rich dividends, he fell to a bouncer by Balaji, mis-hitting the ball to deep mid wicket. Pakistan then lost wickets at regular intervals and were always staring down the barrel from there. They managed a meager total of 128.
Needing 129, India got off to the worst possible start, losing Gambhir without opening the account. In came India's best batsman (Kohli) by some distance and it was a cakewalk thereafter. Kohli had a good partnership with Sehwag and then, Yuvraj, in the course of taking India home.
Now, that India have won, there won't be much talk on the combination and the team personnel, but, the question arises, Is this the right combination? I would say NO. Pakistan played pretty poorly today, gifting wickets to the Indians and this might give Indians an illusion of their right or best combination, but, the truth seems deep hidden. What India did right today was opening the bowling with Pathan, who makes the best use of the new ball and got them the breakthrough. Then, some poor shots led to some easy wickets for the Indians and the Indian part timers had it all, fairly easy. Had the case been different, India might have found themselves under the cosh; their part timers having a hard time. Hence, 5 bowlers must play, especially in a T20 game. The risk you run of playing with only 4 specialist bowlers is one to be scared of. Also, if you play 7 batsmen, you are not efficiently using all your resources. If India have the confidence to open the innings with Pathan, 2 times, why can't they count him as a good enough No.7 and continue with 5 bowlers, adding balance to the side. Also, Pathan is a bowler who does well in the initial overs and goes for a toll later on in the innings; there must be cover.
There might be arguments that India is too reliant on Kohli and in case he fails, India might need a cushion of 7 regular batsmen, but, the fact is that what 6 can't do, the 7th won't. Pathan is getting absolutely wasted as a batsman at No.8 and I feel he's in the team more for his batting credentials than bowling. Then, again Bhajji and Ashwin are decent with the bat and hence, playing 7 batsmen is a waste.
Also, playing with 5 bowlers will give a combination that is potent on any wicket. 3 seamers and 2 spinners will be good on any wicket, followed by the part timers (if needed). This leaves the opposition with no soft target and they have to go after the regular bowlers; losing wickets on course. Part timers are to be used when 1 of your regular bowler has an off day and shouldn't be completely relied on to complete the quota. That also adds extra pressure on them.
One point of note here is that I feel there is something psychological with India and I have seen them perform better with the 7:4 combination, albeit, I am still in favour of the 6-5 combination.
 Suggested Lineup:
Sehwag, Gambhir, Kohli, Yuvraj, Dhoni, Raina, Pathan, Ashwin, Harbhajan, Balaji, Zaheer.