Satire: Virat Kohli sheds a tear; 132 girls found unconscious
Featured Writer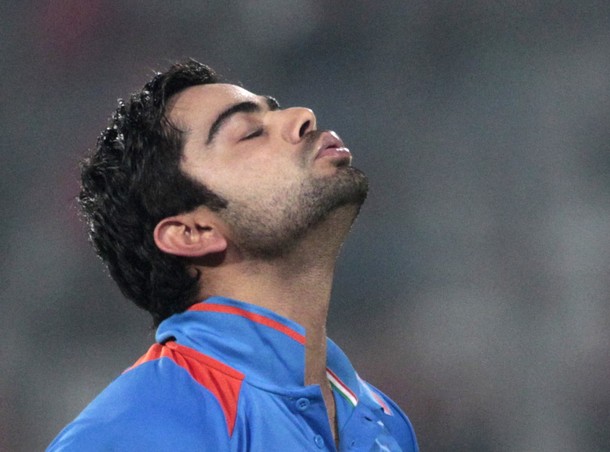 In an epic turn of events, the welling up of a man's eyes has led to a catastrophe wherein 132 girls across a nation were found unconscious. Virat Kohli, a passionate cricketer from India, took part in a cricket match yesterday in the T20 World Cup. The match was a decisive one in which the popular nation India had to win by a margin of 30 runs to progress to the second round but unfortunately, the nation who should thank India for getting rid of Apartheid in yesteryear, turned its back and proved out to be an obstacle. South Africa lost by a run but had done enough to cost India the game and the tournament.
As soon as South Africa crossed the 121 run mark which ensured India's failure, Virat Kohli was caught on camera with his eyes welled up. That very instant, all the girls in the stands and watching on TV let out a long, screeching cry in unison, "How cuuute!" The nation reverberated with the echoes and the world came to a standstill for a moment. People were stunned. But Kohli, rather accustomed to this, carried on with his work, rubbed off the tears and egged India on to win the game at least.
What might seem as natural and of no consequence to Kohli, left a very strong mark behind. Some of the girls were so touched by the moment that they instantly fell unconscious. "He must be sooo understanding," wailed one of the girl after she regained consciousness and many others lamented, "I want to marry Virat Kohli!" On last count, reporters claimed that 132 girls were unconscious and they were equally distributed across the nation, with approximately 4 girls per state falling prey to the tear.
Virat Kohli used his shirt to wipe the tears and some girls have shown a lot of interest in buying the shirt. This has led Kohli's agent to organize an auction where in bids will start at INR 121 lakhs. And guys are also eligible to bid. In other news, apart from these girls, there were many who've painted graffiti over their rooms and have pledged to marry Kohli otherwise they'd remain maidens all their lives. This has urged the likes of Sreesanth to grow upset and when contacted, he was found sobbing and replied, "I have cried so many times! This never happens to me! I can even dance well."
A rather unfortunate occurrence, though it demonstrates the butterfly effect fully. A tear can wreak havoc.