Sachin Ramesh Tendulkar - Need I Say More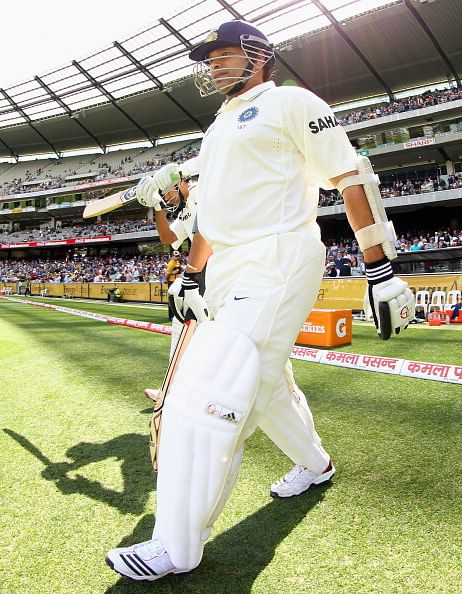 I was watching an interview yesterday. My favourite newsman was interviewing my favourite cricketer. Arnab Goswami interviewing Sachin Tendulkar. He said what he has been saying for the last five years. I ll retire when I stop enjoying the game. For twenty years this man has served India; at the tender age of 16 he took on Pakistan fearsome pace battery, at 17 he won the hearts of the British people with a gallant century in Manchester. He then went on to tame the Aussies, on their home grounds. Remember Perth and Sydney? Each drive was sublime, each push elegant, each pull exactly right and each flick perfect. He was the messiah. He is the messiah.
He always will be. He was not the best captain, but he still was a great leader. They way he has headed India's batting line up for over 15 years, the way he got us numerous victories away from India was extraordinary, to say the least.
Sachin Tendulkar, simply put, is Sachin Tendulkar.  Extraordinary technique and amazing talent was something he has in common with his friend and counterpart Vinod Kambli. Many experts argue that Kambli was actually much more talented than Tendulkar, I personally feel that might not be true, but it supplements what I wish to say. Tendulkar is not the most naturally talented batsmen of this age. Md. Azharuddin and Dravid I believe, were more gifted. But Sachin Tendulkar with sheer grit, determination and hard work dwarfed them all.  Sachin even at the age of 17 batted with such extraordinary calm , which even the greatest of batsmen do not have. He according to me the greatest student of the game. Always looking to improve, never getting complacent, eternally looking to better his achievements. That attitude is what has made him what he is. Because talent is nothing at all without the right attitude. Sachin was not as gifted as say Dravid, but he still was more gifted than an ordinary mortal, add  to that superhuman will-power and determination and you will understand why Sachin is regarded as one of the greatest cricketers ever.
I will not talk about his records, for enough has been said. The world knows what this little man has done. I will not talk about the way he bats, for there are no words good enough, there are no words that can describe that perfect drive down the ground, or that six over extra cover, or that front foot defense . Those who feel that they can do so, are kidding themselves. Such brilliance can not be simply put into words.