1st Mahindra NBA Challenge National Finals conclude in Delhi
Featured Columnist
The first ever Mahindra NBA Challenge National Finals at the Thyagraj Stadium, Delhi, ended yesterday. Teams from Delhi, Mumbai, Kochi, Bangalore and Ludhiana converged in Delhi to duke it out to find the best teams across the four categories. There were four categories of competition here, U 18 boys and girls and senior men and women.
Here are the scores from this tournament:
Senior men- Kerala beat Karnataka 75 – 53
MVP- Manoj R
Senior Women- Delhi beat Kerala 50- 45.
MVP- Prashanti Singh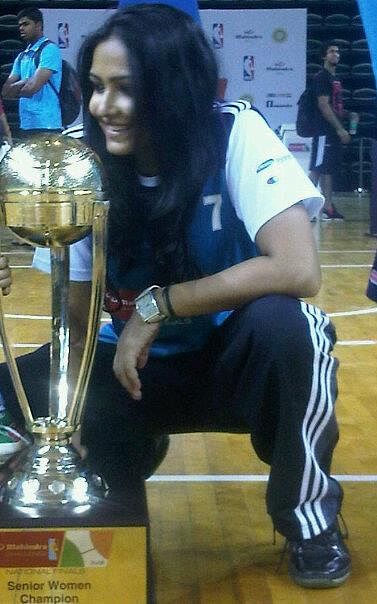 Under 18 Girls- Karnataka beat Kerala 59-43
MVP- Roshini Rosa John
Under 18 Boys- Punjab beat Karnataka 107 – 69
MVP- Palpreet Singh Brar from Punjab
Three-time NBA Champion Luc Longley was present throughout the event to interact with players and handed over the winning team their trophies. The Most Valuable Player (men and women) from the senior divisions also won a three night/four day holiday for two at a select Club Mahindra resort and all Most Valuable Players (men's and women's seniors and junior divisions) received a pair of the new D Rose 3 footwear from adidas.
Season three of the Mahindra NBA Challenge has taken place in five cities. Mumbai in last November, followed by Delhi, Kochi, Bangalore and Ludhiana. Over 600 teams participated in the league, with over 1,100 games taking place across the five cities this season.
Among the eight teams in the finals across the four categories, there were six teams from Karnataka and Kerala in the final matches. The Delhi Women team, Cager's Unit, could have been called Singh Sister's unit too, as the majority of starters were from the Singh sisters family.
Adding national finals to the mix adds a new dimension to these competitions. Playing within your city you may be used to playing vs the top teams from nearby, the national finals brings you against the best from the other states. It also adds a healthy element of inter city rivalry.
The NBA 3X has a maximum age limit of 23 years, so the competition there is more intra mural when compared to the Mahindra NBA Challenge, but 3 on 3 is a much faster and action packed version of basketball and the 3X is held in more public places like shopping malls and near colleges, so it seems to be a lot more popular.
There is more NBA action to come this month with the NBA 3x continuing its tour in Chennai this weekend on 13th and 14th and going to Mumbai for the next weekend for the national finals, where the winning teams from Delhi, Hyderabad, Chennai and winning teams from Mumbai will participate in a contest to find the best 3x team from those four cities.