Top 10 midfielders to have graced the English Premier League
Senior Correspondent
Since its inception in 1992-93, the English Premier League has witnessed thousands of players in action and along the years some of them have truly stood up and have made themselves counted for. Here is me chalking out the 10 best ever; I have taken into account certain parameters like longevity, consistency and of course silverware while deciding my choices and have not considered wingers or the secondary strikers as a part (Example the '1′ in 4-4-'1′-1). As a result, players like Ronaldo, Pires, Luis Garcia etc. have been left out as they do not qualify for the complete definition of a midfielder.
10. Claude Makelele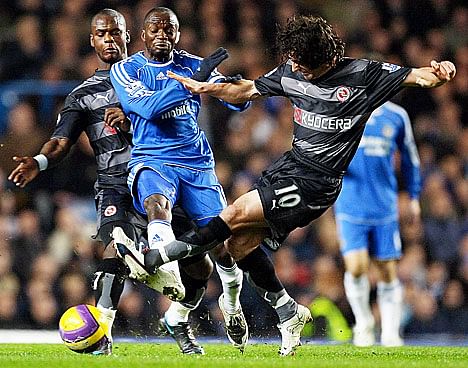 Claude Makelele arrived in England in 2003 for £16.8 million to play for Chelsea under then Manager Claudio Ranieri and then went on to become a key figure in Jose Mourinho's Blue Brigade at Stamford Bridge. Makelele has been credited as being the man who invented the role of a 'Central Defensive Midfielder' in modern day football.
Claude was instrumental in Chelsea's success and was the fulcrum of Chelsea's midfield. He not only performed his defensive duties to the letter but was responsible for spraying the balls to the wide players or building up patient moves in an often crowded midfield, as was evident in a match against local London rivals Fulham in March '06, a match that Chelsea lost. Chris Coleman (then Fulham manager) later said all they had to do was block Makelele successfully and he knew that the entire midfield functioning of Chelsea would be disrupted. Makelele was often the 'behind the scene' guy who worked hard continuously for the entire 90 minutes of a footballing match.
Makelele stayed at Chelsea for five years and won the Premier League, Carling Cup, FA Cup and Community Shield with them, champions League being the only one that eluded him during his stay at the Bridge. He left for Paris Saint Germain in the beginning of 2008 Season on a free transfer.
"Why put another layer of gold paint on the Bentley when you are losing the entire engine ?"                                                                                               - Zinedine Zidane
  9. Ray Parlour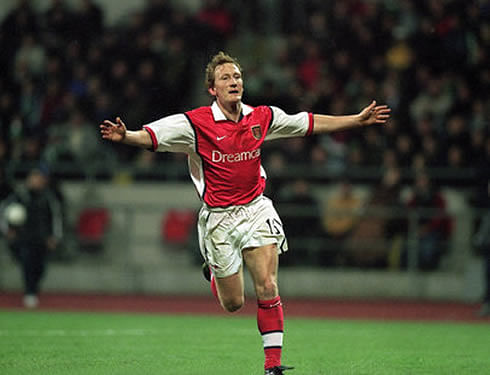 The "Romford Pele" or Ray Parlour is a former Arsenal, MiddlesBrough and Hull Player who played regular first team football for 15 years in England's top flight. An Arsenal youth product, Ray made his debut against Liverpool as early as 1992 but did not become a regular first team player up until the arrival of Arsene Wenger, partly because of his volatile temperament and regular disciplinary problems.
Parlour was a strongly built Englishman who was regularly deployed on the right or in the central midfield area at Arsenal and was a neat and clean passer of the ball. He rarely attracted attention due to the towering and more commanding Patrick Viera alongside him in the midfield and has been noted for his rather unglamorous image off the field.
Ray however will be best remembered by the Arsenal fans for his breath-taking long-rangers'  like the one against  Chelsea in the victorious '02 FA Cup final, or the beautiful shot against Valencia in the Champions league in '01 and for captaining the side which carried out a 5-1 demolition job of Internazionale at the San Siro in 2003 and that vintage hat-trick against Newcastle in the League in 2000 where-in all three goals had a touch of class to them.
Like Makelele, Parlour won every domestic Cup in England and could not add the elusive Champions League Trophy to his collection. He also had brief spells with Boro and Hull but mainly featured on the bench and in 2007 called it a day to his illustrious career. He was voted as the 19th greatest player ever to represent Arsenal by a fan poll and one of the most underrated players of his generation.                                                                                            
"To me, He will always be the Romford Pele" – Marc Overmars
8. Gary Speed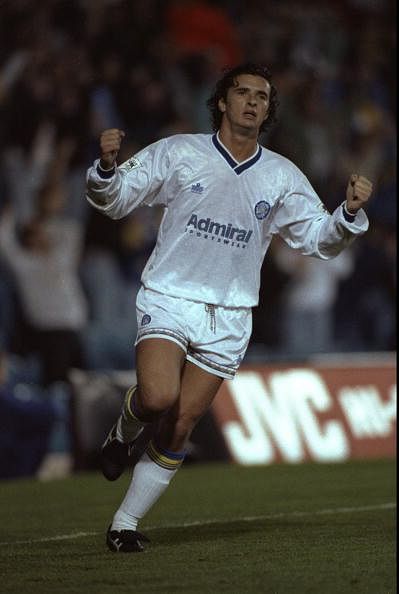 An attacking midfielder whilst a player, Gary Speed held the record for the most Premier League appearances before Ryan Giggs and David James overtook him.
Speed spent his footballing career with successful spells at various English clubs like Leeds, Everton, Newcastle, Bolton and Sheffield. Speed was usually deployed on his favoured left side of the wing and was a regular player throughout his career, rarely being blighted by injuries or suspensions.
His most memorable moment came for the 'Lillywhites', for whom he played from '88 uptil '96, against Stuttgart in '92. He master-minded the whole game and contributed with a goal and an assist in an important 4-1 win in a European Cup game after a 0-3 away loss. Speed described this performance as the best of his long and respected career.
He joined Everton in 96, the club he supported as a kid and had a brilliant first season wherein he also scored the only hat-trick of his career against the Saints at Goodison Park, In his second season he had a falling out with the manager and left the club, 'under circumstances, he could never reveal'.
He had the misfortune to be in the Newcastle team which lost two back-to-back FA Cup finals to Arsenal and United in '98 and '99 but otherwise had a successful spell at Tyneside, forming an important partnership with Rob Lee. His move to Bolton came during the sunset of his career in '04 and during this time he also became the first ever player to play 500 EPL matches.
To the utter shock of the footballing world, Speed was found hanging in his garage in November '11 after reportedly committing suicide. One of his closest friend Craig Bellamy has stated that he still hasn't quite come to grips with things in life since the departure of Speed.
 " My first Premier League game was against him and he showed me in that game what British football is all about." - Xabi Alonso
7. Francesc Fabregas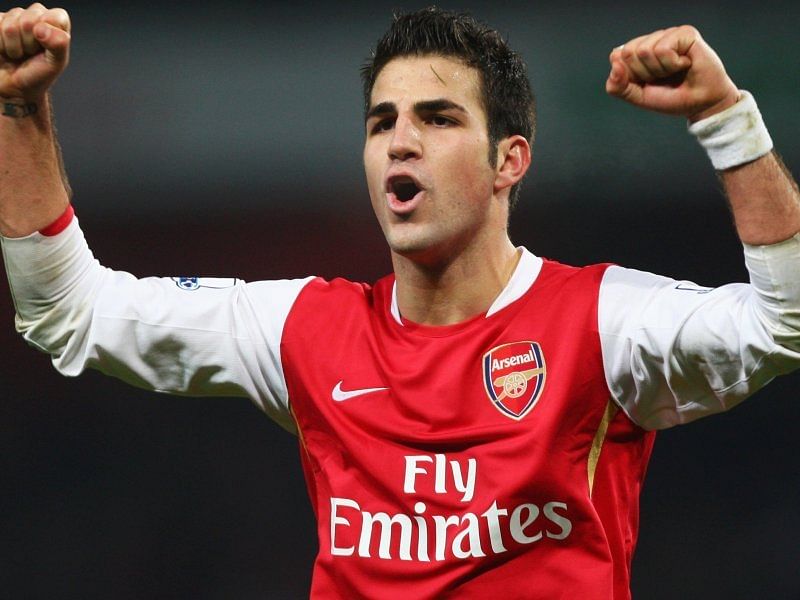 Fabregas joined Arsenal at the young age of 16, coming from the famed  La Masia academy of Barcelona. He possessed the flair, creativity and vision which not many did in England during that time.
Fabregas has often stated that while growing up his idol was Josep Guardiola and he tried to become as much as him as he could. The Arsenal mid-field were spear-headed by the likes of Patrick Viera and Gilberto Silva when he arrived, players he was too much in awe of at that moment.
His breakthrough came in the 04-05 season when constant injuries to Viera, Silva and Edu made sure he got his chance, one which he grabbed with both hands and was praised by players and pundits alike for his solid performances.
Following the departures of the last crop of the Invincibles, he formed an important part of an Arsenal midfield comprising of him, Hleb and Flamini which came close to winning the title in 09-'10 season before running out of steam towards the end.
Fabregas had always said that goal-scoring was not a part of his game and one which he considered to be his biggest weakness. But as the seasons went on at Emirates and he became the anchor of the Arsenal midfield, the assists and goals started coming and he became one of the most complete midfielders in modern day football.
Silverware however, was something that always eluded him. Except a FA Cup title early in '05 and a Community Shield, his Trophy cabinet was shockingly empty, something which finally frustrated him and propelled him to a move back to his childhood club Barcelona.
Fabregas's memorable moments in an Arsenal shirt were most notably the 2-2 draw against Barcelona in '09, where despite having a suspected leg fracture, he brought things level with a penalty in the 84th minute to keep the tie alive; his 20 minute cameo appearance against Villa at home in a League match where he came off the bench in the 65th minute, scored two goals and was substituted again in the 85th minute after having all but confirmed three points for Arsenal;  the kick-off goal against rivals Tottenham at the Emirates whereby he took on four players single-handedly before firing a low and powerful shot to finish off one of the best ever solo Premier League goals seen.
Fabregas created a total of 664 goal-scoring chances during his stay at Arsenal, a stat not even bettered by the likes of Xavi or Iniesta in that time frame. He left for Barcelona for around 30 million euros in the Summer of 2011 but is still given a legend's status by the Arsenal faithful.
"The problem is that with Holland I get around 1-2 chances a game, at Arsenal and with Cesc behind me I easily get 3-4 chances a match" - Robin Van Persie.
6. David Beckham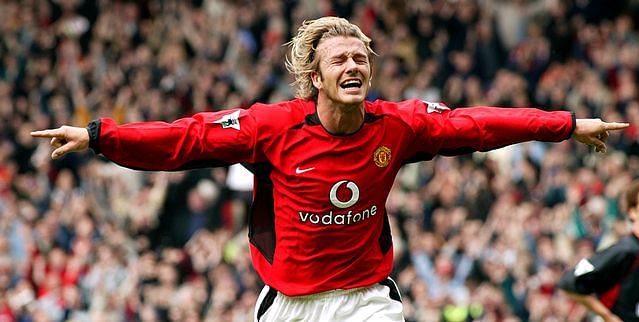 "THE" poster-boy of English Football during his career with Manchester United, David Beckham is by far one of the greatest football players produced by England and was known worldwide for his inch-perfect passing and crosses as well as his ability in dead-ball situations.
Beckham was a United youth product and made his League debut in the 1994-95 season, a season in which United lost the title by one point to Blackburn and then went on to lose the FA Cup final to Everton. The next season was however the opposite of the previous one, and with Ferguson keeping faith in the United youth they did a League and Cup double – with him having a memorable cup run whereby he scored the winner against Chelsea in  the semis and set up Cantona for the goal in the final against arch rivals Liverpool. He wore the number 10 that season, but after Cantona's departure, took the No. 7 and vacated the No. 10 for the incoming Teddy Sheringham.
David was usually deployed on the right side of the midfield and was never pacy or defensively sound, but his crisp crosses, tactical awareness and positioning more than made up for all of them. In his spell with United, he went on to win every title possible and was an integral member of the famed Treble winning squad of '99. His famous goals include the long-range strike against Wimbledon, whereby he scored the goal from his own half; his beautifully-crafted 30-yard strike against the Gunners in the '99 FA Cup semifinals at Villa Park; his strike which levelled the scoring against Tottenham in the same season, ensuring United held on for the League title and a superb second half substitute brace against Real Madrid in the Champions League in '02, when he came off the bench but still ended up losing 3-2 at Old Trafford.
His relations with Sir Alex Ferguson had soured by then and in the following summer of '03, he left United to join Real Madrid for a fee of around 35 million euros. He still boasts of one of the best assists to game ratio in the Premier League's history.
 "He's a winner. There's no doubt about that, and it's stating the obvious to say that he's a tremendous talent."                                           - Kevin Keegan
 5. Patrick Vieira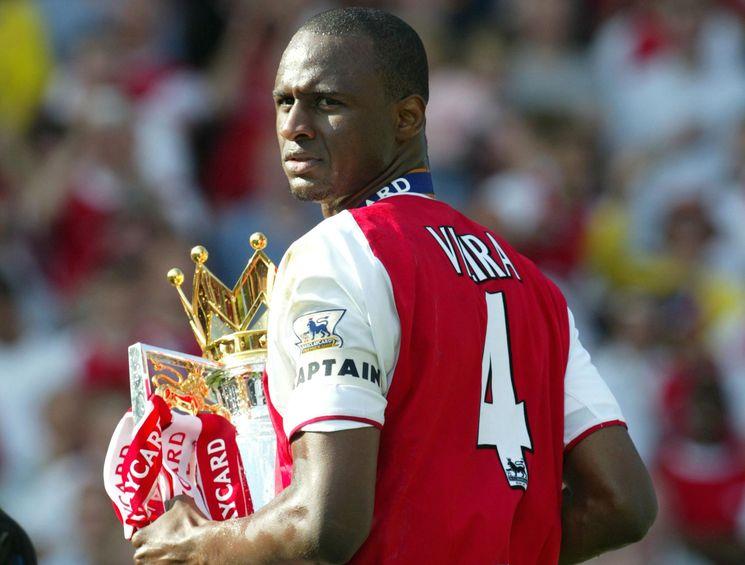 Yet another Gunner on the list and this guy is none other than the tall and strong Frenchman who captained the 'Invincibles' of the '03-'04 Season to an unbeaten Premier League Title.
Vieira was hand-picked by Arsene Wenger upon his arrival at Arsenal and joined Arsenal from the youth academy of AC Milan. He was an instant success as his built helped him settle in quickly in English football. He formed the core of Arsenal midfield along with Emmanuel Petit and later Gilberto Silva.
Patrick Vieira was known for his vision and composure while on the ball. His towering presence always made it tough for other teams to ever mark him with ease and he usually bossed around the park with the ball. Patrick was however a temperamental player and was known to lose his cool on more than one occasion. He was sent off nine times during his entire nine year spell at Arsenal.
Vieira captained the side after Tony Adams' retirement and always lead from the front for his team. In all he scored 34 goals for Arsenal, the best one coming from his solo and marauding runs against Chelsea and Tottenham twice during his career. He had the knack of creating something out of nothing and then finishing it off with something entirely special and truly spectacular all on his own. He was voted 5th in the Top 50 players to have represented the club.
In the 2010, he joined Man City and played for a season, where he did get game time but was not entirely able to cope up with the physical demands of the game anymore and retired at the end of the season. He won all the domestic English Cups and the League during his time at Arsenal and then again won the FA Cup with City in his last season as a professional.
'You can only have a lot of respect for what Vieira has achieved, We have classy players in midfield now but Patrick was special. He was a tall player with good technique. At Arsenal, we will be forever grateful for Patrick's contribution.'  - Arsene Wenger
4. Roy Keane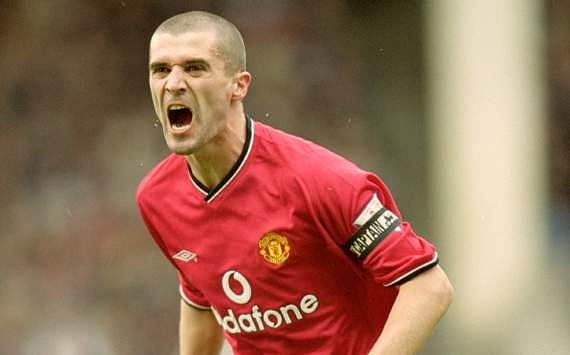 The talismanic Manchester United midfielder and captain of the 1999 Treble winning side, Roy Keane comes up at fourth on my list. The boy from Cork, Ireland began his journey in English Football with Nottingham Forest under the legendary manager Brian Clough, but was captured by United in 1993 after Forest were relegated.
He made a dream Premier League debut for his new club playing in place of the ageing and injured Bryan Robson when he scored two goals in a 3-0 home win against Sheffield United. This lead to him being a constant feature in the United Line-up and soon he was an established member of the Red Devils. At the end of 1997 after Eric Cantona's sudden departure, Roy Keane was made the club captain by manager Alex Ferguson, but his new job was to be initially short-lived. In a league game early on in the season against Leeds, he got an injury to his cruciate ligament and missed the entire season, A season in which United shockingly surrendered an eleven point lead to hand Arsene Wenger his first Premier League title as manager of Arsenal.
The next season however was to be the start of a fairytale for him and all those people related to Manchester United around the world, as United became the first club in English Football to complete a Cup Treble. Keane was also known for his fiery temper which often led him to indiscipline on and off the pitch and he amassed a total of eleven red Cards during his time at Old Trafford.
One of Keane's most notable performance came in an away game against Juventus in the semis of UEFA Champions League where he rallied his team from a 2-0 deficit to win it 3-2. He scored a goal and was instrumental in reviving his team and guiding them to victory against all odds against a very strong Juventus team. And also during an away game against Arsenal at Highbury where after a verbal tunnel argument with Viera prior to the match, he went out and won his team the match by scoring a goal himself, despite initially going a goal down.
In 2005, following a shock defeat to Middlesborough he launched a scathing attack on some of his United team-mates in an interview which was deemed by the club not fit to air. Months later he went on air stating that he would be looking at life outside the club at the end of his contract. This infuriated the management at the club and in November '05 his contract was cancelled and Keane left for Celtic under unceremonious conditions. He was however offered a testimonial the next year in lieu of his services to the club.
" Over the years when they start picking the best teams of all time, he will be in there." - Alex Ferguson
3. Frank Lampard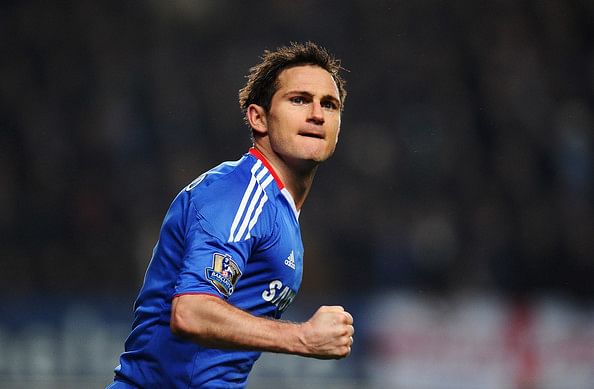 Frank Lampard started his career at West Ham United and played his first official game against Coventry City in 1996, although he scored his first goal for the Hammers in the 1997-'98 season. Early on in his career Frank displayed a level of commitment and zeal which few do at his age and this kept making him a stronger and a better player each year.
In 2001, after West Ham sacked his father and Uncle Harry Redknapp, he moved on to Chelsea in a £11 million deal and became a regular first team player for the team. For the next three consecutive seasons, Lampard continuously featured in all of their League games and became the focal point of almost every attack of Chelsea. He reached greater heights after the arrival of Jose Mourinho, who has termed him as the, 'best professional I've ever worked with' and later even tried to sign him unsuccessfully after leaving Chelsea for Inter Milan.
Lampard is by far one of the best 'attacking' midfielders to have ever played in England. His famous goals include a zero-angle chip against Barcelona at the Camp Nou in a Champions League match, a somewhat bizarre 'out-of-the-box' chip against Hull in the League which left every Hull player lost for words, and a brilliant 25-yard strike against Crystal palace in the League. He has been Chelsea's chief spot-kick taker over the years and has rarely missed.
Lampard is defensively not as sound though and has had a few high profile altercations along the way in Big matches (most infamously against Fabregas in the Carling Cup final of '07). With Chelsea, he has won all the honours there are to win in Europe including a recent Champions League success after years of heartbreak and bad-luck. In a recent interview he stated that, back in 2008 his mother's last words before her death were, "Don't ever leave Chelsea".
"Lamps is Lamps. When he plays well he is best in the game, when he plays bad, he is the second or the third best.                                  -  Jose Mourinho
2. Paul Scholes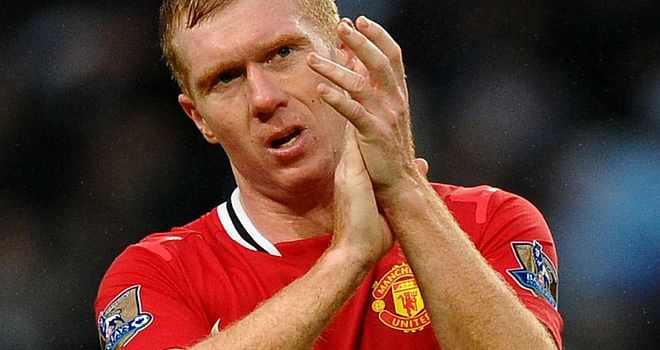 There have been times when I've seen Scholes make a pass and wondered how can a human be so precise, so perfect and so innovative with each pass that he ever makes and yet I've been mesmerised yet again with another Paul Scholes pass.
Paul Scholes is a Manchester United youth product and has been at the club for his entire footballing career. He made his debut in the 1994-95 season and scored two goals in his debut against Sheffield in a 3-0 win. Unlike what many viewers may think or perceive, Scholes became a midfield regular towards the latter part of his career.
Scholes took over as the strike partner of Andrew Cole after the departures of Mark Hughes and Eric Cantona and initially did well in the position, scoring 14 goals in the 1995-96 season along with guiding United to another League and Cup Double. In 1996-97 he changed his jersey number to 18, one which he kept on until his retirement in 2011.
During the early 2000's however, Scholes played behind the striker with Veron and Keane occupying the central midfield roles and his form subsequently dipped. Later on, he contracted a medical condition which caused him blurred vision, a condition which threatened his career at that time. However he came back stronger and after the failure of Veron at Old Trafford and subsequent departure of Keane, he became United's midfield anchor – a position he revelled in for almost a decade, winning all the accolades on his way.
For all his greatness with the ball, the one element missing from his game was the art of tackling and he has amassed more than 90 yellow cards during his career at United, along with holding the record for the most booked player in Champions League History.
Another great aspect of his game has been his long-range shooting and also a special trait of shooting thunderous unstoppable volleys on rebounds from corner. Some of his famous ones have come against Villa, Bradford and Newcastle. He also scored a spectacular long-range goal against Barcelona in the 2007-08 Champions League, one which guided them to the final in Moscow that year.
In 2011, he announced his retirement and played a testimonial match in the States against the Cosmos managed by former team-mate Eric Cantona. He however reversed the decision in January 2012 and since then has again been a regular for Manchester United.
"Without any doubt the best player in the Premiership has to be Scholes… He knows how to do everything." – Thierry Henry
1. Steven Gerrard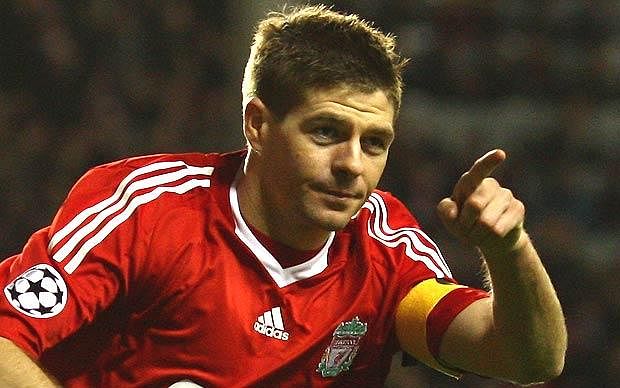 A lot of people might raise a few eye-brows about this tag but bear with me and in the end you will agree to it as well. Born and brought up as a Liverpool fan, Steven Gerrard joined the youth academy and made his Premier League debut in '98 against Blackburn.
Initially Gerrard was deployed at right back for cover, but with time started playing in the midfield defensive role alongside Jamie Redknapp. In 2000-01, he had a successful season as he won the 'Cup Treble' with Liverpool and scored in all three finals. He holds the record for being the only player to score in the finals of the FA Cup, Carling Cup, UEFA Cup and UEFA Champions League.
In 2003-04, he was made the captain of the Liverpool team at a relatively young age of only 23 but then manager Gerard Houllier was convinced that this was the beginning of the transition of Gerrard from 'a boy to a man'. From there on Gerrard took Liverpool to a historic Champions League win against Milan in '05 and the FA Cup win against West Ham in the '06 FA Cup final. In both,  he gave monumental performances and the latter was even termed as the "Gerrard's FA Cup". He has scored some real breath-taking goals in his career, some of them coming against Everton, Newcastle, Middlesbrough and Manchester United. His goal against Olympiakos in the Group Stages of the '05 Champions League campaign has been voted by many as his best goal ever.
What makes Gerrard the best midfielder ever to play in England is his ability to adapt to any role in the midfield with utmost ease and perfection. Gerrard has successfully played as the main driving force of his team's midfield over the past decade. He's played on the right, he's played as a false number Nine, he's played as a defensive midfielder and come out on top every single time and above all, he has been a one-club player, who stood by and fought for its glory even when the grass was actually greener on the other side. One can opine here that he hasn't been as rich in silverware as some of his Chelsea and United peers but he still is the complete midfield package any team would desire to have in their team.
Be it tackling, chasing the ball, dead-ball situations, creativity, passing or even motivating and carrying his team along,  Steven has done all of them day in and day out for his beloved Liverpool. A club whose rich history and not so great present are in sharp contrast to his quality as a footballer over the years and for that I vote him as the best midfielder ever to have graced the Premier League.
"Gerrard is an excellent player, absolutely world class. If I was a manager everywhere I went I'd buy Steven Gerrard. He is what Brasil needs.To me he is one of the best midfielders in the world. He is an excellent player'                                                      - Pele.
Three Notable exclusions are :-
Steve Mcmanaman – (Liverpool and Manchester City)
Rob Lee – (Newcastle, West Ham and Derby County)
Nicky Butt- (Manchester United and Newcastle United)