Top 5 humorous football commentaries
Correspondent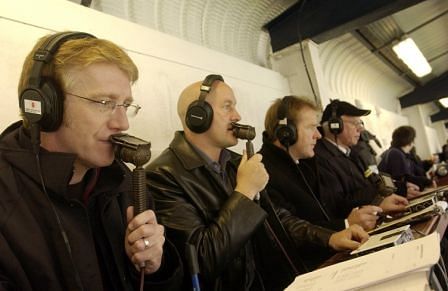 Take a walk down the streets in the evening and you'd see little children scurrying around, rushing to the playground full of zeal. Nowadays, the trend of football jerseys is catching up all over, and you might be lucky enough to witness a mini "Rooney" or "Gerrard" getting geared up to play.
Yes, we are now living in an era dominated by football. Even in India, with cricket being the most followed sport, football has taken the country by a storm as the sport's viewership is increasing by the day. Nowadays, rather than books, you'd prefer keeping your hands full with the remote, following every game of your favourite club and cheering them like there's no tomorrow. But, on off days when more important fixtures are being played simultaneously, you may sit gloomily as your club's game is not being telecast. Mouthing curses to the broadcasters, you'd switch on the computer as streaming would be the only option left to follow the match.
But would you have thought what lies in store for you? For all you know, you may be spending a very memorable 90 minutes of your life.
Wonder how?
Well, the sophisticated English commentary that you are treated to on EspnStar isn't quite the case in every part of the world. In this day and age where the man with the microphone is as important as the man with the whistle, commentary can sometimes turn into a riot of laughter.
As obvious as it may be, every commentator also has a secret favourite player and club which he doesn't reveal to avoid the "biased opinion" sword from falling on him, but some of them, don't seem to be bothered. If they like a team, they will definitely let the world know. If they want to celebrate a goal, there's nothing that's going to stop them. And it's these little moments of joy that catch the listener off-guard, until he starts rolling in laughter.
Amongst various such commentaries around the world, here are the pick of the lot:
5) Any Barcelona fan? YES SIR!
The El Classico always has every fan of both Spanish giants pumped up for the game, but the Catalans wouldn't have expected to have a commentator on their side too. His "Gol Gol Gol" shouts surely let everyone be woken up to the fact that a goal had indeed been scored.
If you were a Los Blancos fan, this would be one link you wouldn't want to visit as the commentator completely rubbed in every goal that was scored by the red and blue army.
What happened: A brilliant goal from Henry got him up and running with exhilarated "Titi Titi" screams and the "Pu Pu Pu Puyol" chant was simply classic.
Humour quotient: 7.0
Though a 6.0 would be appropriate, he deserves an extra point for the stamina he carried throughout the game.
4) He missed? Who missed? He missed. How did he miss!
Note: Watch from the 30th second.
Scottish football may not have a lot of viewership, but if there were more moments like these, I'm sure it would get a lot more publicity. Sadly, in terms of the humour.
What happened: A miss by a player in front of goal absolutely shocked the set of commentators as their horror increased with every replay of it.
Humour quotient: 7.5
If  mishaps and own goals on the field can be funny, so can the "havoc" created in a commentary box, on witnessing a blaring miss.
3) Loving the game, a little too literally?
Very few fans actually follow every intricate detail of the game, be it a sweet touches or quick stepovers. Well, this Arabic commentator could read every little move of the game being played.
What happened: The "Ah ya yay" and "Ah ya Neymar ah" surely has the viewer confused about what's going on with the man at the microphone, but you can't blame someone for simply enjoying a game.
If Andre watched this video after scoring, he'd have thought twice whether to score for Santos again.
Humour quotient: 8.0
Great amount of interest in the game deserves a great score, doesn't it?
2) Screamer! Not the goal, the commentator!
Whenever you're sitting in a sports bar or watching a game with your mates, the cheers will fill the room whenever your club or star striker scores. But could you imagine screaming to an extent where your tone simply reaches an abnormal level?
What happened: With the Netherlands striker Bergkamp finishing off a move, this Dutch commentator went absolutely ballistic screaming 'Dennis Bergkamp' and didn't care about his voice breaking on a microphone with millions listening. His country scored and there was no stopping him from celebrating.
Wonder if he got his paycheck for that game.
Humour quotient: 9.0
The passion he carried for the goal scored gives goosebumps, but just fell short to be deserving of the top spot.
1) Concert… during a game?
Generally whenever singers are seen at a stadium it's either for a concert or an appearance at an event. Well, people following this commentator got to see 23 performers instead of 22; one in the commentary box.
What happened: An exquisite finish by "The King" saw the Argentinian with the mic jump up and take his excitement to another level by singing a song in appreciation for the striker.
The Frenchman has a lot of admirers amongst the men too it seems. Ladies, hope you're listening.
Humour quotient: 10.0
Having the courage to sing on the microphone deserved nothing less than a perfect score on the humour meter.
Here are a few entries that narrowly missed out on the top honours:
# It's your Birsday, Rooney!
United vs Arsenal has always been one of the classic fixtures, fans witness every season. Wayne Rooney's finish here would have fallen short of the entertainment factor if you happened to be following this commentator.
What happened: A last minute goal to seal a victory against the Gunners sent the commentator into a frenzy. No one would have ever wished Wayne a "Happy Birsday" yet and the "Khalas" screams were to let the crowd know that the game had realistically finished. Towards the end, his voice had grown tired but that wasn't going to keep him from cheering the Devils on.
# Mario oh Mario!
Mario Balotelli is one of the most worked up footballers the world has seen but has also given us videos we can always have a laugh at. What happens when you see him struggling desperately to get his bib on and have Robbie Savage commenting on it? A laughter riot ensues, to say the least. With assistance from his fellow commentator, he takes little jibes at Mario's efforts to get his training gear on and ultimately guides him with the technique of how to wear it.
We've seen Mario throw his Inter jersey to the ground on being substituted late by Jose Mourinho a few seasons back. Maybe this video will explain to the now-Madrid chief, what that tantrum was all about.
# Crow in the stadium?
Beating Juventus, that too with an injury time goal, is a massive achievement in the Serie A and Roma here, had a person in the commentary box who agreed with this to the fullest.
When John Arne Riise headed the ball in between the posts in the 93rd minute, the commentator's "Goal goal" screams went up to such high frequencies that one wouldn't be blamed if they thought they heard a crow in the stadium.
# There are other ways of showing excitement too
13th of May 2012 was a day United fans would prefer to forget, as they saw City coming from behind against QPR to snatch the league title away from them in injury time. Though many wouldn't have been too happy to see the Citizens prove that "money wins the battle", this commentator sure differed from the rest. His husky annihilating voice was something you'd not see in everyday football. With the amount of stress put into every line and the intensity of every word he spoke, I wonder if the cleaning staff would have been too happy cleaning the glass he sat in front of.
Note: This article is aimed purely at tickling the funny bone and is not meant to offend any language or country. May it be taken in the right spirit with a giggle.