Ricky Rubio: a gimme here, a gimme there
Featured Writer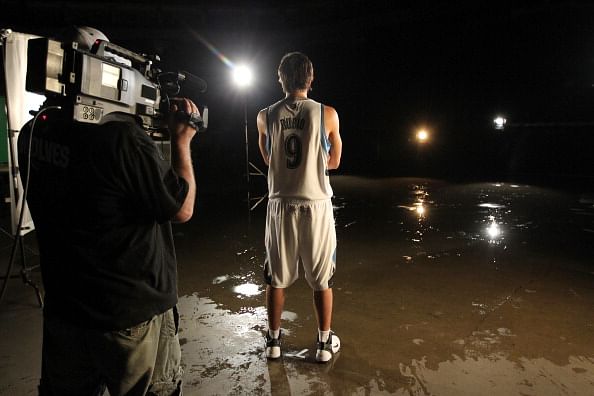 "One score makes happy ONE player, one assist makes happy TWO." Those were the words of Toni Kukoč, a three-time NBA Champion with the Chicago Bulls. Magic Johnson too is believed to have reiterated the same sentence.
Kukoč – the last player to win the NBA Sixth Man of the Year Award and the NBA title in the same year – was one of the first established European stars to play in the NBA. In the 2011/12 season, another established European finally introduced himself to the fans. Only 21, Spain's Ricky Rubio was the most anticipated Minnesota Timberwolves rookie since Kevin Garnett.
Drafted as the fifth overall pick back in 2009, Rubio was unable to cross the Atlantic due to a contract dispute – a clause in the league's agreement that prohibits a team from paying more than $500,000 to buy-out a player's contract. Rubio's was about $8m.
He moved to Barcelona, who had bought his contract for $5m from Joventut, with an option to move to the NBA in 2011. In June last year, it became official. Rubio would finally play with the big boys. When asked during his first press conference why he prefers to pass than shoot, Rubio echoed the exact same thoughts as Kukoč and Johnson.
Rubio turned professional at the age of 14 when he made his Spanish League debut for Joventut. But for two years, T-wolves fans only got fleeting glimpses of Rubio's obvious talent on YouTube videos. The hype: ever so palpable.
When he finally made his first appearance in front of a sell-out crowd at the Target Centre, Rubio took to the NBA like a fish to water. He was the Rookie of the Month in his first month. Not only was he causing a stir months into his rookie season, he was also being compared to a multiple All-Star. He does remind one of a young Steve Nash, doesn't he?
A flashy behind-the-back gimme here, a no-look alley there; when the ball leaves his hand, it's a heat-seeking missile. It always finds its intended target, even if it means putting it through the legs of an opponent. Rubio's vision is second to none. Sometimes it's so good; one needs a slow-mo replay to actually figure out how he manages it. Once that's done, one can only lift dropped jaws back into their natural place.
He defies common logic. Very few people can see and read the game the way Rubio (or Nash) does. He envisages and anticipates everything a good 30 seconds before anyone else on the court. Rubio is no rookie point guard; he is a veteran quarter-back.
But as luck would have it, his world came crashing down. In a loss to the Los Angeles Lakers, Rubio tore his Anterior Cruciate Ligament on his left knee after colliding into Kobe Bryant. He missed the rest of the season. The sole consolation of his misfortune was that Rubio finished second in the Rookie of the Year voting. He had averaged 10.6 points, 8.2 assists and 2.2 steals in 41 games.
Rubio isn't expected to return to action until December or January, with the season already underway. The Timberwolves face the Sacramento Kings in their season opener. They will have to rely on forward Kevin Love and centre Nikola Peković to conjure up the magic in Rubio's absence.
When he does make his comeback, the Timberwolves will be the real dark horses of the season. Hall-of-Famer and 3-point great Larry Bird famously said, "It doesn't matter who scores the points, it's who can get the ball to the scorer." In Rubio, they have best up and coming guard to feed and make plays for Love and Peković – the leagues' best 'Emerging Big Three.'
Ricky Rubio has been a great addition to this Minnesota team. He brings new hope after the years of disappointment and false promises of the KG era, which had the Timberwolves fans disillusioned. He is by no means a finished product. He still has to learn to deal with the physicality of the league and work on his rather inconsistent shooting.
His failings imply nothing but that there is so much room for him to grow into an elite point guard. And with his flair, on-court persona and chiselled good looks, he's surely destined for greatness.
Rubio has poise way beyond his age and he will make anyone look good. Just give this kid the ball.