"I love to look good every time I am on the course"- Sharmila Nicollet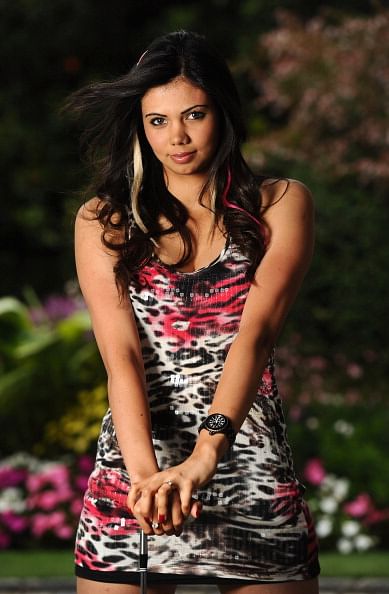 Even as some of the leading professional golfers from across the globe gear up to set the KGA course on fire, here in Bangalore, there are a few golf lovers who are hoping to get a glimpse of the sizzling hot golfing sensation Sharmila Nicollet on the course despite knowing the event is not meant for women.
For someone who doesn't follow golf, like myself, watching the players go about clearing 18 holes on a course can be mundane. But add a little bit of glamour to the event, it could get exciting.
Nicollet is one such Bangalore golfer who draws heaps of attention with her sharp-looks and ravishing style. The talented 21-year-old who is lording over the greens these days believes that a bit of both fashion and performance is a must to become popular among the masses. When she takes to the course, the shutterbugs can't seem to stop clicking her pictures, sometimes even distracting her concentration. But they are not entirely at fault considering Nicollet's loud colours and rather attractive dressing sense that catches one's eye.
In a light-hearted interview, Sharmila talks about her career and fashion.
 Excerpts:
 Can you elaborate on how you chose golf to be your career choice?
I was always interested in sports. As a child I used to swim at the Ulsoor swimming pool under the then national coach MR Mohite. Later I took to equestrian and then even played a little bit of basketball for my school. But it was the regular outings with my family, all of whom are avid golfers, attracted me to the sport. I was about 11 years old when I held the club for the first time but it was only when I was about 14 years old that I decided golf is what I would like to take up as a career. For about three years I played almost every amateur tournament and won most of it. I was 18 when I turned pro.
Going by your exploits on the course, have you chalked out a career plan already? Perhaps play in the European circuit?
I give myself about three to four years to better my performance at the professional circuit. I plan to take part in the Asian tours and then play in the European circuit as well because competition there is a lot better. At the moment, I don't intend to stay in India and play here for long. Eventually I would like to move to the U.S because my coach David Leadbetter is based in Orlando. I would love to play at the LPGA and UCLA at a later part of my career.
You are one such golfer who can't seem to miss getting attention regardless of how you perform. Can you tell us about your unconventional style statement?
 A lot of times, people misunderstand and think that I am more into fashion and less into golf. But that's not true. I love doing a bit of both. I love matching my golfing attire with accessories. I love loud colours and wear bright nail polish. It feels great when you know you look good and I love to look good when I am out there on the course.
You think being glamorous is an add on? People often love to follow glamorous people.
 At the end of the day, performance is what matters. But I think a bit of both is important because if you are glamorous like Sania Mirza you get a lot of endorsements and only if you have performance backing your good looks you would get that kind of recognition.
Over the past decade, golf has received decent amount of funding and quite a few new names in women's golf has cropped up! 
I think there is a lot of scope and potential in India. Women's golf has picked up momentum in these past three years and some of the juniors are doing extremely well. But once you start playing at the professional level, it's best to get out of the country and start playing more international tours. We don't have much sponsors here because of which we don't have many tournaments. But this year, the number of events has relatively improved and things are looking up. This is probably the right time for ladies to take up golf.
What are your expectations out of the Indian Open being played on your home turf?
It's going to be very exciting competition. The draw consists of some of the best golfers from India and abroad. I am looking forward to cheering on some of my teammates with whom I have practiced with and I am obviously cheering for an Indian to win the title.