Squash in India set to achieve greater heights with talent pool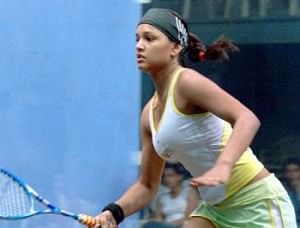 Not her glamour, but it is her skill on the court that is attracting more attention these days. India's current squash star, Deepika Pallikal is having a heady time right now. Winning the Arjuna award – only the second squash player to do so – the Chennai sportstar has been achieving much in the sport, and keeping Indian squash in international limelight, so to speak. After making her debut at the age of ten, she did not make any spectacular climb vis-a vis another star Joshna Chinnappa, who had been climbing the ladder of fame faster before injury laid her low for a year after she switched to training with a foreign coach. Deepika too took her squash seriously, and switched to training under former Australian star Sarah Fitzerald, a world champion. 2011 saw her ranking shoot up to No. 14, and she became the highest ranked Indian player, that too at the young age of 19. She became the Asian junior champion.
A pro with Women's International Squash Players Association (WISPA), Deepika has so far won seven titles and has been a quarter finalist in the World championships. She has five final appearances too. She has already raised the bar for herself, aiming to break into the the top 10 in the world first, and become the world champion as well. Who else but her coach Sarah, in Deepika's own words, provides the inspiration to greater achievements. She said so during a chat with this writer three days ago, after the squash federation felicitated her for winning the Arjuna award. Squash is attracting youngsters of late like badminton, because we have been performing well on the world stage, like Saina Nehwal , she says.
In tandem with Deepika, Joshna, whose world ranking has slipped to No. 51 or so due to her injury lay off from competitions, has also chalked out an agenda with the objective of rising to the top again. And to add to this, there are a couple of other players – boys and girls – in the sport. And at a time when the Indian President of World Squash Federation, also from Chennai like its rising stars, is leaving no stone unturned to make squash an Olympic sport, talents of the likes of Deepika would certainly help this cause a lot.
The Squash Federation also has a focused training program at its national academy in Chennai, thus ensuring that the talent flow is uninterrupted, and in professional hands, it would be squash that would put Indian sports on the world map.