Macheda set to leave United in contrasting fashion to his arrival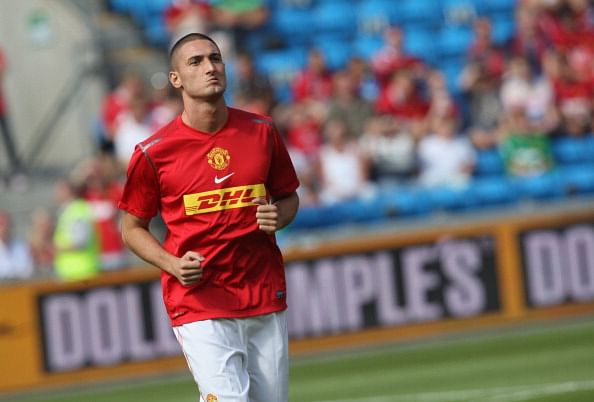 Federico Macheda burst onto the scene at Manchester United in a truly unbeatable fashion. His late winner against Villa that day is a symbol to the title win that season, but having burst onto the scene in such a remarkable way, it's left a shadow on the rest of his United career. In many ways, that goal acts as an antithesis on the rest of his United career; the way he broke onto the scene from nowhere will make his lack of development all the more disappointing. Unlike the way he burst onto the scene back in 2009, Macheda is slowly drifting away from a future at United, as he has been for a long time.
While the excitement behind his arrival was understandable, rather predictably, it was over exaggerated by many at the time. Macheda had been impressing in the reserves for a while beforehand, and has continued to do so since, but the truth is 'that' moment aside, Macheda has never shown that he's a good enough player for the Premier League – at least not consistently. While I've always been a fan of his because he seems to have a good worth ethic, I think it's been pretty obvious for a while that he's not developed enough to be worthy of a place at United. Danny Welbeck's ability was once considered to be considerably inferior to that of Macheda, but the statistics show it all in terms of the importance of development when you consider Welbeck has been featuring and impressing, and Macheda hasn't.
In many respects, Macheda has been unlucky; his loan move to Sampdoria failed because of the off-the-pitch troubles at the time, and equally weirdly he was barely used during his time at QPR at the end of last season. While Macheda's attitude has continued to see him work hard, his chances have remained limited, and with the arrival of Robin van Persie, he's going the opposite way down the pecking order than where he wants too. While Ferguson continues to cherish and develop young talent, his comments regarding how he felt Will Keane could be a 'potential 4th choice striker' this season (before he got injured) suggests that he feels Macheda is getting in the way of other players' development.
Of course it's Macheda's agent talking, and not himself, but it seems as though the Italian is growing tired and believes his efforts will be better utilised elsewhere. "He wants to play and if he can not do that by January, we will try to find an alternative solution," said his agent. "I'll talk to the manager in the next few days, [Macheda] was required by German and Spanish teams during the latter part of the summer transfer market, but the British club chose to keep him. Hopefully they understand the situation and let him leave in January because it makes no sense to keep him on the bench at the age of 21." If it's the case that Macheda will be off sooner rather than later, then you can't help but think it's for the good of both parties – it would really be a case of "good luck Kiko, thanks for *that* goal."
Published with permission from The Devils of Manchester.