MS Dhoni - Reclaiming lost glory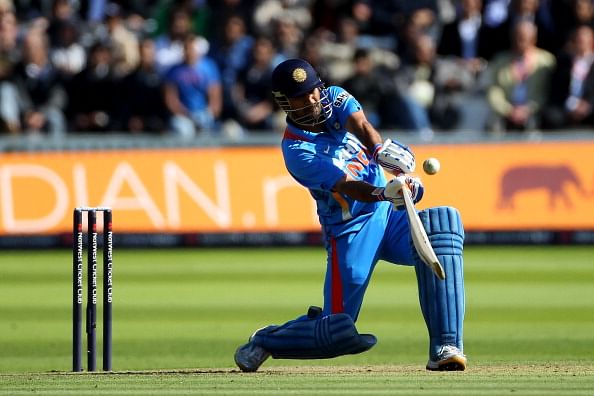 Mahendra Singh Dhoni or Mahi, as he is commonly called by his team-mates and millions of fans all across the globe. He came into the Indian side as a wicket-keeper batsman. No one at that time would have ever thought that this man, who was run out off the very first ball of his ODI career debut against Bangladesh, would go on to make such a huge impact on Indian cricketing history.
It was in October 2005 at the Sawai Man Singh stadium at Jaipur where he scored an unbeaten 183 while chasing SriLanka's 299 – "a record which still stands as the highest individual score by a batsman while chasing." This may be called his "launching pad." After this innings he became famous as the most devastating batsman in world cricket.
In the year 2007, to everyone's surprise he was given the responsibility of leading an inexperienced young Indian side into the inaugural ICC T-20 tournament which was to be played in South Africa. The same year when India was eliminated from the first round of ICC World Cup in West Indies under Dravid. Not many felt that this young Indian side under Dhoni would go on and win the World Cup in the absence of Sachin, Dravid and Dada. But this happened, Dhoni led his boys and India to that glory which every captain wants to repeat again and again. From there, he established himself as "Captain Cool".
Many critics termed this win just a fluke. But soon after that, he was named the ODI captain of India. His Midas touch continued and India won its first CB series in Australia. After that he became a permanent captain of Team India in all three formats. He made India the number 1 Test playing side for the first time. He was termed "the most successful captain of Indian team" by one and all.
In due course we had lost two T-20 World Cups. But that hardly affected his captaincy. Then came the big stage of 50 overs World Cup, which was to be played in the Indian sub-continent. India under Dhoni entered the tournament as favourites and emerged from the tournament as World Cup winners, ending a 28-year exile. His knock of 91 not out off 79 balls and the winning six that he hit off Kulasekara became a memory which still exists in every cricket fan's mind.
But after that India saw some dark days in cricket. The 8 tests on the trot lost overseas.  Losing the Asia Cup and failing to qualify for the semis of recently concluded T-20 World tournament. The critics started shouting that he had lost his Midas touch and all his previous achievements, including the World Cup, were forgotten.
Most cricket lovers are asking for change in captain. My question to all of them is "Do we have a replacement?" Is there anyone who can achieve this much? Only answer is Virat but he is too immature to take up the responsibility. So my call to every cricket lover is to just remain patient. The Midas touch of MS will return. We will gain our No.1 spot back in tests. Be positive guys.
This is the time when all our players need our support. Just that trust and support from fans can do wonders in boosting the players' confidence level. The change in captaincy at this time will only create a big hole in Team India which will only harm us.