Clarke has been very high quality: Ponting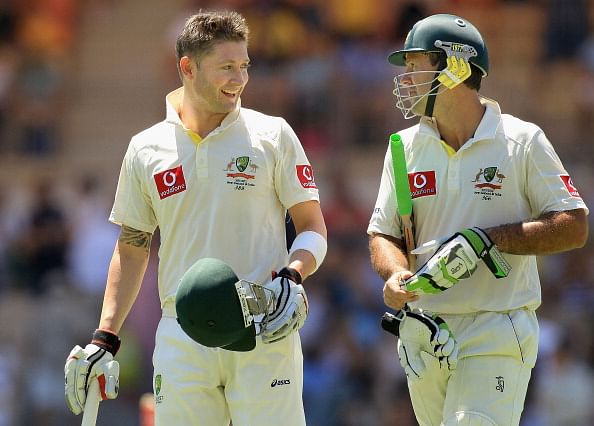 Michael Clarke has proven to be the best leader for Australia after he took over the captaincy from Ricky Ponting. Michael Clarke has been an aggressive skipper for Australia as he constantly attacks the batsman initially. He has also got bowlers who respond to his field placement. Michael Clarke also helped Australia to achieve the World No.1 ranking in Test Cricket. If Australia, under Michael Clarke, defeats South Africa 2-0, then they climb to No.1 spot in Test status.
Ricky Ponting praised Clarke despite a 0-4 drubbing in the five-match ODI series at England. He stated that Clarke is the best captain for Australia. He's true on his part as Clarke perhaps knows this young generation of players better than anyone else. When he gave up the captaincy, Ponting said that he hoped to give Clarke the best chance of putting his stamp on a new team, something the younger man has done. Even when Ponting was leading the side, there was a mutual understanding between Clarke and Ponting. Ponting too assessed that Clarke has the ability to lead the side, and with new generation of players, he's the right man to lead Australia.
"The thing I know about him, and it was similar to when I took over the captaincy as well, I think Michael's been able to elevate his game to a different level," Ponting said. "I think the way he played over the summer last year was very impressive, both one-day cricket and Test cricket. And when I took over the captaincy it was a bit of the same with me as well".
"Certain players respond to that responsibility a little bit better and make everybody feel and look very comfortable. As players and captains you're always judged on records, and what Michael has done as a captain and a player so far has been of a very high quality".
Ponting didn't stop there. He also mentioned a captain's responsibility. "If you're looking to lead an organization or a team well, you want to have total responsibility for what's going on. I never had that, but that's something I'd always asked for and it's good to see that's the direction the game's going because I think it's the direction it had to go".
"I think there are a lot of positive things that have happened around Australian cricket in the last 12 months. The way the selection thing is structured now with [the team performance manager] Pat Howard being involved, some really good and smart decisions are being made around giving players in our team the best chance possible".
Now, this one should bring greater amount of stability to Australia, and they should get back to winning ways without any problem. Cricket Australia have given them the team that Michael Clarke actually wants and now it's upto him to produce the result with the side.
The Series against South Africa may bring out the leadership qualities of Michael Clarke as South Africa have a strong pace-attack and Clarke has to guide his players on handling the short-pitched deliveries especially at Perth. A win would certainly give them confidence ahead of Ashes Series in England.