The Footy Mumble: Neymar's no for Europe, Cyprus players bombed!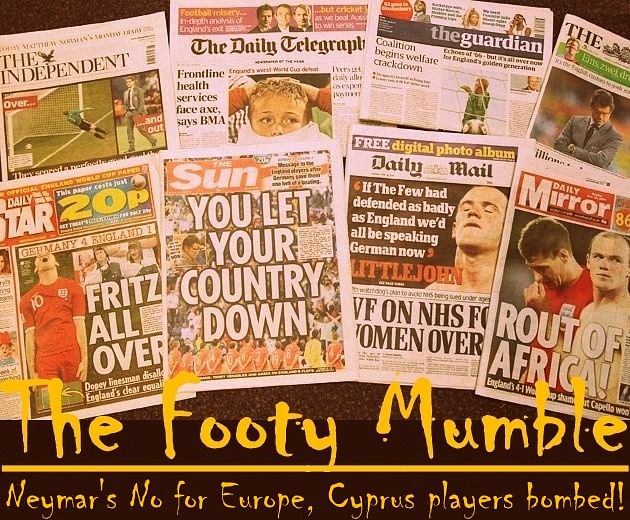 Bolton get permission for Freedman, Blackburn fans may boycott
Crystal Palace have given permission for Bolton to start talks with their manager Dougie Freedman, after initially rejecting their request.
Bolton, who sacked Owen Coyle earlier this month, have seemingly offered Palace £500,000 as compensation, who may well have been tempted to accept the offer considering the shoe-string budgets they run on.
Blackburn fans are angry yet again, after seeing their club linked with managerial unknowns Billy McKinlay and Tim Sherwood.
Although the Lancashire club were earlier linked with Alan Shearer and even Ole Gunnar Solsksjaer, both didn't work out and they have been forced to look at alternatives.
Apparently Shebby Singh, the man in charge of the managerial hunt, wants  a young manager who can bloom into a Jose Mourinho in future. This has not gone down well with fans, who are planning a boycott of the club's matches.
John Terry to wear anti-racism armband
John Terry will celebrate one year of being at the center of racial abuse accusations by wearing, ironically, an anti-racism armband during the Champions League match against Shakhtar Donetsk.
UEFA has asked all captains to wear the armband, and since Chelsea seem to have decided not to strip him of the captaincy, a glaring irony will be on display Tuesday night.
Bomb thrown at players in Cyprus!
Yes, you read that right. A match in Cyprus turned unbelievably ugly when fans lobbed a smoke bomb at players!
While that may be shocking as it is, the more disgusting fact was that the incident occurred when an injured player was getting treated on the field and the bomb thrown right at him.
See the shocking video here:



Huntelaar for Liverpool, Neymar rules out Europe move
And in today's transfer updates, Klaas Jan Huntelaar's continued link to top clubs around Europe seems to have ended after being linked with Liverpool today.
The Merseysiders have just one recognised striker in the Luis "Diving" Suarez and will be shopping aggressively for strikers in the January transfer window.
While that does not mean his arrival at Anfield is certain, it seems the standards of clubs he is linked with has dropped.
Neymar, the most anticipated world beater in the making, has surprised fans and clubs alike by claiming he will NOT be moving to Europe until after the 2014 Brazil World Cup.
While many have linked the Santos starlet with a move to either Real Madrid or Barcelona, it seems the 19 yr old is no hurry for a move and is content at Santos for now.
And he went on to add aggressively, "Those who control my life are me and my dad. From the moment you hear from my mouth, or from my dad's mouth, that I will leave, then you can start to believe it."
Ferdinand issue resolved, but break away union surfaces
Rio Ferdinand and Sir Alex Ferguson seem to have finally put behind the controversy over the Kick It Out T-shirt last weekend, after a talk during training yesterday.
It had seemed likely that Ferdinand would be fined heavily for snubbing Sir Alex's advice prior to the Stoke City match but the issue has been put behind them, apparently.
The racism issue, however, continues to burn, with Rio Ferdinand now, allegedly, planning a breakaway union of black players, to be called The Federation of Black Players.
It is reported that the new union has received a lot of backing, and even that the first draft of the union's constitution is ready.
How these off-field issues affect Ferdinand remains to be seen, with a trip to league leaders Chelsea awaited come this Sunday.