Sauber Confirm Nico Hulkenberg for 2013 F1 Season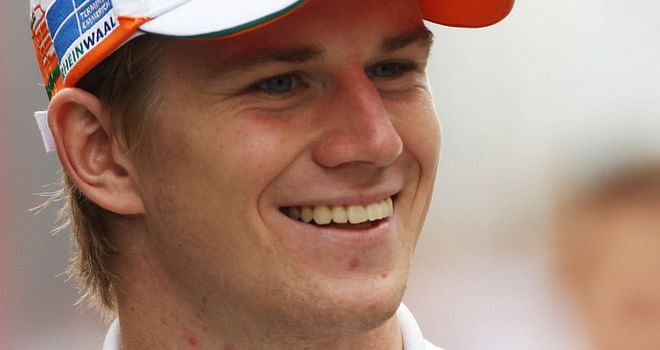 The Sauber F1 Team today announced that Nico Hulkeneberg would be driving for them in the 2013 Formula 1 season. The young German, who currently drives for Sahara Force India, will replace Sergio Perez who will be driving for Vodafone Mclaren Mercedes in 2013.
Nico Hulkeberg had been on Sauber's radar for a long time and it was widely speculated that he would be moving to Sauber in 2013. Currently, Hulkenberg is twelfth in the drivers' championship and has been scoring points on consistent basis in the last few races.
Here's what Hulkenberg had to say:
"I'm really looking forward to working with the Sauber F1 Team," he said. "It's a well-placed team and very competitive. Plus it's a team in which young drivers have repeatedly delivered exceptional performances. I would like to take up that baton.
"The Sauber F1 Team is currently going through a very positive development and I'm certain that together we can achieve a lot."
He also thanked Sahara Force India team for giving him an opportunity after he was dropped by Williams F1 team in 2010.
"I will remain fully focused on my job with the Sahara Force India Team. I'd like to thank the management at Sahara Force India for giving me the chance to return to Formula One as a team driver."
Sauber F1 Team Principal Monisha Kaltenborn is pleased to have signed the German. Here is what she had to say:
"We've been observing Nico for some time now and his performances have been very persuasive," she added. "That was the case in GP2 and has continued into Formula One.
"An obvious highlight was how he scored pole at Interlagos in 2010 despite the most challenging external conditions. He clearly showed that he can seize the chance if it arises. But high spots like that are one thing; systematic teamwork is another – and on that score I have confidence in Nico too. I'm sure he will fit in very well with the Sauber F1 Team. We look forward to working together with him."
Though Sauber team confirmed  Hulkenberg for 2013 season, they didn't reveal the name of their second driver who would be partnering Hulkenberg. Kamui Kobayashi, who currently drives for Sauber F1 team, doesn't bring any funds to the team and it has been widely speculated that Sauber may ditch the Japanese driver for someone who can bring funds. Esteban Gutierrez (Sauber F1 Reserve Driver) and Jamie Alguserai have been touted as potential candidates for replacing Kamui Kobayashi.
At Force India, Paul Di Resta looks all set to continue with the team for another season after failing to secure a seat at Mclaren. Adrian Sutil, Heikki Kovalinen and Julen Bianchi (Force India Reserve driver) have been linked with a seat with Force India.
Jamie Alguserai could also join Force India if he fails to secure a drive with Sauber F1 team. Few months back, Jamie Alguserai tweeted that he would be on the 2013 grid driving for a midfield team.
At the moment, Jamie Alguserai, Adrian Sutil, Esteban Gutierrez and Jules Bianchi are all without a drive for 2013 season and it is highly possible that the two seats at Sauber and Force India will be filled by two of the above mentioned drivers.
Heikki Kovalinen may also find himself without a drive for 2013 as he doesn't bring any funds to Caterham, and instead, the Caterham F1 team pays the Finn a salary. Tony Fernandes (Caterham Team Principal) has been impressed with Kovalinen's performance, but is on the look out for a driver who could bring funds to their team.