QPR 0 – 1 Arsenal : Townsend almost rescues a point for QPR after Arsenal dominate midfield battle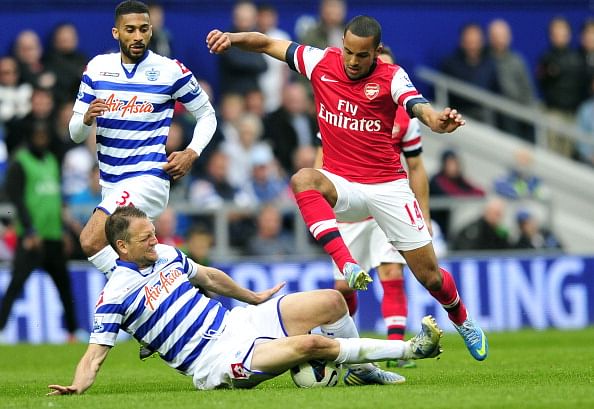 With Chelsea playing only on Sunday, the onus was on both Arsenal and Tottenham to dig out 3 points to catch up on the Blues; and it is safe to say that neither of the two preferred a safe ride. While Theo Walcott once again scored a goal within the first 2 minutes to allow the Gunners a 1-0 win over relegated QPR, it was a screamer by Gareth Bale that helped Tottenham capture 3 points against a much more deserving Southampton.
In the past 2 months, Wenger's team had given away points in games against Everton and Man United only, but the performance by Arsenal tonight somehow brought back memories of the same old Arsenal – loads of possession, but rarely a final product. With 55% possession and a 83% pass completion rate by the Gunners, QPR's backline were able to absorb all the pressure with a 86% tackle success rate and were then able to counter attack in the final quarter of the game.
As expected by Arsene Wenger, he didn't change the shape or composition of the team that drew against United. The only forced change for Monreal in for Gibbs, while Podolski continued in his new striker role. Harry, on the other hand, made 4 changes in personnel – Park, Zamora, Ben Haim and Townsend came into the team.
Arsenal started with their usual shape of 4-2-3-1 with the pair of Ramsey and Arteta in the centre of midfield. While Redknapp's choice of midfield had been predicted as crucial to compete against Arsenal's midfield trio, he still chose to go with 2 in midfield on paper. QPR lined up as 4-4-2 with Zamora and Remy as out-and-out strikers and Park and Townsend on the wings.
Rosicky utilizes midfield advantage, M'bia disappoints
While Cazorla might have been a winger in Malaga, Wenger had used him through the centre initially. But his steady shift to the wings again can be credited to the resurgence of Thomas Rosicky. The Czech international has been in great form and the sudden burst of pace that he brings in the attacking 3rd is unmatchable in this Arsenal team.
Even in this game, Rosicky's sudden turn around the left-back Traore left space for Arteta to receive ball in space and then play in Theo for the 1st goal within 22 seconds. Rosicky's impact was very much visible then on as he tore apart M'bia in QPR's midfield. M'bia and Jenas were playing without a third man for the first time this season, and with Jenas sitting deep in midfield, it was upto M'bia to attack the opposing midfielder and then start off attacks from loose balls. The Frenchman was on the back foot from the start as he could not deal with the aggression showed by Ramsey and Rosicky.
Park's position as a winger, Sagna carefree
On paper, Park was positioned on the left flank, but the Korean kept drifting in due to a couple of reasons. Firstly, the Arsenal player on his wing was supposed to be Theo Walcott and, more often than not, Theo was seen playing upfront as the striker rather than a back-tracking winger. So Park rarely had to stay deep in his half defending, and instead needed to cover for Traore only in the case of Sagna overlapping on the wings. But Park was unable to do this job, as he let Sagna scamper off easily on many occasions.
Sagna had a nightmare game against United, but was relatively untroubled this time. His stats of 0 tackles and 0 aerial duels show that QPR rarely ventured in attack from their left flank with Park. But Park showed his ever-willingness to run off the ball by popping up on opposite flanks for all of his 3 shots on goal. So Sagna's only worry was clearing the ball from set pieces.
The second reason for Park's central drift was the obvious imbalance in midfield that QPR were experiencing. The Korean often kept coming narrower from the wings and was seen in the advanced midfielder role for a large part of the game. This way, he not only doubled the load on Arteta, but also backed up M'bia when Rosicky's pressure was increased due to Cazorla's presence.
Walcott's craving satisfied, Townsend stutters Arsenal
Theo Walcott's craving for a central striking role has been increasing all the time, and Giroud's absence turned out to be a perfect opportunity for Theo, despite the manager placing him wide on paper. With the legit striker Lukas Podolski getting more involved in the build-up play in midfield and looking to get the midfielders to arrive late in the box, it was set up well for Theo to take centre-stage. And one look at his heat map below shows that he spent most of the time tied up next to Clint Hill and Onuha when Arsenal were building play via the right.