Brandon Jennings in India: "Basketball is an easy game that anyone can enjoy"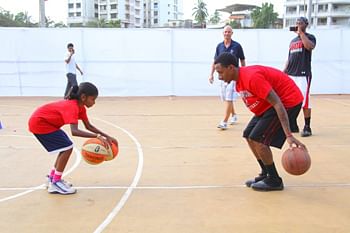 Brandon Jennings isn't exactly the typical NBA star. While most of the NBA's best players follow a similar path to stardom (High school star, College star, lottery pick in the draft, and then, slowly growing into a productive NBA player), Jennings took a different route that took him from the West to East to the West, and in this journey, he has collected a plethora of experiences that make him the unique player that he is today.
From Compton (California) to Rome (Italy) to Milwaukee (Wisconsin), and now, the Milwaukee Bucks point guard who has just completed his second professional year in the NBA, added two more destinations to his resume: the cities of Mumbai and Pune in Maharashtra, India. In the process, Jennings became the 16th NBA/WNBA player/legend to visit India over the past three years. He came to this country following the footsteps of Dwight Howard and Pau Gasol last year, but Jennings is a different case.
Firstly, it's his height: Troy Justice, the Director of Basketball Operations in NBA India, said that the NBA was adamant in making sure that this time around, a smaller player is brought over to India so that even the young players who aren't gifted with naturally bigger bodies can feel encouraged that they can work hard to stand amongst the best in the world. At 6 foot 1 inch, Jennings is one of the shorter players in the NBA, but that hasn't stopped him from being a burgeoning superstar.
This is his story, so far, in summary: He was one of the most acclaimed high school stars in the USA, before he skipped college and headed to play professional basketball in Europe, playing amongst the best in the world, far away from home, at the tender age of 18. He came back to the NBA a year later, was picked 10th by the Milwaukee Bucks, and had a successful rookie year, highlighted by a 55-point performance in just his seventh NBA game.
Last week, Jennings came to India where he took part in several programmes. He participated in the 'Magic Bus' programme to hold a basketball clinic for kids from vulnerable communities. He attended and judged the Jr. NBA/Jr. WNBA National Skills Challenge Finals on May 15 in Mumbai. And he traveled to Pune to become the first NBA player to visit the city, where he also held Jr. NBA/WNBA and NBA Cares clinics.
I got the opportunity to hold a short Q & A session with Jennings at the end of his trip in India. In addition to several questions that I threw at him concerning the present and future of basketball in India and of his own play in the NBA, I also asked him a few questions sent over to me by Jennings fans via Twitter. Enjoy!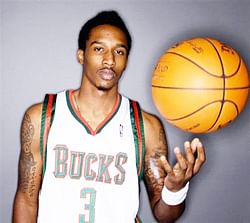 Hoopistani: Is this your first time in India? How has the trip been so far?
Jennings: Yes it is my first time here. The trip is going really well, although I am a little jet-lagged! I have had some incredible food in India, and I've especially enjoyed the fish and chicken dishes. Mumbai reminds me a lot of New York City, because it's a city that is always alive and busy. The weather has been good, too.
Of course, the highlight of my trip here has been the experiences I've had teaching kids the fundamentals of basketball.
Hoopistani: What has been the most memorable experience of your time in India?
Jennings: Just getting the opportunity to observe the Indian talent and work with them has been great. I have seen a lot of talent in India, and the kids are very eager to learn.
Hoopistani: You worked with the Jr. NBA/Jr. WNBA programme – how do you rate the talent level of the kids you saw there?
Jennings: The game of basketball is still relatively new to these kids – but I'll say that they have the fundamentals and the mentality right. They want to be good at basketball – and from what I saw, they listen to their coaches and have been coached very well.
Hoopistani: You also took part in the 'Magic Bus' NBA Cares programme (a not-for-profit organisation using 'sport for development' for underprivileged childrend) in Mumbai – tell me about that experience?
Jennings: That was tough – I was teaching fundamentals to children who didn't know anything about basketball. Many of them didn't even have shoes on their feet. They played barefoot or in sandals. It took me back to my younger days in the hood I grew up in where I played against guys who couldn't afford to buy shoes.
But the wonderful part was that they were eager to learn the game of basketball and have fun. They understood me and we enjoyed the experience.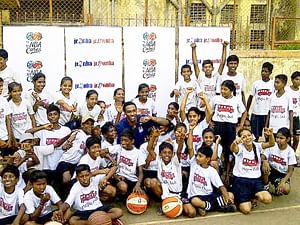 Hoopistani: What do you think India needs to do to raise the level of the game here?
Jennings: The first thing is that we must accept that cricket is the #1 sport in India – basketball might not get to the top but it can be the #2 sport here. To raise the level of the game, the young players just have to keep practicing hard. Basketball is an easy and a fun game that anyone can enjoy.
Hoopistani: You have a unique view of global basketball, especially after your experience in Italy. Do you think playing away from the USA for a year improved your game?
Jennings: I didn't go to college in the USA and became a professional at 18, and I stayed with my family overseas. Playing with grown men at that age helped me mature my game a lot. It also brought in certain habits that are common in the European game, such as twice-a-day practices which instilled a habit of hard work in me. All that hard work helped me raise my game to the next level.
Before the NBA Draft in 2009, many of the people hadn't really seen me play for a long time or knew about my game. I think it helped me, because they were curious to see what I had learnt in Europe and that's why I got picked 10th.
Hoopistani: What do you predict for the future of global basketball?
Jennings: The game of basketball is getting everywhere now. I've seen it being played all over the world. The NBA is doing a good job in promoting the game, and in India, the sport is growing and getting a big response.
The international competition in the game of basketball is getting great. We have seen this for several years now, and we saw it in the Final of the Beijing Olympics, where a very talented USA team had a hard time beating Spain.
Hoopistani: What is so special about the game of basketball that it can be embraced by so many worldwide?
Jennings: Basketball is a simple game – you can put up a hoop anywhere and play. It's unique, easy, and fun. You don't even need too many people to get started – it can be played one-or-one or five-or-five. It's this simplicity that makes it such a popular sport.
Fan Question- Karan Talwar, New Delhi: What do you think about the new point guard revolution in the NBA?
Jennings: I think it's great – it's a new era. I love that some of the best players in the NBA are now smaller guards. Especially with someone like Derrick Rose winning the MVP, it gives other point guards hope for the future.
Fan Question- Kaushik Lakshman, Bangalore: How did the European experience give you an edge last season? How is the style of play different there?
Jennings: I got to travel all around Europe and play some of the best talent in the continent – the Euroleague is the second-best league in the world after the NBA and the competition was tough. The style of play in Europe focuses more on team ball, and it is never about just one player. That habit naturally rubbed off on me and it helped me play with the team-ball philosophy in the Bucks.
Fan Question- David Stern, Milwaukee (USA): What will be the goals for the Bucks in the upcoming season?
Jennings: We want to bring the winning mentality back into the team. We are hoping to finish top five in the Eastern conference, and get back the same form and team chemistry we had in my rookie season.