[caption id="attachment_2211451" align="aligncenter" width="1907"]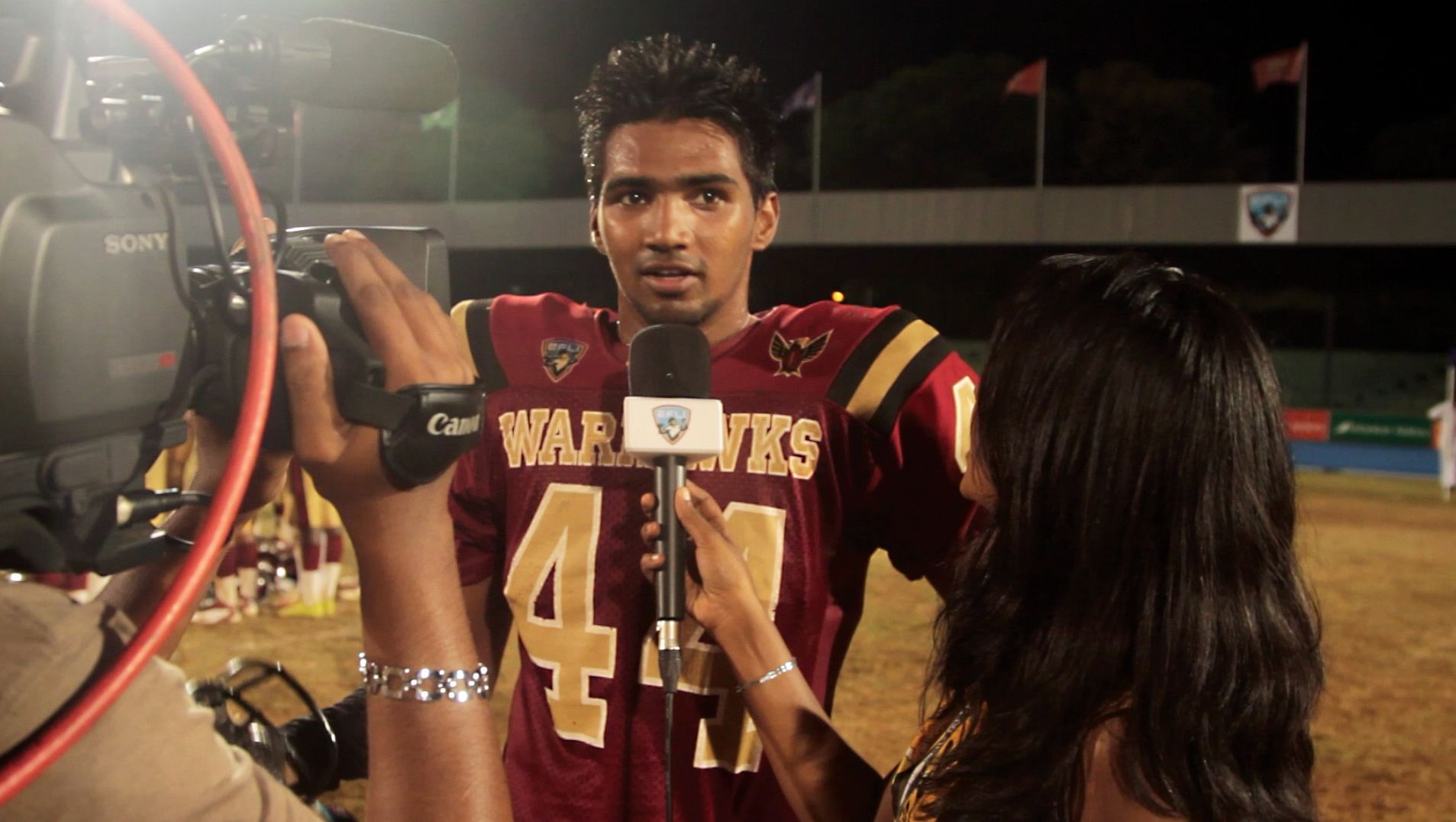 Roshan Lobo[/caption] When the EFLI made its plans to step foot on the Indian subcontinent, most were sceptical as to the future of this game and the opportunities it would produce. As I have said many a time, the sport was entering the den of a lion (the game of cricket) which is comfortably placed atop the throne of the jungle. For making its presence felt in the region the game needed a face badly. Every league, or for that matter sports in the world, needs a face to market and the EFLI in its first season got its first quintessential face of the game in the form of Roshan Lobo. The Bangalore resident, who idolizes Adrian Peterson, in the space of a few months has become the Adrian Peterson of this league; a cornerstone of not only the franchise but the league as well as the sport in this region of the world. Lobo as a running back mirrors the hard hits that the game will have to take and still come back for more as it moves towards establishing itself in the heartland of India and it's neighbouring countries. Roshan Lobo was the cornerstone of the Bangalore Warhawks' running game. His strong running complemented their impressive quarter back Jitendra Shetty to lend their offense balance and provide them with a force which not many were able to put a stop to.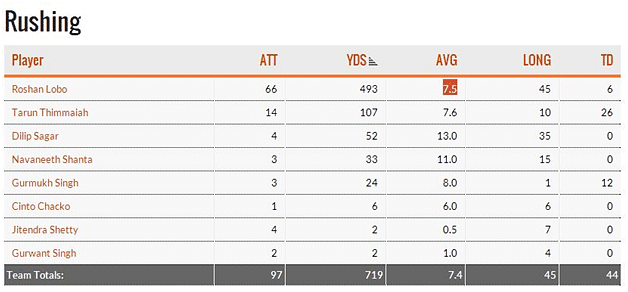 Roshan Lobo's first season in the EFLI was amazing for a person who was new to the game. Lobo wreaked havoc in opposition defenses as the reigning EFLI MVP's storming runs amounted to a league leading 493 yards on 66 carries. His average of 7.5 yards per carry was even more than what Adrian Peterson was able to muster in his record breaking season in 2012.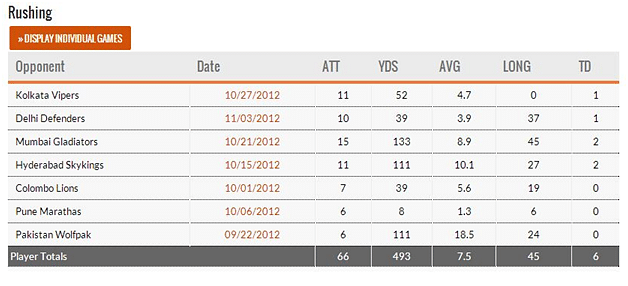 His season was more than impressive when compared to his contemporaries at the running back position. The next person to prop up on the list for most yards garnered for a running back was a clear 100+ yards behind him. He finished with 6 rushing touchdowns (also league leading) whilst his 45 yard run against the Mumbai Gladiators was the longest touchdown scamper of the season. Lobo was also the only person to record three 100+ yard rushing games in the first season of the EFLI. His average of 10.1 against the Kandy Skykings was the only game of the season in which a player averaged 10+ while carrying the ball more than 10 times in a game.


Lobo continued to show his presence even on special teams as he recorded impressive numbers both on kick as well as punt returns. His 53 yard punt return against the Vipers was one of the biggest returns in the season.

Roshan Lobo still has a lot of room to improve when it comes to receiving. Though he was only targeted eight times in the whole season, he didn't let his team down whenever the ball was dispersed at his direction. He was able to come down with the ball on six occasions, accounting for a 75% completion rate; recording his solitary receiving touchdown against the Wolfpak. Having already established himself as the premier running back in the league, the expectations from Lobo will no doubt now increase manifold. However, as he gets more accustomed to the nuances of the game and adds more to his arsenal of trickery there should be more to come from this ferocious runner. For all his exploits, Lobo was awarded the Most Outstanding Running Back, Most Valuable Player of India, and EFLI Most Valuable Player 2012 awards in the EFLI.

Advertisement