Tough challenge ahead for Indian women in Qinhuangdao
Contributor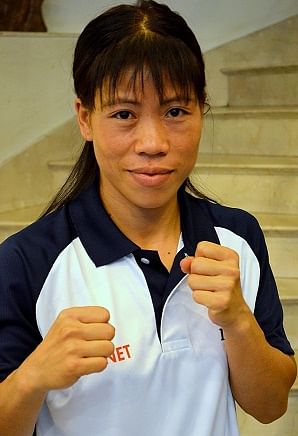 The 7th edition of the AIBA Women's World Boxing Championships to be held in Qinhuangdao, China will witness a record number of participants, with 343 woman boxers from 77 nations all set to compete in this historic event. With women's boxing making its debut at the London Olympic Games this year, the championship will have an added edge to it, especially with the tournament also acting as the only Olympic qualifying event in women's boxing.
India along with the host nation and countries like Hungary, Kazakhstan, Russia, Turkey and Ukraine is fielding a full ten member team for the event, while Canada, France, Kenya, Romania and United States are competing with nine boxers. Australia and Vietnam are sending eight while DPR Korea, Germany, Poland, Serbia and Venezuela have entered the event with seven participants. Although the Championship promises to provide two weeks of high quality boxing action across all the weight categories, focus will certainly be more on the Olympic weight division – Flyweight (51kg), Lightweight (60kg) and Middleweight (75kg). With 24 quotas places up for grabs – eight in each of the Olympic weight categories – the 2012 Women's WBC is sure to be fiercely competitive. And for the Indian boxers – with Asia being awarded 2 quota places in fly and the light weight division and 1 quota place in the middle weight class – clinching an Olympic berth will be an ambitious task.
Five time world champion MC Mar Kom (51kg) and former world champion L Sarita Devi (60kg) would be India's best bet for securing an Olympic qualification spot in China. But the Manipuri women will have to brave up against some tough opposition in order to book their ticket for London.  Kom, who is no less than a living legend in sport, has won world titles four times in the pin weight and once in the fly weight division. This will be the first time the she will compete in the 51 kilogram weight class. The veteran boxer gave a sterling performance at the Asian Championships bagging the fly weight title. In Qinhuangdao the 29 year old might go up against her old rival, China's two-time AIBA World Champion Ren Cancan. Cancan the reigning world champion will do her best to defend her title, but Mary would have a psychological advantage over the Chinese girl after having recently beaten her in Mongolia at the Asian Championships. England's current European Champion and two-time World Championships silver medallist Nicola Adams who is unbeaten since February 2011, Poland's former World Champion Karolina Michalczuk, and Russian World Champion Yelena Savelyeva, will all be seeking to get those quota places. US National Olympic Trials winner Marlen Esparza is the most experienced boxer in her team, while France's European Championships silver medallist Sarah Ourahmoune, Romania's European Champion Steluta Duta and DPR Korea's AIBA World Championships silver medallist Kim Hye Song are also all medal contenders and capable of causing an upset.
Five times Asian Champion Sarita moved up three weight classes this year and went on to win her fifth consecutive gold medal and the light weight title at the Asian Championships. The 30 year old veteran might face her biggest challenge against three-time World Champion and five-time European Champion Katie Taylor of Ireland. Russia's two-time World Champion Sofya Ochigava and Turkey's two-time World Champion Gulsum Tatar also prove to be serious threats. Host nations, Cheng Dong the Asian Games gold medallist and former World Champion, will also be a strong contender. But Sarita's recent victory over the Chinese girl at the Asian Championships will certainly the give her the edge if the two face off in Qinhuangdao.
The Middleweight class also has a strong field of fighters vying for top honours along with the all important quota place and Asian Championship silver medallist Pooja Rani (75kg) will have her task cut out when she take to the ring in the championships. Canada's three-time World Champion Mary Spencer, Russia's World Heavyweight Champion Nadezhda Torlopova, China's former World Champion Li Jinzi, Brazil's Light Heavyweight World Champion Roseli Feitosa, Hungary's two-time World Champion Maria Kovacs and the recent rage of the sport 17-year-old US teenager Claressa Shields are some of the big names Pooja might have to contest with in order to win an Olympic qualification.