French Open Tennis Articles
Roger Federer and Mirka Vavrinec embrace after their wedding Roger Federer is ready to drop out of any upcoming tournament, possibly even the ...
World No. 1 Rafael Nadal and World No. 2 Novak Djokovic are all set to wage a titanic battle for supremacy on European clay Nearly five months on, ...
Paris, April 15 (IANS): This year's French Open will enjoy an increase in prize money of more than 10 percent over 2013, the French Tennis ...
Harikrishnan Subramonian
Apr 14
The coveted trophy is up for grabs. A tournament that puts one's fitness and survival to test is expected to light up the entire nation ...
Can Nadal continue his dominance at French open? If there's one player in tennis history that has ever had a clear monopoly on claycourts, it has ...
Bjorn Borg and Rafael Nadal – the two foremost claycourt masters of tennis history At the slightest mention of clay court champions, there are ...
Pete Sampras, Boris Becker and Stefan Edberg were three of the greatest exponents of the serve-and-volley game in the 80s and 90s. However, none of ...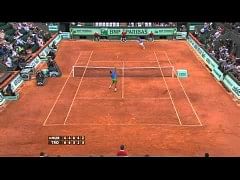 It is possible that you have never seen anything like this before. In a match between Andy Murray and Viktor Troicki at the 2011 French Open, a ball ...