French Open Tennis Articles
The partnership between Novak Djokovic and Boris Becker is arguably into its most important part of the season. Can the pair overcome ...
Rafeal Nadal lost to David Ferrer at Monte-Carlo yesterday In the year 1850, the British East India Company confiscated the Kohinoor diamond from ...
Roger Federer and Mirka Vavrinec embrace after their wedding Roger Federer is ready to drop out of any upcoming tournament, possibly even the ...
World No. 1 Rafael Nadal and World No. 2 Novak Djokovic are all set to wage a titanic battle for supremacy on European clay Nearly five months on, ...
Paris, April 15 (IANS): This year's French Open will enjoy an increase in prize money of more than 10 percent over 2013, the French Tennis ...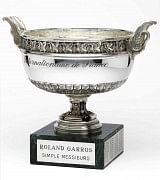 Harikrishnan Subramonian
Apr 14
The coveted trophy is up for grabs. A tournament that puts one's fitness and survival to test is expected to light up the entire nation ...
Can Nadal continue his dominance at French open? If there's one player in tennis history that has ever had a clear monopoly on claycourts, it has ...