Believe it or not, this AEW star will win the WWE World Title some day
Believe it or not, this AEW star will win the WWE World Title some day
The WWE Championship is widely regarded as the most prestigious title in the sports-entertainment hybrid of professional wrestling.
A number of main event players in the industry have held WWE Championship. Whether it is Hulk Hogan, Bret Hart, The Rock, John Cena, or today's franchise player, Roman Reigns.
There are even top stars in AEW who have captured the title at some stage or another. Jon Moxley, Chris Jericho, and Bryan Danielson have done as much, and Cody Rhodes looks poised to be the first AEW departure to do so if he wins the main event of WrestleMania. But Kenny Omega cannot be ignored in that conversation.
The American Nightmare may well get the distinction of being the first AEW star to depart and capture the title. But Omega is destined to hold the accolade in the future. Tony Khan's promotion has a number of names who surely fit the billing of WWE Champion, from powerhouses like Wardlow to vibrant personalities like Ricky Starks.
The Cleaner currently reigns as one-third of AEW's Trios Tag Team Champions as well as IWGP United States champion with New Japan Pro-Wrestling. However, he is approaching the end of his current deal with AEW and would be a perfect fit for their rivals, especially under Triple H's regime.
AJ Styles is an example of a worker akin to Omega, hailing from the independent circuit and touring Japan. He debuted to cautious optimism, given Vince McMahon's track record when it came to handling indie stand-outs like himself. However, Styles has since held the world title on two occasions, as well as reigns with Intercontinental, Tag Team, and United States Championships.
It's reasonable to expect that, working under the more wrestling-centric Triple H and having achieved everything he has to accomplish in AEW, Kenny Omega will someday hold the WWE Championship.
Kenny Omega has been signed with WWE once before
Omega may have carved his legacy outside of the perceived Premier League of professional wrestling thus far, but he also has the status as 'the one who got away.' After being invited for a week-long tryout with the company, Omega was signed to developmental territory, Deep South Wrestling, in October 2005.
He did not last long in the system, requesting his release in August 2006. Omega has since remained committed to wrestling outside of the company after supposedly turning down deals in 2014 and thrice throughout 2015.
Perhaps his most high-profile rejection came in early January 2019, making the decision to instead co-found AEW alongside The Elite and Tony Khan.
Do you agree? Any other picks? Let us know in the comments section below.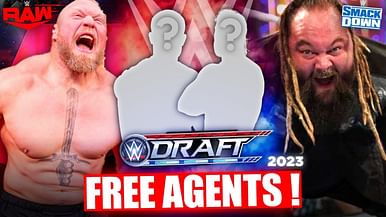 Brock Lesnar and 10 WWE stasr who are FREE AGENTS
See more
More from Sportskeeda