10 best NBA players in the Western Conference this season
10 best NBA players in the Western Conference this season
Now that the NBA season is drawing to a close, we can finally begin to look back at the season retrospectively. With so many talented players residing in the Western Conference, it's sometimes difficult to decide who sits where in the hierarchy of talent.
However, we're going to try and figure it out. Here are the top 10 players in the Western Conference this season.
1- Nikola Jokic
There should be no doubt that Nikola Jokic is the best player in the Western Conference right now. In fact, there's a very real argument that he's the best player in the NBA, period. After all, Jokic is an elite playmaker, scorer, rebounder, and average defender on the reigning Western Conference champions.
Factor in Nikola Jokic's previous dominance and MVP awards, and it's hard to see who would be a better fit at number 1.
2 - Luka Doncic
Right behind Nikola Jokic is Luka Doncic, as the two Europeans are two of the most talented players in the league right now. Sure, the Dallas Mavericks didn't make the postseason this year, but that was by design, rather than a failure on Doncic's part.
The fact is, there aren't many players more dominant than Doncic. He continues to find ways to impose his will on the opposition - be it via scoring, distributing, or manipulating the defense by his presence on the court.
3 - Anthony Davis
When healthy, there aren't many players who are more dominant than Anthony Davis. Early in the regular season, the Los Angeles Lakers superstar was brushing opponents aside and was firmly in the MVP discussion before an injury sidelined his season. Health has always been the biggest knock on Anthony Davis because his talent is unquestionable.
Davis ended the regular season with averages of 25.9 points, 12.5 rebounds, and 2.6 assists per game while shooting the rock at a 51.9% clip from the field and a 30% clip from deep.
4 - Stephen Curry
Age might not be on Stephen Curry's side anymore, but there are still few players who strike as much fear into a defense. Nobody has better off-ball movement or a consistent shot from mind-boggling range. Curry deserves his spot in the Western Conference top five, regardless of the Golden State Warriors' struggles at times this year.
5 - LeBron James
Honestly, it feels a little strange not having LeBron James at the top of this list, but time catches up with us all sooner or later. Still, to be aged 38 and be in the top five players in your conference - and top 10 players in your league, is an incredible achievement.
LeBron James had another impressive year for the Los Angeles Lakers, producing 28.9 points, 8.3 rebounds, and 6.3 assists in 55 regular-season games while shooting 50% from the field and 32.1% from deep. Now, all we can do is hope that he doesn't call time on his amazing career.
6 - Kevin Durant
Similar to LeBron James, Kevin Durant would previously have ranked higher on this list. However, since joining the Phoenix Suns, the former MVP has reminded everybody why he is one of the greatest players to ever lace them up. As such, he is also one of the best players in the Western Conference and will be looking to help propel the Phoenix Suns toward a championship next season.
7 - Devin Booker
Devin Booker has continued to improve his game year after year, and now, he is a clear-cut top 10 guy in the Western Conference. With a vastly improved passing ability, Booker has become more than just a scorer - which is why his perimeter defense also deserves some praise.
Now, with Kevin Durant and Chris Paul at his side, Devin Booker has a shot to make some real noise in the NBA next season and potentially crack the top 5 players in his conference.
8 - Shai Gilgeous-Alexander
Shai Gilgeous-Alexander has emerged as one of the better young guards in the NBA this season - so much so that questions are starting to be raised regarding his long-term future with the Oklahoma City Thunder.
After making his first All-Star appearance this season, the former Los Angeles Clippers guard will be looking to continue playing on the biggest stages the NBA has to offer, and to do that, he will need to continue producing at the level we saw from him this past season, a level that saw him become an All-NBA first-team selection.
9 - Damian Lillard
Damian Lillard is one of the most clutch players in the NBA, but he is also one of the most talented guards. This past season, the veteran ball-handler provided the Portland Trail Blazers with 32.2 points, 4.8 rebounds, and 7.3 assists per game while shooting 46.3% from the field and 37.1% from three-point range.
Granted, Lillard was unable to help his team make the post-season, but there is only so much one player can do when the supporting cast around him is in a state of flux.
10 - Kawhi Leonard
He might not be the dominant star that he once was, but when he's cooking, he's almost unstoppable. Kawhi Leonard had a quietly productive season for the Los Angeles Clippers this year, averaging 23.8 points, 6.5 rebounds, and 3.9 assists per game while shooting 51.2% from the field and 41.6% from deep.
If the Clippers can strengthen their supporting cast, and Kawhi Leonard can remain healthy, there's no reason why the team can't make a push for the NBA Finals next season.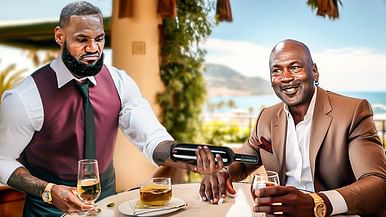 How is Michael Jordan officially richer than NBA's 10 richest players?!
See more
More from Sportskeeda