Michael Jordan stats - 5 untouchable feats of His Airness
Michael Jordan stats - 5 untouchable feats of His Airness
The NBA's record books could essentially be described as the autobiography of Wilt Chamberlain. But especially when it comes to statistics pertaining to scoring and defense combined, it might as well be construed as Michael Jordan's career chronicles. According to a statistical analysis of the best seasons by guards, 13 of Jordan's 15 seasons rank among the top 20 seasons ever - they carried out this study last year.
His Airness is recognized as the greatest to ever play the game for several reasons. You can point to his professionalism - he was the first to do so many things off the court as well as on it. You can look at his play, and the way several Hall of Famers have been left ringless despite having illustrious careers that would be a cause of inspiration for millions players worldwide.
Or you can dissociate all the subjectivity and immerse yourself in the pure statistical brilliance that Jordan's stat sheets from his heyday provide. Either way, you could not possibly be unbiased if you come to any conclusion other than the fact that he's the greatest to ever do it, and he did it better than the world's best neurosurgeon treated his patients, the world's best magician to captivate his audiences or the world's best programmer wrote code.
The following is a list of his achievements that could conceivably stand the test of time for 20 more years:
#1 Only rookie to lead his team in points, rebounds, assists and steals
Michael Jordan came into the league as NBA-ready as any guard ever. This shows in his statistics - he's the only player to lead his team in 4 of the 5 major statistical categories over the course of an entire regular season campaign, being the Bulls' best scorer (28.2 ppg), rebounder (6.5 rpg), assist man (5.9 apg) as well as leading them in steals (2.4 spg).
He also led the team in 4 categories during the 1987-88 season - scoring (35.0 ppg), assists (5.9 apg), steals (3.2 spg) and blocks (1.6 bpg).
Only 4 players in NBA history have averaged 20 points, 5 rebounds and 5 assists per game as rookies - Tyreke Evans, LeBron James and Oscar Robertson. Only MJ, of these four players, also averaged more than 2 steals per game.
Also read: All about Michael Jordan's net worth
#2 Only guard to record 2500+ points over 5 consecutive regular seasons
What often gets lost in the discussion about greatness is the degree of difficulty a player has to overcome in order to achieve what he has. Aficionados waste a lot of time today debating whether LeBron James has surpassed Michael Jordan yet, but most new-age fans neglect to mention how it was way tougher back in the day for a player to score in the paint in comparison to contemporary players, who have the advantage of playing with a defensive 3-second rule that stops teams playing zone defenses efficiently.
Similarly, they gloss over the fact that Jordan was a below-average player by size in the league during his time, and still dominated it in a manner that no one ever has since.
For example, he is the only guard to total 2500+ points in 5 straight seasons, doing so in a spell from 1986-1991 and barely missing out by double digit points in 1991-92 before another year of 2500+ points in 1992-93.
How do you guard a player like that?
#3 Only player to tally 250+ steals, 125+ blocks in the same season
In the 1987-88 season, Michael Jordan had had enough of getting snubbed for the MVP award. In the single most dominant season ever put together by any player (in terms of accolades - advanced stats would put Jordan's 88-89 season above this one) in the modern NBA, Jordan averaged 35.0 points, 5.5 rebounds, 5.9 assists, 3.2 steals and 1.6 blocks per game.
He won the regular season MVP award, the Defensive Player of the Year award, the All-Star Game MVP, bagged his second successive First-Team All-NBA as well as All-Defensive First Team selections and won the scoring title to go along with the steals title. He led the team in points, assists, steals and blocks despite being a medium-sized guard!
The league had already deprived him of a deserved MVP trophy in the 86-87 season, when he averaged 37 points per game to go along with totals of 200+ steals and 100 blocks through the regular season. He raised the bar on the defensive end this season, and there was little doubt in any voter's mind this time around.
#4 63 points in a playoff game
When Michael Jordan took on one of the greatest basketball teams in history, the Bulls were greatly outmatched by the Celtics, who had a stacked starting lineup of Dennis Johnson, Danny Ainge, Larry Bird, Kevin McHale and Robert Parish while former MVP Bill Walton came off the bench.
While being guarded primarily by Larry Bird, Jordan dropped a jaw-dropping 63 points on 41 shots, making 19 out of 21 free throw attempts. He scored almost at will, but the toll of keeping up with an all-time great team single-handedly proved to be too much even for His Airness, who lost a little bit of steam by the time the 3rd period of overtime expired.
Jordan also added 3 steals and 2 blocks in 53 minutes of playing time. After the game, Larry Bird looked back at his performance saying "He is the most exciting, awesome player in the game today. I think it's just God disguised as Michael Jordan."
Word.
#5 Averaged north of 40 points per game in 5 playoff series
Few players in NBA history have ever had the ability to score 40 points against the typically tougher defense they face in the playoffs. Fewer even can claim to have done it multiple times. Michael Jordan, the record-holder by a fair margin, did this in over one-fifth of the playoff games he played through the course of his career - 38 times in 179 appearances, to be exact.
The player next highest on the list of 40+ point games is LeBron James, a distant second with 27 total games in 238 appearances - about one-ninth of the games he's played in.
In addition, Jordan is the only player to average 40+ points per game for an entire playoff series more than twice, and he's done it 5 TIMES! One of those came in the 1993 NBA Finals against the Phoenix Suns, while the other 4 came in the Eastern Conference playoffs (once against the Cavaliers in 1988, in which he averaged 45.2 ppg - the highest for any player in a single playoff series).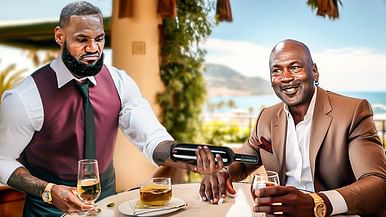 How is Michael Jordan officially richer than NBA's 10 richest players?!
See more
More from Sportskeeda