Does Caleb Martin have a twin brother? Taking a closer look at Heat star's personal life and family
Does Caleb Martin have a twin brother? Taking a closer look at Heat star's personal life and family
Miami Heat forward Caleb Martin has become a household name during the 2023 NBA playoffs, shining as a breakout star and playing a pivotal role in the Heat's remarkable journey to the NBA Finals as an eighth seed. What most people don't realize is that Caleb's twin brother named Cody Martin also plays professional basketball.
Caleb and Cody both made their way into the NBA draft from Nevada in 2019. Cody was selected at No. 36 by the Charlotte Hornets, their hometown team, while Caleb went undrafted. However, Caleb's undrafted status did not deter him from pursuing his dream, as he later joined his brother on the Hornets as an undrafted free agent.
The Martin brothers spent two seasons together in Charlotte from 2019 to 2021, showcasing their talents on the same team. However, Caleb's journey took a turn when he was waived by the Hornets. Fortunately for him, the Miami Heat recognized his potential and signed him on a two-way contract in 2021.
Proving his worth to the Heat, Caleb's performances caught the attention of the team's management, leading to a three-year, $20.4 million deal last offseason. This move turned out to be a steal for the Heat, as Caleb's contributions on the court have been invaluable.
While Caleb Martin's individual success has taken center stage, it's important to acknowledge the significant role his twin brother Cody has played in their basketball journeys. Although Caleb's path may have been less heralded initially, his determination and talent have propelled him to new heights, making him an integral part of the Miami Heat's playoff run.
---
Caleb Martin's health status a worry ahead of NBA Finals Game 2 with Nuggets
Miami Heat star Caleb Martin's health status has become a cause for concern leading up to Game 2 of the NBA Finals against the Denver Nuggets. Despite playing a crucial role in Heat's impressive performance during playoffs, Martin couldn't deliver his best performance in game 1.
However, it has been reported by Tim Reynolds that Martin is currently dealing with an illness, adding uncertainty to his availability for the upcoming game.
"Caleb Martin (illness) won't practice with the Heat today (Saturday)."
Despite the illness, Martin is likely to attempt to play through it if his condition allows. With Game 2 being a critical matchup in determining the series winner, the Heat would face an uphill battle if they were to fall behind 0-2 against the formidable Nuggets led by Nikola Jokic.
On Sunday when tip-off occurs everyone will pay attention to Martin's situation since his appearance during that game can have a significant influence.
Initially expected to be out until the NBA Finals, Tyler Herro's potential comeback adds another layer of intrigue to the Heat's roster dynamics.
Having faced the Milwaukee Bucks in the first round, it seemed unlikely that Herro would have another opportunity to participate in the playoffs, making his potential return an exciting development for the team.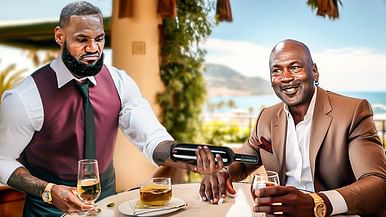 How is Michael Jordan officially richer than NBA's 10 richest players?!
See more
More from Sportskeeda