"I said this is over"- Stephen A. Smith says he knew Shannon Sharpe and Skip Bayless were done after viral fight on national TV
"I said this is over"- Stephen A. Smith says he knew Shannon Sharpe and Skip Bayless were done after viral fight on national TV
Stephen A. Smith has said he is not surprised at the news that Shannon Sharpe will no longer co-host the "Undisputed" show with Skip Bayless. After seven years with FS1, the football Hall of Famer will leave the network once the NBA Finals are over.
On his podcast, Smith said he expected the break-up ever since he saw their viral argument on national TV.
(6:54 mark)
"Was I surprised at all that Shannon Sharpe ended up departing from 'Undisputed' on FS1? Absolutely not. I'd be a damn liar if I told you that when I saw that transpire on national television, that I didn't believe in my heart that this day wasn't coming.
"I know Skip Bayless. When that moment happened, I said, 'This is over. It's over.' Because when something like that happens on a public platform, there's certain things that you just don't recover from relationship-wise."
On Jan. 3, Buffalo Bills safety Damar Hamlin took a shot to the chest and head against the Cincinnati Bengals. He collapsed and was eventually carried out of the field by an ambulance.
Skip Bayless posted a controversial tweet after the incident:
"No doubt the NFL is considering postponing the rest of this game - but how? This late in the season, a game of this magnitude is crucial to the regular-season outcome ... which suddenly seems so irrelevant."
The morning after Bayless' post, Shannon Sharpe refused to go to work. When the former Denver Broncos tight end showed up the following day, a short but heated confrontation took place.
Sharpe wanted Skip Bayless to take down the post, something which the longtime sports talk show host emphatically refused.
Bayless did apologize for his tweet. But the damage had been irrevocably done.
"Nothing is more important than that young man's health. That was the point of my last tweet. I'm sorry if that was misunderstood but his health is all that matters. Again, everything else is irrelevant. I prayed for him & will continue to."
Also read: "That is not going to happen"- Stephen A. Smith refuses to throw Skip Bayless under the bus despite Shannon Sharpe leaving Undisputed
---
Stephen A. Smith is willing to let Shannon Sharpe join "First Take" as a guest after he leaves FS1
Stephen A. Smith has an A-list of former NFL players who do analytical work for ESPN. Ryan Clark, Louis Riddick, Damien Woody, Marcus Spears, Dominique Foxworth, Dan Orlovsky and Keyshawn Johnson are the key members of "First Take's" football analysts.
He had this to say on the possibility of Sharpe joining ESPN:
(3:20 mark)
"If Shannon Sharpe needs me, I'm happy to be here for him. If that included him wanting to come on "First Take," the bosses at ESPN know that is something I would support. Not every day, but one of those days every week.
"If Shannon Sharpe wanted to join that roster [of analysts], there's no resistance from Stephen. A. ... There's no doubt the man knows his football!
If the NBA Finals reach Game 7, Sharpe would be with the "Undisputed" until June 18. It will be must-watch TV when that final episode with the three-time Super Bowl winner happens.
---
Also read: "I'm happy to be here for him"- Stephen A. Smith invites Shannon Sharpe to First Take after he leaves FS1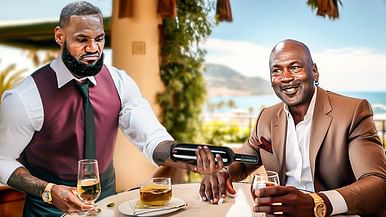 How is Michael Jordan officially richer than NBA's 10 richest players?!
Edited by
Michael Macasero
See more
More from Sportskeeda