Is Amari Bailey related to Toby Bailey? Taking a closer look 
Is Amari Bailey related to Toby Bailey? Taking a closer look 
Amari Bailey is widely expected to enter the NBA later this summer via the first round of the 2023 draft. However, there have been some questions regarding the incoming rookie and whether he is the son of former Phoenix Suns shooting guard Toby Bailey.
Unfortunately, those questions are wide of the mark. While both Amari and Toby share a last name, they are not father and son. Actually, Amari Bailey's dad, Aaron Bailey, is a former NFL receiver who played five seasons with the Indianapolis Colts, scoring six touchdowns in his career and amassing over 1,000 yards.
However, while Amari plays a totally different sport to that of his dad, it would appear that they both share one elite skill: their speed. Aaron was widely viewed as a scrappy speedster during his time in the NFL, and Amari has certainly used his inherited skill to blow by defenders at a lightening fast pace during his high school and collegiate basketball career.
CBS Sports' Kyle Boone expects Bailey to enter the NBA closer to the bottom of the first round.
"A former five-star recruit, Bailey flashed major star power -- particularly down the stretch -- in his time with UCLA," Boone wrote. "But his potential right now isn't totally reflected in the market, where my ranking of No. 26 -- effectively a late first-rounder -- is higher than the consensus."
Zach Edey withdraws from the NBA draft
In other NBA draft news, throw-back big man Zach Edey has withdrawn from the upcoming draft and will resume his collegiate career with the Purdue Boilermakers.
Despite some impressive production for Purdue last season, Edey found himself being projected as a late-second-round draft pick, which also comes with a risk of going undrafted, and as such, decided he would be better served to return to college for his fourth and final year.
According to David Cobb of CBS Sports, Zach Edey is also attempting to acquire a new visa so that he can begin to improve his basketball-related income via his name and image likeness next season. Cobb wrote:
"Edey, who was born in Toronto, working on getting a new student visa that will allow him to profit off his name, image, and likeness more easily at the college level, returning to Purdue could be a solid financial decision."
Now, Edey will be hoping that another strong year for Purdue can help improve his draft stock and convince an NBA team to give him an opportunity to carve out a career at the next level.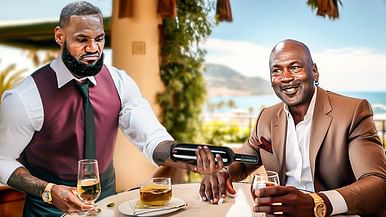 How is Michael Jordan officially richer than NBA's 10 richest players?!
See more
More from Sportskeeda