Kai Cenat was terror-stricken after discovering he was stalking Ja Morant's rumored girlfriend
Kai Cenat was terror-stricken after discovering he was stalking Ja Morant's rumored girlfriend
American YouTube Kai Cenat was shocked when he found out that Brooklyn Nicole is reportedly dating Ja Morant of the Memphis Grizzlies. Cenat was stalking Nicole's Instagram profile when his followers told him that her rumored boyfriend is none other than the dangerous NBA superstar.
In a video uploaded by the Daily Loud on Twitter, Cenat liked what he saw from Nicole on Instagram. She's the younger sister of American rapper Latto, who's been quite on a roll over the past year.
But when several fans told Cenat that Nicole is reportedly dating Morant, the influencer hilariously freaked out and apologized. He alluded to not wanting to get shot by Morant, who is facing a lengthy suspension due to a second gun-related incident online.
Ja Morant is allegedly dating Brooklyn Nicole after they were seen together several times. However, it has not been confirmed since Morant has been dating several women over the past year. He's been linked to Drake's ex Johanna Leia, Andre Drummond's ex Abigail Russo and former UCLA star and recent TCU transferee Jaden Owens.
Morant has been living the life since his relationship with his ex-girlfriend KK Dixon ended. Dixon is Morant's first girlfriend when he was still a collegiate star for Murray State. They have a daughter named Kaari Jaidyn born in 2019 and are content being co-parents.
Also Read: "We starting you no questions asked" - NBA fans rally around Tracy McGrady who was stunned to be compared with Jimmy Butler and Carmelo Anthony
---
Adam Silver's recent statement on Ja Morant could mean a harsh punishment is coming
Ja Morant was suspended by the Memphis Grizzlies from team-related activities last month after another gun-related video went viral. Morant is currently under investigation by the NBA just three months after he was found guilty of conduct detrimental to the league.
Ahead of Game 1 of the NBA Finals, reporters asked NBA Commissioner Adam Silver about the status of their investigation on Morant. Silver revealed that they have found new evidence against the Memphis Grizzlies star and his punishment is expected to be announced later this month.
"In terms of the timing, we've uncovered a fair amount of additional information, I think, since I was first asked about the situation," Silver said. "I will say we probably could have brought it to a head now, but we made the decision, and I believe the players association agrees with us, that it would be unfair to these players and these teams in the middle of the series to announce the results of that investigation."
Morant is reportedly facing a lengthy suspension from the NBA since it's already his second offense. And by the looks of it, his punishment is going to be significant enough to prevent him from any more gun-related incidents.
Also Read: "Nikola Jokic is the best player in the world" - Chris Broussard crowns Nuggets superstar after a triple-double in Game 1 of the NBA Finals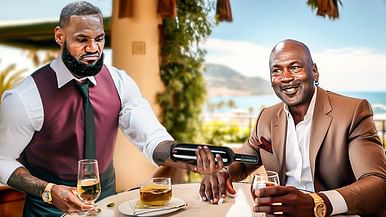 How is Michael Jordan officially richer than NBA's 10 richest players?!
Edited by
Juan Paolo David
See more
More from Sportskeeda