"Bro doing dunks KD can't even do" - NBA fans react to Victor Wembanyama's ridiculous Eastbay dunk
"Bro doing dunks KD can't even do" - NBA fans react to Victor Wembanyama's ridiculous Eastbay dunk
Victor Wembanyama has continued to amaze basketball fans, analysts, and players since he first popped up on the scene. Since then, Wembanyama has continued to put on showstopping performances where he's proven that he can do things no other player can.
With a wide bag of ball-handling tricks, a spectacular 3-point shot, and a unique combination of speed and finesse unseen at his height, Victor Wembanyama has it all. Apparently, he also has quite the bag of dunks as well.
During a recent layup line before a game, Wembanyama left viewers absolutely stunned with a between-the-legs dunk reminiscent of Vince Carter. Naturally, fans were quick to chime in with some pretty hilarious reactions.
Victor Wembanyama's future with the San Antonio Spurs
Victor Wembanyama is currently preparing for his future with the San Antonio Spurs. After the team won the first pick in the NBA draft lottery, a visibly excited Wembanyama spoke to Brian Windhorst.
As he explained, there's a deep history between the French and the San Antonio Spurs thanks to the one and only Tony Parker. As a result, he's excited to join the team and evolve under not just Gregg Popovich, but also under Tim Duncan, who has agreed to help work with Wembanyama.
Currently, the 7-foot-5 star is preparing for the draft later this month, where the Spurs will draft him first overall and finalize his transition to the NBA.
As LeBron James told media members earlier this year, the league hasn't seen anything quite like what Wembanyama brings to the table.
"Everybody's been a unicorn over the last few years, but he [Wembanyama] is more like an alien. No one has ever seen anyone as tall as he is but as fluid and as graceful as he is on the floor."
Of course, James isn't the only one impressed by Wembanyama. As Steph Curry said to media members earlier this year, the 7-foot-5 star is reminiscent of an NBA 2K character who could do it all on the court.
(Suggested Reading: Giannis Antetokounmpo in awe of Wembanyama)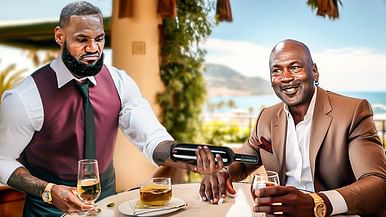 How is Michael Jordan officially richer than NBA's 10 richest players?!
See more
More from Sportskeeda