Tracing Larry Bird's NBA journey which led to him winning 3 rings
Tracing Larry Bird's NBA journey which led to him winning 3 rings
Early in his career, Larry Bird achieved great success. He was able to deliver three championships for the Boston Celtics. Bird won one of those championships despite only being in his second season. He was already the team's best player at the time. He also quickly established himself as one of the NBA's best shooter.
Larry won all three championships during the 1980s. His first was back in 1981, then in 1984, and finally his last in 1986. Bird was named the Finals MVP in both the '84 and '86 NBA Finals. Larry "Legend" could've won the Finals MVP award back in '81 given his stats, however, the award went to Cedric Maxwell instead.
But what was his basketball career like before winning all that championship gold? Let's take a closer look at Larry Bird's NBA journey.
---
Taking a closer look at Larry Bird's NBA journey
According to sources, Larry Bird grew up playing basketball in Indiana, where he was considered to be a local basketball star. He played basketball for Springs Valley High School and used the sport as an outlet for his personal issues. On his way to becoming the school's all-time leading scorer, he averaged 31 points, 21 rebounds, and four assists as a senior.
He initially agreed to play collegiate basketball for the Indiana Hoosiers after graduating from high school. Bird would play with the team for at least a month before deciding to drop out of school. According to sources, he had difficulties adjusting to a bigger crowd considering that Larry came from a small town. As a result, Bird ended up enrolling himself in Indiana State University.
Larry Bird was instrumental in their first-ever NCAA tournament appearance. Bird helped the Sycamores achieve a 33-0 record throughout his three seasons. Indiana State ended up facing Michigan State in the 1979 NCAA championship game. Ultimately, his team lost, however, no one can deny the success he brought to the Sycamores' men's basketball team.
Sources report that the Sycamores vs Spartans matchup is one of the highest-rated college basketball games in history. This was largely due to the fact that the game featured a young Larry Bird and Earvin "Magic" Johnson. Little did anyone know that this historic matchup would happen on numerous occasions in the NBA.
Throughout Larry's college career, he averaged 30.3 points, 13.3 rebounds, and 4.6 assists per game. Bird accomplished an 81-13 record during his time with the Sycamores. Larry "Legend" ended up getting drafted sixth overall by the Boston Celtics in 1978. Thankfully, Bird decided to join Boston the year after, otherwise the legendary matchup between him and "Magic" might've not happened.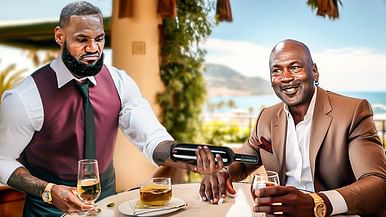 How is Michael Jordan officially richer than NBA's 10 richest players?!
See more
More from Sportskeeda