What size shoe does Victor Wembanyama wear? Finding out more about the projected No 1 pick of the 2023 NBA Draft 
What size shoe does Victor Wembanyama wear? Finding out more about the projected No 1 pick of the 2023 NBA Draft 
Victor Wembanyama will be in all probability entering the NBA later this year as the first overall pick in the 2023 Draft, meaning he will be joining the San Antonio Spurs. Standing at 7-foot-2 with an eight-foot wingspan, Wembanyama has the size and length to be a serious problem in the NBA.
Furthermore, Victory Wembanyama is a high-level dribbler and can score the ball from all three levels. His lateral and vertical movements also make him a prime candidate to become an elite defender.
However, with size 20.5 feet, the French phenom will need to ensure his feet remain behind the 3-point line during games, otherwise, he could find himself having a 'Kevin Durant' moment on a potential game-winning shot.
Overall, though, there is plenty of reason to be excited about Wembanyama's impending addition to the NBA, especially considering the recent success of European-born players in the league.
Wembanyama will have a long way to go until he reaches the current level of Giannis Antetokounmpo and Luka Doncic. But given his unique skillset and his unteachable size, Wembanyama is expected to not only match their impact but potentially surpass it.
After all, no player since LeBron James has been as wildly anticipated as Victor Wembanyama. While that will certainly come with a huge amount of pressure, it will ensure he gets every opportunity to develop into the star player many believe he can become.
---
Victor Wembanyama is excited to play for Gregg Popovich
There aren't many coaches with a greater resume than Gregg Popovich, and for many, he is among the greatest coaches of all-time. Perhaps that's why Victor Wembanyama is excited to continue his development under the San Antonio Spurs coach, who has developed multiple Hall of Fame talents throughout his career.
"From what I've heard, he's demanding, but I'm sure he's good," Wembanyama told Nicolas Kohlhuber. "If I have the chance to be coached by him, it would be with great humility and excitement."
According to a report by ESPN's Jeremy Woo, Gregg Popovich made a trip to France after his team won the Draft Lottery, although the reason behind the trip has yet to be revealed. He wrote:
"The Spurs are as excited about landing Wembanyama as you'd expect: The word going around the combine was coach Gregg Popovich flew to France shortly after San Antonio won the lottery."
This season, Victor Wembanyama has averaged 21.6 points, 10.4 rebounds and 2.4 assists per game while shooting 56.1% from two-point range and 27.5% from the perimeter. The hope is that as Wembanyama gets accustomed to the speed and physicality in the NBA, he can begin to produce similar numbers for the Spurs.
He is also expected to improve his outside shooting stroke so that he can stretch out a defense and use his ball-handling to attack the lane in a similar fashion to that of Kevin Durant.
Victor Wembanyama and his Metropolitans are still currently playing in the French playoffs. We can expect the Spurs to be watching their future star with a close eye, as they begin to prepare a development program for him ahead of his NBA debut later this year.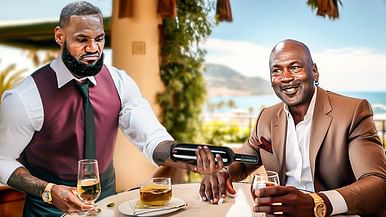 How is Michael Jordan officially richer than NBA's 10 richest players?!
See more
More from Sportskeeda