"Ballin so hard coulda went to LSU": Fans react to Tigers star Angel Reese's cameo in Cardi B video
"Ballin so hard coulda went to LSU": Fans react to Tigers star Angel Reese's cameo in Cardi B video
Angel Reese would never have imagined her summer panning out in this fashion a few years ago. After dominating on the court all season, Reese has been a talking point across the sport and entertainment industries. After guiding LSU to its maiden woman's national basketball title, the talented baller has been all over the news.
Her on-court chirps and swagger have given her a unique identity. Building on this, the confident twenty-one-year-old has just made an appearance in a rap video. The striking part about it is that it was a cameo in the legendary Cardi B's latest song, "Put it On Da Floor Again." The LSU star is making moves off the court, and how!
Cardi B dropped the video on Friday morning, and it's already crossed 2 million views. While one can assume the popularity of the video from the rapper's clout, Angel Reese has become a fan favorite too. Upon noticing her visuals in the video, the internet did its thing, and it's safe to say that fans failed to keep calm.
To start off the festivities, Reese herself tweeted the following after the video dropped.
Twitter has been in a frenzy ever since.
Cardi B herself got into the whole LSU fan wave by tweeting the following:
This fan was all for the crossover between sport and culture
While this fan got straight into the marketing mix
Angel Reese's mom didn't hold back either. She took the chance to say a few things as she was super proud of her daughter. She appreciated the whole team's effort in making this happen.
The LSU Women's Basketball admin also made the most of the moment. Check out their post below.
The outpour of love for Angel Reese has been unstoppable since.
What are Angel Reese's endorsements? Looking at deals LSU star has signed
Angel Reese, the phenomenon
As Reese makes the most of the moment currently, it is important to remember that her game alone has got her to this position. She dominated the court for the Tigers last season. Averaging about 23 points per game and 15 rebounds per game, she was key in that National Championship run.
Her NIL value has also seen a skyrocketing growth percentage ever since she made headlines during the Final Four. The young baller has been making some serious off-court moves that will set the tone for empowering female athletes even in the college ecosystem.
Dan Patrick chimes in on Angel Reese's taunt - "Angel Reese does it, and we're going to vilify her?"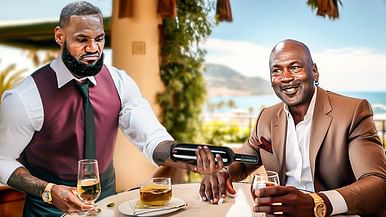 How is Michael Jordan officially richer than NBA's 10 richest players?!
Edited by
Sidharta Sikdar
See more
More from Sportskeeda