Hakim Hart withdraws from the 2023 NBA Draft: The Maryland transfer headed to Villanova
Hakim Hart withdraws from the 2023 NBA Draft: The Maryland transfer headed to Villanova
Senior guard Hakim Hart has decided to withdraw from the 2023 NBA Draft and transfer from the Maryland Terrapins to the Villanova Wildcats. With the deadline to withdraw from the draft, we have seen a lot of movement. This move will have major effects on both programs going into the 2023-24 season.
What exactly does Hakim Hart bring to the Villanova Wildcats and how does the team look going into next season? We dive into the program and Hart to figure out the answer to both of those questions.
What will Hakim Hart bring to the Villanova Wildcats?
Hakim Hart is a versatile player that can play both the guard and forward spots in a lineup at 6-6, 200 pounds. He had spent all four years with the Maryland Terrapins before deciding to transfer to the Villanova Wildcats.
Looking at last season, Hart played a pivotal role for the Maryland Terrapins. He was a starter in all 35 games he appeared in and provided veteran leadership. On the floor, he averaged 11.4 points, 4.1 rebounds, 2.6 assists and 1.2 steals per game in 32.8 minutes.
Hakim Hart showed some improvements in his shot selection as he connected on 47.9 percent of his shots, 33 percent from the 3-point line, and 80.4 percent from the charity stripe.
He appeared in two NCAA Tournament games last season against West Virginia and Alabama. In those games, he averaged 9.5 points, 2.5 rebounds, 3.5 assists, 2.5 steals, and one steal. However, Hart only shot 20 percent (1-5) from 3-point range in those games. He has a lot to work on to be a consistent player but can be a solid depth piece for the Wildcats next season as he faces tougher competition.
What is Villanova's outlook for next season?
The Wildcats have hit a home run in the NCAA Transfer Portal after adding Tyler Burton, TJ Bamba, Lance Ware, and Hart to the program. Coming off a mediocre 17-17 (10-10) last season, they were unable to even make the NCAA Tournament and lost in the first round of the NIT to the Liberty Flames.
It was a rocky first season for coach Kyle Neptune as it typically is when replacing a legend like Jay Wright. However, it feels like this 2023-24 Villanova team has found an identity and should be able to switch at all five positions on the floor.
This team should be a force in the Big East Conference. While it may be too soon to consider them legitimate contenders, the Wildcats are definitely heading in the right direction.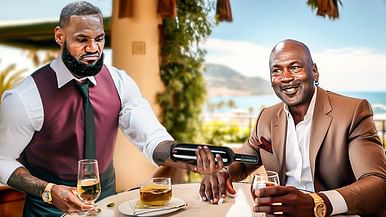 How is Michael Jordan officially richer than NBA's 10 richest players?!
See more
More from Sportskeeda