Is Terrence Shannon Jr. returning to Illinois? The Illini wingman's decision explored
Is Terrence Shannon Jr. returning to Illinois? The Illini wingman's decision explored
Another big name has decided to withdraw from the 2023 NBA Draft and instead return to college. Terrence Shannon Jr. announced he is returning to the Illinois Fighting Illini. He is an elite wing player and led the program in scoring last season.
This can definitely send ripple effects through the program and at 6-6, he can do extremely well as part of an All-Big Ten team. But what does this mean for Illinois next season and why did Terrence Shannon Jr. make this decision?
How well did Terrence Shannon Jr play at Illinois?
Shannon Jr. will be returning for his fifth collegiate season in 2023-24 but this will be his second year with the Illinois Fighting Illini. He had a massive season last year, averaging 17.2 points, 4.6 rebounds, 2.8 assists, 1.3 steals, and 0.5 blocks in 32.1 minutes per game.
Shannon Jr's versatility allows him to play either in the frontcourt or the backcourt with his size.
One thing he perhaps needs to improve on is his shooting ability. He shot 44.2 percent from the floor, 32.1 percent from beyond the arc, and 79 percent from the charity stripe. He did score 20 points on 10 shot attempts in his only NCAA Tournament game last year against the Arkansas Razorbacks.
He was one of the top names to keep an eye on as the withdrawal deadline drew ever closer and now fans know that he will be returning for another year.
If he can figure out how to improve on that aspect of his game, it will help him prepare for the 2024 NBA Draft. He has shown to do well on both sides of the floor and can continue developing there as well.
What should we expect out of Illinois next season?
The Illinois Fighting Illini were a good team last season, but far from being one of the elite teams in college basketball. They wrapped up being fifth in the Big Ten Conference with a 20-13 (11-9) record and were four games out of the conference lead.
They lost guards Skyy Clark, Jayden Epps, Justin Harmon and forward RJ Melendez in the NCAA Transfer Portal. They did make one key addition though as they snagged forward Marcus Domask from the Southern Illinois Salukis.
There is a lot of work to still be done to consider the Illinois Fighting Illini contenders of any kind for the NCAA Championship, but they are going to be in March Madness and anything can happen at that point.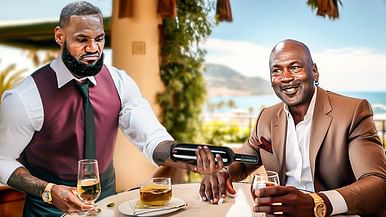 How is Michael Jordan officially richer than NBA's 10 richest players?!
See more
More from Sportskeeda